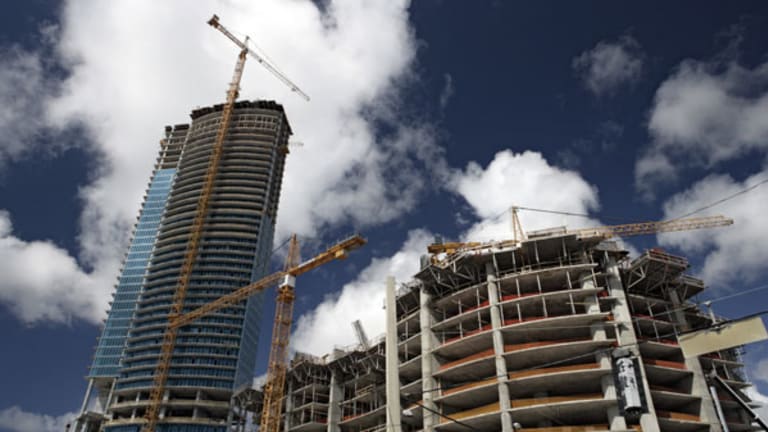 Top Five U.S. Airport Clubs
United, Delta, AMR, US Airways and Alaska Air each selected their top U.S. airport club.
CHARLOTTE, N.C. (
) -- Not much luxury remains in commercial aviation today, with the days of white-gloved Pan Am flight attendants long past.
But five U.S. airlines still offer airport clubs as a refuge from some of the harsh realities of air travel. The availability of airport clubs is among the major differences between the four global, network carriers and the two principal low-cost carriers.
Clubs are important to frequent fliers like Peter Brunk, sales vice president for Milwaukee-based IBCC Industries, a U.S.-owned, China-based manufacturer. Brunk flies 50 to 65 times a year on domestic and international flights, spending about 100 days a year in China. He usually flies on
United
(UAL) - Get United Airlines Holdings, Inc. Report
, although says he sometimes thinks about a switch to
American
(AAMRQ.PK)
.
"My needs are mainly peace, quiet, privacy or at least a place to work without being interrupted by the noise of other travelers, the beep-beep-beep of golf cart transports, and the never-ending gate announcements," Brunk says. "(Another) major key benefit many do not take advantage of is the ability to modify reservations or even make them with a personal gate agent inside of the club. When flights get cancelled, this is often a great option if it is available."
Also, Brunk said, "I use my United club membership to provide a little nourishment before a domestic flight, especially when flying in a regional jet where any food is unlikely, and where even serving coffee might not happen due to the brief length of flight or typical in-flight turbulence. I arrive a tad earlier than most in order to get settled in the club, check e-mails using the free Wi-Fi and making occasional calls that need to be made."
As for carriers that don't offer airport clubs, they are happy with their choice. "Adding airport clubs costs money, which would mean we would have to raise fares and this does not fit with our business model," says
Spirit
(SAVE) - Get Spirit Airlines, Inc. Report
spokeswoman Misty Pinson. "Our customers want low fares."
In any case, we wanted to find the best airport clubs, so we asked each of the five U.S. carriers with airport clubs to selected their best. Here are their choices:
American: New York LaGuardia
American started a lot of innovations in the airline industry, including frequent flier programs, yield management, and airport clubs. In 1939, just in time for the New York World's Fair, American opened the industry's first VIP lounge at LGA.
This past May, America completed extensive renovations to the LGA Admirals Club, which is located in Concourse D, across from Gate D1. This is the newest Admirals Club and therefore the one American selected as its best.
Several features were unavailable in 1939. For instance, in the cyber café, the club offers modern PCs with high speed Internet. A TV lounge has flat panel TVs. A business center has a laptop counter with six work stations, fax service and a copier. Also, guests can submit print jobs via email or webpage uploads by Internet and then retrieve them in the lounge.
On a historic note, the club also has a whiskey bottle screen, which displays samples from onetime American CEO C.R. Smith's private whiskey collection as well as select bottles from onetime club guests. It seems that when the second Admirals Club opened at Washington National Airport in 1939, the club was prohibited by Virginia law from selling alcoholic beverages. But it did store bottles for members. The industry was a bit more fun-loving in those days.
The new LGA club is 15,185 square feet in size and a seating capacity of 306. Besides the high tech gizmos, it has showers and 15 telephones. American has 38 airport clubs worldwide.
US Airways: Philadelphia
US Airways' top club is in Concourse A of the West Terminal at Philadelphia International Airport. It offers sweeping views from its floor-to-ceiling windows of the airline's largest widebody aircraft, sitting at the gate before starting off on trans-Atlantic flights.
Beyond the aircraft, visitors can view the airport's two parallel runways as well as the Delaware River.
The club, located between gates A15 and A16 on the mezzanine level, is 24,000 square feet and can accommodate up to 420 passengers. It opened in 2011.
Afternoon snacks include complimentary fresh hot soup and an olive medley salad. Also, US Airways says the wines are rated 90+. Currently US Airways has 17 airport clubs.
Delta: Atlanta
At Hartsfield-Jackson Atlanta International Airport, Delta operates the world's largest single airline hub, with about 1,000 daily departures, and has nine clubs.
The newest club, located in Concourse F, opened in May. It has about 12,000 square feet and accommodates about 300 people. It is the first Delta club with a mezzanine level, and it offers views of the Federal Aviation Administration tower and of E Concourse.
Delta says the amenities are unmatched. They include eight shower suites, a full-service bar, a champagne bar, an art wall and a custom sculpture by well-known Atlanta blacksmith Andrew Crawford, and a relaxation zone known as the Beats Lounge with mood lighting, big comfortable chairs, a relaxed atmosphere and a chance to try out and potentially purchase Beats by Dre products including headphones, laptops, tablets and smart phones. Beats by Dre is an electronics company co-founded by entertainer Dr. Dre.
Overall, Delta operates 53 clubs in 35 airports worldwide, including twelve that have been opened or renovated during the past two years. Each year, more than nine million members and guests visit Delta Sky Clubs.
Alaska Air: Los Angeles
Of Alaska Air's five Board Room clubs, the newest opened in March on the mezzanine level of Terminal 6 at Los Angeles International Airport.
The club is certified green by the Leadership in Energy and Environmental Design. "Being good stewards of the environment is a top priority for us both in the air and on the ground," said Alaska spokeswoman Bobbie Egan.
The club is a relatively small 5,200 square feet and includes a kids-only playroom. It has a Pacific Northwest theme with natural maple throughout and Starbucks coffee.
The menu includes fresh pancakes as well as soup, fruits and vegetables. A day pass costs $45.
United: Houston
United says its best and largest club is at its largest hub at Houston Bush Intercontinental Airport.
The club contains 26,000 square feet scattered over three stories and offers expansive views of the airport from floor-to-ceiling windows. Features include five conference rooms, four showers and private work stations.
The club was originally a Continental Presidents Club lounge. It won the Priority Pass Lounge of the Year award for six consecutive years. Priority Pass, an organization of frequent international travelers, polled its members in order to compile its club ratings.
United, the world's largest airline, has 50 airport clubs worldwide.
--
Written by Ted Reed
.
>To contact the writer of this article, click here:
Ted Reed