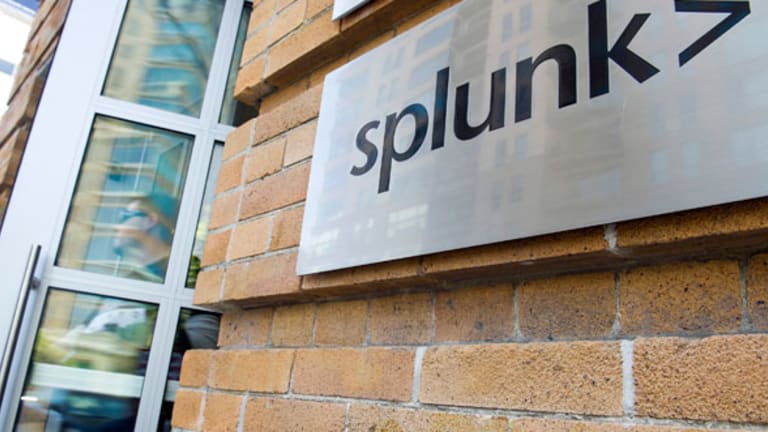 Top Earnings Takeaways for Splunk, Nutanix, Veeva and Marvell
Splunk's license revenue and guidance left markets wanting more. Nutanix soothed competitive fears, Veeva delivered strong growth yet again and Marvell's turnaround story continued.
By late May standards, Thursday was a pretty eventful day for tech earnings reports. Here are some thoughts on the numbers reported after Thursday's close by machine data analytics software leader Splunk (SPLK) , hyperconverged hardware/software supplier Nutanix (NTNX) , cloud life sciences software firm Veeva Systems (VEEV) and storage/networking chip supplier Marvell Technology (MRVL) .
Splunk
As it has so often done since going public in 2012, Splunk, the top provider of software used to analyze the log and machine data produced by IT systems and software, beat the conservative guidance it gave three months earlier, and hiked its full-year outlook. But following a 31% 2017 run-up, investors were left wanting more.
April quarter revenue of $242.4 million (up 30% annually), billings of $242.8 million (up 30%) and adjusted EPS of negative $0.01 beat consensus analyst estimates of $234 million, $230.3 million and negative $0.04. Likewise, July quarter sales guidance of $267 million to $269 million, fiscal 2018 (ends in January 2018) topped a $267.5 million consensus.
But fiscal 2018 (ends in January 2018) sales guidance of $1.195 billion, though above prior guidance of $1.185 billion, was barely above a $1.193 billion consensus. And fiscal 2018 billings guidance of $1.425 billion (hiked from $1.4 billion) was basically in-line with estimates. In addition, full-year operating margin guidance is unchanged at 8%.
Moreover, billings growth slowed to 30% from the January quarter's 35%, and Splunk's closely-watched license revenue (seen as a proxy for adoption of its software) grew just 16% after having risen 35% in the January quarter. As a result, shares are down over 5% on Friday.
On the bright side, Splunk's customer adds did appear to rise a little: The company said it added nearly 500 customers, compared with over 450 a year ago. And cloud software revenue more than doubled. However, at $17.7 million, it's still equal to just 7% of total revenue.
On the earnings call, management noted it saw "inconsistent performance" in Europe, and that it's counting on a sales leadership change to reignite growth in the region. When asked by analysts about competition, Splunk insisted its competitive environment is largely unchanged. Though Splunk's rich feature set and developer ecosystem still act as big differentiators, the open-source ELK software stack has become a larger competitive threat over the last couple of years. Amazon's (AMZN) Amazon Web Services (AWS) supports the stack in part through its Elasticsearch service.
Nutanix
Three months after getting hammered due to disappointing April quarter guidance, Nutanix, whose products let enterprises create the kind of integrated scale-out server/storage infrastructures beloved by cloud giants, is up over 9% after topping its subdued outlook and providing above-consensus guidance.
April quarter revenue of $191.8 million (up 67%) and adjusted EPS of negative $0.42 beat consensus analyst estimates of $186.6 million and negative $0.45. July quarter guidance for revenue of $215 million to $220 million and adjusted EPS of negative $0.38 is above consensus estimates of $204.7 million and negative $0.39.
Billings of $234.1 million were slightly below a $235 million consensus, with annual growth slowing to 47% from the January quarter's 57%. However, Nutanix guided on its call for July quarter billings to be about 25% above quarterly revenue. That implies billings of $271.9 million at the midpoint of Nutanix's revenue guidance range, above a $257.3 million consensus.
Strong large deal activity also seems to be going over well. 34 $1 million-plus deals were inked, and Nutanix claims its bookings with Global 2000 firms were 50% higher than during any prior quarter (Sprint and Caterpillar were among the company's new clients). It also reports 13 deals featuring over $2 million in bookings were inked, up from just 4 in the January quarter.
With the caveat that shares are still down 38% from where they traded prior to the January quarter report, Nutanix's numbers are to an extent calming fears of intensifying competitive pressure from HP Enterprise (HPE) (recently bought Nutanix rival SimpliVity) and Cisco Systems (CSCO) , as well as a software solution from VMware (VMW) that relies on third-party hardware. Dell and Lenovo have been major Nutanix OEM partners, and the company just formed an alliance with IBM (IBM) that involves making Nutanix's software platform available for IBM's proprietary Power CPUs (to date, the software has generally run on Intel's Xeon CPUs).
Veeva Systems
Two big cloud software pure-plays -- ServiceNow (NOW) and Salesforce.com (CRM) -- had already posted strong numbers over the last four weeks, and Salesforce partner Veeva didn't want to get left out of the fun. Shares are up about 7% to new highs in the aftermath, and are now up 123% over the last 12 months.
April quarter revenue of $157.9 million (up 32%) and adjusted EPS of $0.22 beat consensus estimates of $151.8 million and $0.18. July quarter guidance is for revenue of $163 million and $164 million and EPS of $0.20, above consensus estimates of $160.2 million and $0.19. Fiscal 2018 (ends in January 2018) guidance is for revenue of $665 million to $669 million and EPS of $0.82 to $0.84, above consensus estimates of $658.7 million and $0.80.
Revenue growth improved slightly from the January quarter's 31%. Veeva was eager to talk up the sales momentum for its Veeva Vault content management platform (36% of revenue), whose 14 apps do things like manage clinical, regulatory and quality-control data for life sciences firms. The company claims the number of clients using multiple Vault products grew by nearly 30 sequentially -- it reported having 334 Vault clients overall at the end of January -- and was up over 70% annually.
On the call, Veeva estimated that its mainstay life sciences customer relationship management (CRM) software is now used by about two-thirds of its 450,000 potential end-users. As a result, the business is now focused to a large degree on selling add-on products to existing clients related to things like salesforce alignment and event management. A revamped version of Veeva's CRM software that sports a new UI called Sunrise ships in the second half of the fiscal year.
Marvell Technology
What a difference a CEO change and a giant restructuring can make. 20 months after Marvell announced it's cutting 17% of its workforce and effectively ending investments in its money-losing mobile baseband modem business, and 13 months after it fired the husband-and-wife leadership team that founded the company due to an accounting probe, shares are making 6-year highs following the latest in a string of sales/earnings beats.
April quarter revenue of $579.2 million (up 12%) and adjusted EPS (from continuing operations) of $0.24 beat consensus estimates of $571 million and $0.21. July quarter guidance is for revenue of $585 million to $615 million and adjusted EPS of $0.26 to $0.30; the latter is above a $0.25 consensus, while the former is favorable at a $600 million midpoint to a $591.4 million consensus.
Marvell's mainstay storage business -- it provides hard drive SoCs, solid-state drive (SSD) controller chips and controller chips for PC and server storage subsystems -- saw revenue rise 25%. SSD controller sales grew by triple digits, and are expected to make up 25% to 30% of storage revenue in the second half of the fiscal year. And strong hard drive chip sales to the data center segment, where cloud giants have been avidly buying high-capacity drives, offset lower PC hard drive chip sales. At the least, Marvell's storage business is holding its own against top rival Broadcom (AVGO) .
Networking revenue rise 5%, as strong demand for Ethernet transceivers, switching chips and network processors offset weaker demand elsewhere. And the Wi-Fi/Bluetooth connectivity chip business saw sales grow 16%. Meanwhile, higher sales and cost controls helped adjusted gross margin rise 520 basis points to 57.6%; it's expected to hit 59% in the July quarter.
Marvell still faces formidable competition from Broadcom, Intel, Cavium and others in various markets. But under new CEO Matt Murphy (formerly a Maxim Integrated exec), the company is clearly executing better than it has in a while.