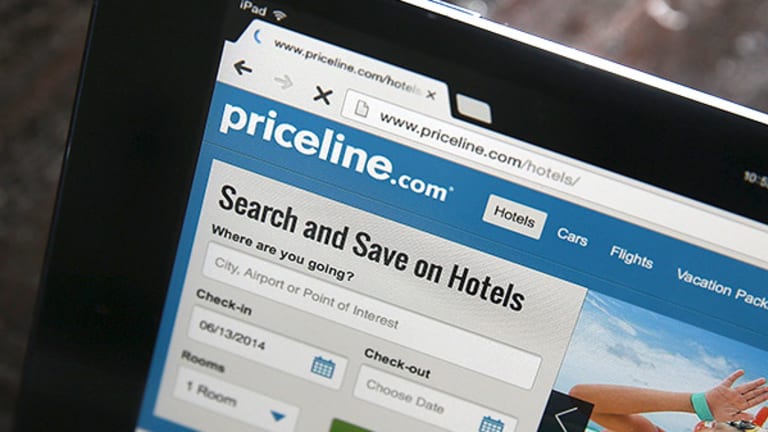 Top Earnings Takeaways for Priceline, Yelp and Acacia
Priceline's outlook sparked profit-taking, but it's still gaining share. Yelp might be feeling the heat from Google and Facebook, while Acacia reports seeing Chinese and cloud pressures.
Though Nvidia's strong earnings report (covered here) has understandably taken the spotlight, it was far from the only noteworthy tech earnings release delivered on Tuesday afternoon. Priceline (PCLN) , Yelp (YELP) - Get Yelp Inc Report and Acacia Communications (ACIA) - Get Acacia Communications, Inc. Report are making sizable moves in response to their numbers as well. Here are some takeaways.
Priceline
The online travel giant reported first-quarter revenue of $2.42 billion (up 13% annually) and adjusted EPS of $9.88 (up 7%). The latter beat an $8.82 consensus analyst estimate, but the former missed a $2.45 billion consensus. Its closely-watched gross bookings totaled $20.69 billion, up 24% (27% in constant currency) and beating a $20.29 billion consensus.
But second-quarter bookings growth guidance of 12% to 17% (15% to 20% in constant currency - the euro and pound's declines are weighing) fell short of a 20% pre-earnings consensus. And EPS guidance of $13.30 to $14.00 is below a $14.99 consensus. Booked hotel room nights are expected to rise 16% to 21%, after having grown 27.4% in Q1.
Priceline's bookings and EPS guidance has often been conservative. But with its stock up over 50% during the prior 12 months, markets clearly wanted more. Shares fell about 4.5% on Wednesday.
The company's top-line numbers still suggest the long-term trends that have fueled its growth -- the shift in travel spending from offline to online channels, a growing base of hotel partners and share gains against smaller online travel agencies (OTAs) -- are still in place. Priceline mentioned on its call that its Booking.com unit (Europe's biggest online travel firm) saw its property count rise 36% annually to over 1.2 million, and (amid fears of growing competition from Airbnb) that 8 million of its 25.5 million bookable rooms now consist of homes, apartments and other non-hotel listings.
And Priceline is still outgrowing archrival Expedia (EXPE) - Get Expedia Group, Inc. Report, whose sales skew more towards the U.S. Expedia's gross bookings rose 14% in Q1 to $23.6 billion, and its room nights rose by 12%. Priceline claims its picked up share in both the U.S. and overseas last quarter. The company partly blames seasonal factors -- Easter weekend fell in Q2 this year, after falling in Q1 last year -- on its expected Q2 growth slowdown.
Priceline also predicts heavy "performance marketing" spending -- much of which involves buying search ads from Alphabet/Google (GOOGL) - Get Alphabet Inc. Class A Report -- will weigh on its Q2 bottom line. Its outlook assumes a lower return on investment (ROI) for performance marketing spend relative to a year ago, and continued strong growth in bookings stemming from search traffic and other paid channels (for example, metasearch platforms such as Trivago (TRVG) - Get trivago NV Report and TripAdvisor (TRIP) - Get TripAdvisor, Inc. Report).
Priceline's "performance advertising" spend rose 26% in Q1 to $980.8 million (41% of revenue). In other news, Google reported its total paid ad clicks and impressions on its own sites and apps rose 53% in Q1, with mobile search growth the biggest catalyst. In addition to traditional hotel search ads, Google is now doing brisk business selling ads via the Hotel Finder tool built into its search engine, which in turn is a headwind for a company like TripAdvisor, which just posted a Q1 miss.
Yelp
Yelp reported Q1 revenue of $197.3 million (up 24%) and adjusted EPS of $0.19. The latter beat consensus estimates by $0.03, but the former missed by $0.9 million. More importantly, the local reviews leader guided for second-quarter revenue of $202 million to $206 million and full-year revenue of $850 million to $865 million (20% growth at the midpoint), below consensus estimates of $215.1 million and $888.7 million.
Markets reacted as one would expect: Yelp fell more than 18% on Wednesday, hitting levels last seen in July 2016.
On its earnings call, Yelp attributed its sales pressures to challenges in retaining local advertisers, while insisting the situation has improved in recent weeks. Paying advertiser accounts grew 17% annually in Q1 to 139,000, a slowdown from the 24% growth seen in Q4. Moreover, on a sequential basis, paid accounts rose just 1%.
Considering how aggressively both Google and Facebook (FB) - Get Meta Platforms Inc. Class A Reporthave been pitching local ads to small businesses, one has to wonder if some Yelp advertisers are deciding that they can better returns on other platforms. Google and Facebook's massive user bases, enviable mobile footprints and advanced targeting and measurement tools all work in their favor.
In addition, Google has begun running local ads on Google Maps, and -- in an attempt to eat away at Yelp's reviews leadership -- has been using its location data to send Android users notifications prodding them to share reviews and photos of local businesses they happen to be visiting, with the shared content visible in Google Maps listings. Nonetheless, Yelp's traffic growth still seems healthy: Cumulative reviews rose 26% in Q1 to 127 million, and monthly "app unique devices" 22% to 26 million. The company's main challenge is effectively monetizing its traffic.
Outside of competitive issues, the very nature of Yelp's business model has long caused problems. Businesses with strong Yelp ratings and many reviews often see little need to buy ads, as they're guaranteed to draw a lot of traffic from Yelp's organic search listings. And selling ads to local bakeries and car repair shops is inherently a lower-ROI business than selling ads to, say, Priceline and Nike. Yelp's sales/marketing spend rose a moderate 14% in Q1, but at $109.3 million, it was still equal to 55% of revenue.
Jim Cramer and the AAP team hold positions in Facebook and Alphabet for their Action Alerts PLUS Charitable Trust Portfolio. Want to be alerted before Cramer buys or sells FB or GOOGL? Learn more now.
Acacia Communications
Acacia reported Q1 revenue of $114.7 million (up 36%) and adjusted EPS of $0.77, beating consensus estimates of $112.5 million and $0.66. But it also guided for Q2 revenue of $85 million to $95 million and adjusted EPS of $0.22 to $0.35, far below consensus estimates of $130.7 million and $0.74.
Shares fell about 8% on Wednesday. Some bad news was priced in: Optical component/module peers Oclaro and Finisar had already posted disappointing reports, and Acacia went into earnings down 62% from a September 2016 peak of $128.73.
Like Oclaro and Finisar, Acacia blamed its soft outlook in large part on weaker demand from Chinese telecom equipment vendors -- ZTE is a major client -- who have seen orders from local carriers decline. But it also blamed greater "variability" in orders from one of the cloud giants (said to be a client other than Facebook) that it directly sells to. The company also noted a major OEM client has seen its sales of data center interconnect (DCI) systems to cloud giants slow, albeit while adding the OEM's orders to Acacia have begun to improve.
With Facebook, Google, Amazon and others spending heavily on capex and seeing their bandwidth needs steadily rise, cloud-related optical component demand still seems healthy, as Applied Optoelectronics' strong results and guidance highlight. On its call, Acacia talked up its growing shipments of high-speed modules based on CFP2 form factors to cloud clients, and noted it will start selling the photonic integrated circuits (PICs) used in its modules on a standalone basis in the second half.
Acacia has gotten a lot cheaper over the last few months. Though estimates have naturally fallen after the Q1 report, shares still only trade for 15 times a 2018 EPS consensus of $3.07. And though sales are forecast to drop 5% this year, they're expected to rise 23% in 2017 on the back of strong demand for its modules -- differentiated in part via the high levels of integration made possible by the company's proprietary chips -- from cloud clients.