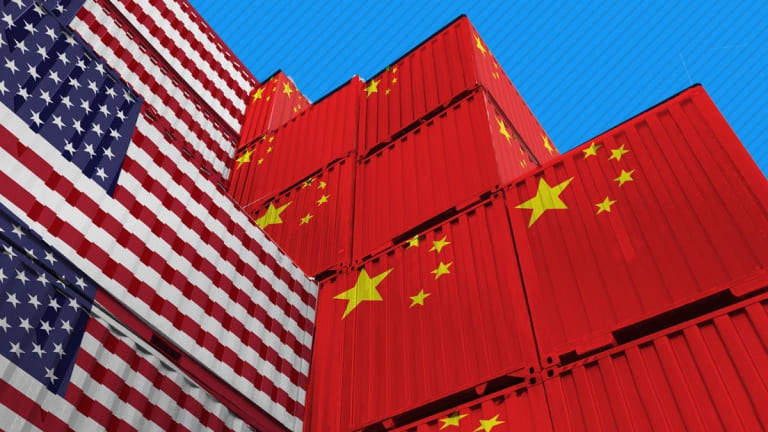 Top Chinese Stocks to Buy if There's a New Trade Deal
When the coast is clear, high-quality Chinese stocks can rip.
Chinese stocks were bouncing with a vengeance Thursday, following a tweet from President Trump that he had "a long and very good" conversation with President Xi Jinping of China, with a "heavy emphasis" on trade.
That sent shares of many U.S.-listed Chinese equities soaring Thursday, although many are giving back some of those gains Friday. The obvious elephant in the room is Alibaba (BABA) , which reported earnings before the open. 
Shares initially rallied about 5% in premarket trading, despite the company missing second-quarter revenue estimates and providing a below-consensus outlook for next quarter. Don't forget, not only does Alibaba's fiscal third-quarter include the holidays, it also includes Singles' Day on Nov. 11. (Hint: Here's how the pros are trading it). 
The situation with China stocks is a tricky one, though.
That's because companies like Alibaba, JD.com (JD) , iQiyi (IQ) , Huya (HUYA) , Sogou (SOGO) , Baozun (BZUN) , Baidu (BIDU) and others have very little to do with trade between the U.S. and China. However, these companies have suffered as these discussions continued to deteriorate.
Some investors may argue that these stocks have paid the piper because the Chinese economy isn't running at full tilt. That's a valid argument, until it's realized that many of these stocks saw massive gains Thursday following positive political talk surrounding trade.
It's also clear that after iQiyi, "the Netflix (NFLX) of China," grew revenue almost 50% year-over-year and subscribers by 80%, that growth isn't the issue. Likewise, it's hard to scoff at Alibaba - a company commanding a $388 billion market cap - growing sales 54% in the second quarter of 2018 vs. the second quarter of 2017.
U.S. stocks initially got a further lift Friday following more reports that Trump wants to settle the U.S.'s trade issue with China, although that sentiment isn't being reflected in Chinese stocks Friday. With the midterm elections just around the corner, this feels like some political posturing.
If voters see a slight rebound in the stock market and hear that trade negotiations are coming along nicely, maybe they'll be a bit more friendly at the polls to the Republican party. Whether that's enough to make a difference is a completely different conversation, but the timing is suspect, to say the least.
But let's play the game that the trade situation will be resolved soon. Do Chinese stocks then become a buy?
For companies like Alibaba and JD.com, it's hard not to like them. They've been pounded lower despite still having significant growth ahead of them. The Chinese e-commerce market -- powered by its population of roughly 1.4 billion people -- isn't going to slow much in the future and they should continue to ramp revenue and earnings over the long term.
Much the same argument can be made for Baidu, China's leading search giant. The fear here of course is that Alphabet (GOOGL)  pushes its way into China with a censored version of Google, but that's a to-be-determined situation.
Alphabet is a holding in Jim Cramer's Action Alerts PLUS member club. Want to be alerted before Jim Cramer buys or sells GOOGL? Learn more now.
Huya, the Twitch of China, has some risk as the company cracks down on video games, but why not put focus on a company like iQiyi, which is a blend between Netflix and YouTube? With faster growth than Netflix and a lower valuation, it's one worth considering. It also doesn't have direct correlation to trade, other than the fact that Chinese stocks have been punished en masse by investors because of that rhetoric this year.
Look for best of breed, high-growth Chinese stocks to fly once the trade war is behind us -- or getting behind us. Many are still stuck in downtrends right now and until they break out, they can remain under pressure.
Want to Buy Stocks for a 10% or Greater Discount?
You can with certain so-called "closed-end" mutual funds - an often overlooked investment class.
to register for a free online video in which TheStreet's retirement expert Robert Powell and an all-star panel run down all you need to know.
This article is commentary by an independent contributor. At the time of publication, the author had no positions in the stocks mentioned.