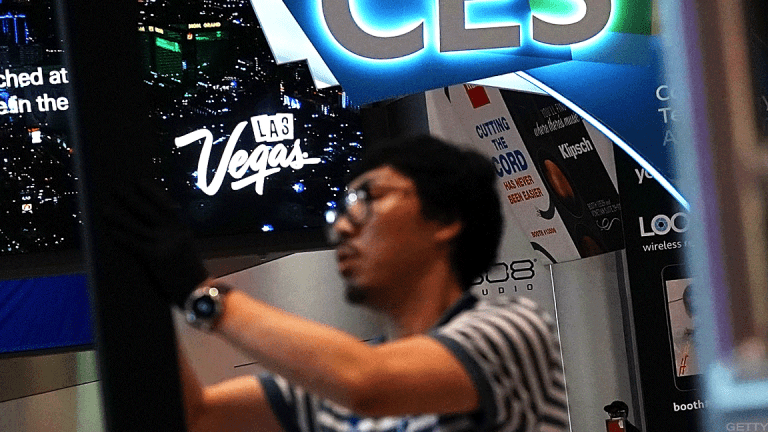 Publish date:
8 Top CES 2018 Takeaways: What's Next for IoT, VR, Autonomous Cars and More
Once you get past the hype and gimmicks, CES remains an invaluable way to see how major technologies are evolving.
Once you get past the hype and gimmicks, CES remains an invaluable way to see how major technologies are evolving.
As a Twitter search or two makes clear, reactions to the new products and cutting-edge technologies shown off at the world's biggest tech show tend to be divided almost evenly between those excited by the product reveals and demos, and those dismissing them as mere hype and gimmickry.
I prefer to split the difference. CES certainly brings out plenty of devices that either amount to vaporware or mere novelties, as well as products that (though intriguing) are unlikely to take off until a lot more work is done to address shortcomings in areas such as cost, size and functionality.
CES also, however, showcases a lot of compelling new offerings that are either ready for primetime, or for which a clear path towards large-scale adoption exists -- if not for the product itself, then for a successor likely to arrive in, say, a year or two. And just as importantly, thanks to both the products/demos and all the opportunities to talk with exhibitors and attendees, CES also arguably remains unmatched as a way to get a bird's-eye view of how tech trends are developing.
After covering seven keynotes and press events, interviewing several industry execs and checking out dozens upon dozens of company "booths" -- with many of the larger exhibits taking up thousands of square feet, calling them booths really doesn't feel right -- here are some of my main CES takeaways.
1. A mass market is starting to emerge for IoT.
A year ago at CES, the proverbial Internet of Things looked full of promise, but also fairly immature. Many top electronics, home appliance and industrial equipment vendors had only begun fleshing out their IoT offerings; proprietary solutions were often needed to control devices; and seeing devices from different vendors play nice with each other was pretty rare.
This time around, one could find pretty comprehensive home IoT product lines from the likes of Samsung (SSNLF) , LG, Panasonic, Huawei and Haier. There were also a slew of intriguing and reasonably-priced consumer IoT solutions from startups. Examples include water-monitoring devices for tracking usage and detecting leaks; tiny health sensors that can be integrated with fitness bands and track everything from blood pressure to stress levels; and bikes and scooters with built-in navigation and smart speaker function.
Google showing off smart home devices that work with Google Assistant.
Meanwhile, widespread support among devices for Amazon.com's (AMZN) - Get Report Alexa and/or Alphabet's (GOOGL) - Get Report Google Assistant is making devices easier to set up and control, and growing support for Open Connectivity Foundation (OCF) is starting to allow hardware from multiple vendors to be jointly controlled. And for businesses and governments, the likes of Bosch, Philips and Alibaba (BABA) - Get Report(yes, Alibaba) showed off platforms for automating and monitoring everything from factories to electrical systems to transportation infrastructures, while the likes of DJI and Intel  (INTC) - Get Report showcased powerful drones targeting everyone from farmers to security agencies to Hollywood directors.
Chip and cloud service suppliers might end up the biggest winners of the IoT gold rush. On the chip side, notable names include Cypress Semiconductor (CY) - Get Report, NXP (NXPI) - Get Report, Microchip (MCHP) - Get Report, Bosch and (if one counts the processing/analyzing of IoT data) Intel. On the cloud side, Amazon, Microsoft and Cisco (CSCO) - Get Report(through its Jasper unit) are notable players.
2. VR and AR are becoming a little more useful.
Hardware-wise, both virtual reality (VR) and augmented reality (AR) remain handicapped by display limitations that are going to take at least a couple years to address. For VR, the resolutions of today's headsets (less than 2K per eye) yield very grainy and blurry images, given how close VR displays are to a user's eyes. For AR, both resolution and field-of-view needs to improve -- and for headsets small and comfortable enough to be worn outdoors, that's going to take a lot of work.
But in the meantime, firms have gotten more serious about crafting VR and AR experiences that (in spite of the hardware issues) some users might still find entertaining and/or practical. On the VR front, Intel is especially aggressive: At CES, the chip giant showcased partnerships with the NFL, the Winter Olympics and Paramount Pictures to (with the help of its True View tech) to create VR experiences that allow a scene to be viewed from almost any camera angle. And at its CES booth, Intel showed off a driver-training solution (it's supplied by startup VR Motion, and relies on Intel silicon) that pairs a VR headset with simulator hardware.
Separately, VR headset makers rolled out offerings meant to get rid of annoying and cumbersome cables. Lenovo unveiled the Mirage Solo, a standalone VR headset based on Google's Daydream platform that can fully track a user's movements without external cameras or sensors. And though HTC's new Vive Pro headset (more powerful than the Mirage Solo) requires pairing with a PC and external sensors, this pairing can be done cable-free if a wireless adapter is used.
For AR, a lot of the interesting stuff at CES came from smaller companies and startups. Vuzix (VUZI) - Get Report made waves at CES with its Alexa-capable Blade AR headset; a $1,000 price tag and limited software support will keep a lid on its addressable market. There were also offerings such as the Fenix AR helmet for motorcycle riders, which (at a steep price of $1,899) provides navigation, voice commands and a rear-camera view, and the ThirdEye X1 headset, which can come with software tailored for various business verticals.
While the headsets launched by such firms might not become large-scale hits, they could still help set the stage for tech giants to deliver such hardware down the line.
3. Autonomous driving is moving closer to being a reality.
We're still likely a couple years away from seeing Level 4 autonomous cars (can take over from drivers in most situations) go on sale to consumers -- and even then, the cars at first might only drive themselves in certain "controlled" environments. But as several CES announcements and demos made clear, the future is coming into focus pretty quickly.
During its press event, Nvidia (NVDA) - Get Report showed a video of a self-driving test car traveling eight miles in Holmdel, NJ, and navigating a number of intersections and turns along the way. Intel showed off its first self-driving test car for a planned fleet of 100 -- CEO Brian Krzanich said he plans to use it to get to work -- and Lyft teamed with auto parts giant Aptiv to give rides around Las Vegas in self-driving BMWs relying on Intel's tech. And though it remains to be seen whether the company will make good on its promise, GM said it plans to produce a driverless car in 2019 that it will sell to ride-hailing firms.
Nvidia showing off its Drive Xavier and Pegasus autonomous driving boards.
All of this comes as Alphabet's Waymo starts providing rides in driverless cars along designated roads in the Phoenix suburb of Chandler. Expect 2018 to be filled with fresh announcements about autonomy milestones being hit, as the PR departments of various players try to one-up each other.
4. Companies are rethinking what cars look like on the inside.
Now that infotainment systems with large touchscreens, 4G/Wi-Fi connectivity and rear-seat displays have become fairly common within new cars, automakers and their suppliers are starting to think more creatively about solutions for entertaining and delivering information to consumers.
Mercedes-Benz made waves with its Nvidia-powered MBUX infotainment/instrument cluster system -- it sports two large high-res touch screens, can be controlled through a center-console touchpad or steering wheel buttons and (though one can argue they should've partnered with Amazon or Google here) features a Mercedes "smart assistant" that learns user preferences over time. For their parts, Pioneer and Samsung's Harman unit each showed off solutions that pair two large in-dash touch screens with a center-console screen.
Toyota's e-Palette concept car.
Though such solutions are meant for high-end cars in general, there's a general belief that they'll be especially useful in autonomous cars, since autonomy will free drivers to do things like reply to e-mails and watch YouTube videos over 5G connections. Meanwhile, though it could be some time before they're rolled out in any large way, companies are dreaming up some pretty futuristic ideas for the insides of cars lacking steering wheels or pedals.
Consider, for example, Toyota's e-Palette, a large concept vehicle that could contain anything from a bed to a computer desk to delivery packages; Amazon, Uber and Pizza Hut are among Toyota's partners for the project. Or the Rinspeed Snap, a concept car (backed by Harman, NXP, auto parts firm ZF and others) that allows various types of passenger and delivery "pods" to be placed on top of a "skateboard" containing a self-driving electric car's powertrain and computers.
5. Google Assistant has declared war on Alexa.
Now that CES is over, the Google Assistant marketing team might finally be getting some rest. They certainly deserve it, considering the job they did at the show to raise Assistant's profile.
From ads on casino signs and monorail cars, to promotional work with IoT hardware firms that led many third-party booths to turn into Google Assistant ads, to carnival-like exhibits containing giant machines with colorful toy balls and animated Google workers in white jumpsuits, to a more conventional booth showing off dozens of devices supporting Assistant, Google was bent on convincing CES attendees -- quite a few of whom are undoubtedly iPhone users, and thus don't have Assistant built into their phones -- it's far from an also-ran to Amazon's Alexa in the smart home wars. And in some cases at least, it appears to have succeeded.
Alexa, it should be noted, was by no means AWOL at CES: Plenty of Alexa-capable home devices were on display, and integration deals with Toyota and HP (HPQ) - Get Report were announced; for now, the Alexa home ecosystem is still a fair amount larger than the Assistant ecosystem. But between its CES barrage, which also included smart speaker and "smart display" deals with Sony (SNE) - Get Report , Lenovo, LG and JBL, and a pre-CES announcement pointing to six-million-plus unit sales for the Google Home speaker line since mid-October, the home voice assistant wars now look a lot more interesting.
6. Robots are evolving (but don't be scared...yet).
On the whole, the robots shown off at CES 2018 seemed more intelligent, more capable of handling difficult tasks and generally more useful than the ones shown off at CES 2017.
This is a subjective opinion, since there were dozens of robots shown off by exhibitors, and some naturally looked more impressive than others. The Aeolus robot -- it was shown off delivering drinks, vacuuming floors and providing home-security services -- looked impressive, as did Ubtech's Walker. And along with quite a few personal-assistant robots, robotic lawn-mowers, window-cleaners, ad kiosks and transportation devices were shown off, as were solutions for entertaining or assisting kids.
Major consumer companies also embraced robotics at CES. LG had a full line of home-robot concepts on display, including an assistant robot (relying on a voice-assistant service called CLOi) that can double as a smart-home hub. Honda showed off a few transportation robots, and Aflac had a well-received robot duck (developed with toy company Sproutel) that's meant to comfort children undergoing cancer treatment.

Robots were all over the place at CES.
As with VR/AR and autonomous driving, robots are a story of gradual progress. LG's assistant robot, it should be noted, didn't fare too well at the company's press event. And for now, not enough robots play nice with Alexa/Google Assistant. Cleaning devices aside, it could still be a little while before robots are both cheap and functional enough to become common sights within homes and offices.
But as hardware engineering improves, embedded processors and sensors become more powerful and (most importantly) machine learning algorithms evolve in response to real-world usage, robots are slowly but steadily starting to look less like gimmicks and more like something out of the Jetsons.
7. Gamers have become a top priority for the PC industry.
Like last year, there were plenty of eye-catching new gaming desktops and notebooks shown off at CES. More important than that, however, were the innovative solutions meant to work with or be built into third-party gaming systems.
Making good on their November announcement, Intel and AMD (AMD) - Get Reportshowed off a platform that puts one of five high-end Intel notebook CPUs and one of two AMD notebook GPUs inside the same chip package, and stated Dell and HP would launch thin-and-light notebooks based on the solution. And Nvidia, which had already been pushing its Max-Q platform for thin-and-light gaming notebooks, announced Acer, Asus and HP would be making its Big Format Gaming Display (BFGD): It relies on 65-inch 4K panels, features a a 120Hz refresh rate and supports Nvidia's G-Sync display tech.
There were also new high-speed solid-state drives (SSDs) from Intel, Samsung and others that partly targeted gamers. And at least a few innovative accessories. Consider Razer's HyperFlux Mamba, a wireless mouse that relies on inductive charging from its mousepad to receive power (no need for gamers to worry about batteries dying mid-game), or the Asus ROG Bezel-Free Kit, which (through an optical illusion) merges the images shown on two gaming monitors placed side-by-side.
Though consoles are far from dead, PC gaming is clearly riding a huge wave of momentum right now, thanks to both the growth of eSports and the cutting-edge experiences that gaming PCs can uniquely deliver. Nvidia arguably benefits more than anyone else, but Intel, AMD, Logitech (LOGI) - Get Report and many others benefit as well.
8. OLEDs make new strides.
As OLED TV prices gradually slide towards mainstream price points (it's not hard to find sets for around $1,500 now), new TV launches make the advantages OLEDs possess relative to high-end LCD sets, both in terms of image quality and thinness, even more obvious. Sony and LG demoed impressive high-end OLED sets relying on proprietary image processors to enhance image quality, and China's Skyworth showed off an absurdly-thin line of OLED TVs.
Separately, OLED technology and materials supplier Universal Display's (OLED) - Get Report shares rose almost 9% on Jan. 8 after LG demoed a 65-inch rollable 4K OLED TV, as well as an 88-inch 8K OLED set. And at a private event, Samsung reportedly showed off a phone with a 7.3-inch foldable OLED panel, while stating it plans to produce the device later this year.
2017 was a pretty big year for OLEDs, as the iPhone X launch cemented their status as the display technology of choice for high-end phones. It looks like 2018 will be pretty big, too.
Jim Cramer and the AAP team hold positions in NXP, Nvidia and Alphabet for their Action Alerts PLUS Charitable Trust Portfolio. Want to be alerted before Cramer buys or sells NXPI, NVDA or GOOGL? Learn more now.
More of What's Trending on TheStreet: