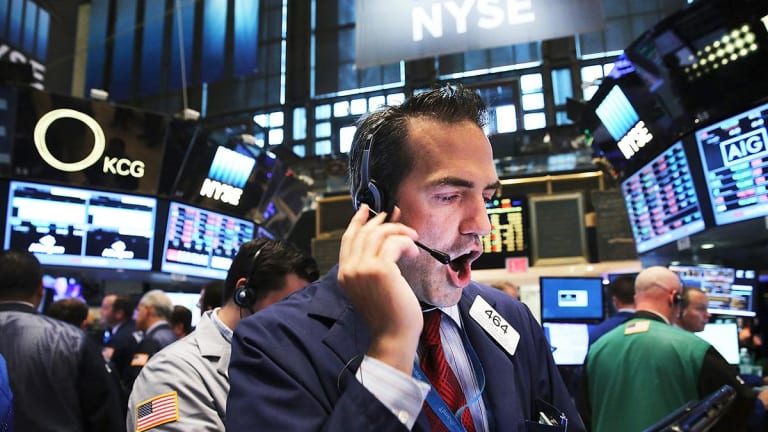 Top Analysts: Five 'Strong Buy' Stocks for 2019
These 5 hot stocks will deliver outsized gains in 2019, say best-performing analysts
With the market all over the place right now, and 2019 looking to be just as volatile, where does that leave stock pickers?
We used TipRanks market data to pinpoint stocks with a 'Strong Buy' consensus from the Street's best-performing analysts. Plus we can turn to the average analyst price target to get a handle on the kind of upside investors can look forward to. Let's take a closer look at five of these top stocks now: 
TJX Companies Inc 
Fashion retailer TJX (TJX) is bucking challenging conditions with its discount chain stores. TJ Maxx, Marshalls, HomeGoods stores all fall under the TJX umbrella.
Out of eight best-performing analysts who have recently rated the stock, seven are bullish while only one is staying sidelined. This comes with a $56 average analyst price target (15% upside potential).
MKM Partners Roxanne Meyer has just returned from a store visit alongside TJX management. She came away from the experience with a firmly upbeat take on the stock's prospects, both for the holiday season and beyond.
"We came away more bullish that TJX is well positioned for holiday, and have increased conviction that apparel strength and above-plan top-line growth is sustainable" Meyer wrote.
"In our view, TJX' edge comes from its scale advantage, its higher-end reach, and the fact that it is a (lone) global player, which provides it with a global growth opportunity and gives it unique access to differentiated product and better brands."
With greater conviction in TJX's extended top line opportunity, Meyer boosted her price target from $54 to $58- which works out at 23x her 2019 estimate. Meanwhile Guggenheim's Robert Drbul sees TJX delivering an impressive $50B revenues over the next five years.
Splunk
Big data analyzer Splunk (SPLK) is buzzing right now. Shares exploded 20% in the last five days following a strong earnings beat- with more than 500 new enterprise customers during the quarter.
And still the Street is predicting plenty of upside potential for 2019. Top Merrill Lynch analyst Kash Rangan has even posited that Splunk could be the next ServiceNow. "Given the strength in annual contract value (ACV), we could see stronger software revenues in future and close to NOWs +30% y/y" argues Rangan.
He tweaked up his FY19/FY20 revenues by +$44mn/24mn to $1.77bn/$2.22bn- and correspondingly boosted his price target from $140 to $143 (28% upside potential).
Rangan isn't the only analyst singing the stock's praises. Oppenheimer's Shaul Eyal also reiterated his buy rating post results, writing "SPLK's unique platform has positioned it to leverage global data growth into steady revenue growth. The company is maintaining its technological lead, introducing cutting-edge solutions and incorporating advanced capabilities."
Palo Alto Networks
Cyber security stock Palo Alto Networks Inc. (PANW) has just received a stream of recent buy ratings from the Street. One of these ratings comes from Oppenheimer analyst Shaul Eyal. He reiterated his rating following the company's stellar earnings results for the fiscal first quarter.
"PANW reported strong F1Q19 results beating almost every metric and raised F2Q19 guidance" stated Eyal. With the company firing on all cylinders, he "continues to view PANW's near-term momentum and long-term outlook with confidence."
Most notably, EPS of $1.17 beat consensus' $1.05E and revenue of $656M (+31% YoY) exceeded the Street's $632.1M. The robust quarter was driven by both a healthy security spending environment and strong product sales.
Looking forward, PANW is set for significant further share gains with a healthy revenue outlook for the current quarter. The company also announced its K-2 next generation firewall series for the service provider segment. Launch is now expected to occur in 2019.
Overall, this 'Strong Buy' stock boasts a $248 average analyst price target (43% upside potential).
Marvell
This tech stock has 100% Street support right now. In the last three months, (MRVL) has received no less than 15 back-to-back analyst buy ratings. This comes with a $27 average analyst price target (67% upside potential).
"Marvell has made significant progress turning its business around after two transition years" cheers Oppenheimer's Rick Schafer. This five-star analyst has just reiterated his MRVL Buy rating with a $30 price target. From current levels that indicates massive upside potential of over 85%.
According to Schafer, the company can continue expanding operating margins and free cash flow generation now that the top line is stabilized, and restructuring efforts are taking root.
And with the Cavium deal improving Marvell's growth and margin profile, Schafer argues that the stock warrants a multiple at least in line with peers. Marvell snapped up rival chipmaker Cavium back in July for a cool $6 billion. Now cost synergies are expected to reach over $200 million- a target management has already raised twice.
To sum up: "Management's established record of execution and MRVL's expanding growth/margin/FCF profile continue to support our long thesis. Our top self-help story, we'd remain long-term buyers here."
Vertex
Global biotech stock Vertex Pharmaceuticals Inc. (VRTX) is a hot healthcare pick worth following. The company has just been highlighted by Cowen & Co's Phil Nadeau as one of the firm's best ideas for 2019. This makes it the firm's top large cap pick for a second year.
"We expect VRTX's cystic fibrosis franchise to power a 22% Revenue CAGR through 2023, implying it has the best growth prospects in large cap biotech" the analyst writes. He also boosted his price target from $200 to $210 (16% upside potential).
Vertex's cystic fibrosis franchise is performing well, says Nadeau, and appears poised to drive industry-leading growth into the next decade. In particular, Vertex's VX-659-based "triple" CF regimens have just produced impressive, breakthrough-quality Phase III results. Nadeau is forecasting that VRTX will be able to file for approval of these regimens by mid-2019, implying a launch by early 2020.
And that's not all. The company's non-cystic fibrosis pipeline will become more clear in 2019 as VRTX will have at least 3 candidates in or through early clinical testing.
Bottom line: "In a large cap universe of middling growth prospects, we think these fundamentals position Vertex as the "must own" biotech for large cap growth investors."
TipRanks.com offers exclusive insights for investors by focusing on the moves of experts: Analysts, Insiders, Bloggers, Hedge Fund Managers and more. See what the experts are saying about your stocks now at TipRanks.com. Author: Harriet Lefton.