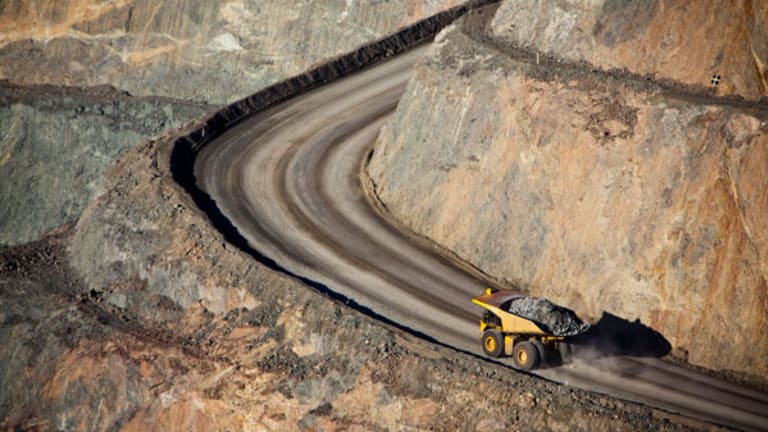 Top 5 Gold Stocks For High Gold Prices
Joe Foster, portfolio manager of the Van Eck International Investors Gold Fund, reveals the top-five gold stocks he's buying to try to outperform the gold price.
NEW YORK (
) --
can help an investor take advantage of rising
, but you have to pick the right ones.
The
Van Eck International Investors Gold Fund
(INIVX) - Get Van Eck Intl Investors Gold A Report
is up 9.3% year to date while gold is up 9%. The fund currently isn't offering the 3:1 or 4:1 leverage portfolio manager Joe Foster was hoping for, but his focus on growth could yield big returns as gold prices head toward $1,300.
The
gold fund
has 84 holdings and its top five U.S. publicly traded companies are mid- to large-cap names with strong accretive or organic expansion potential. In a recent interview, I asked Foster to reveal his top five and how he plans to outperform the gold price.
No. 5 --
Iamgold
(IAG) - Get IAMGOLD Corporation Report
Foster
: Iamgold is
a mid-tier company in the portfolio ... They're expanding their mine in Suriname in South America. They're bringing on a new project in Burkina Faso that's going to be a world-class operation
that has started up already and we think there may be some expansion in store for that project somewhere down the line.
Now the company did have some output production issues in the second quarter and profits fell about 20% so for an investor looking at the company what kind of risks do they need to brace for in the short term
?
Foster
: All of these companies have the potential to have operating issues. Mining in remote parts of the world is tough, so we don't look at it quarter by quarter. If we saw these issues persisting quarter after quarter then we would become concerned. One quarter of a miss is not something that comes up on our radar screen. I expect the company to show improvement in the third and fourth quarter as we go through the year.
No. 4 --
Goldcorp
(GG)
Foster
: Amongst the largest companies we like Goldcorp the best because they have a growth profile. They're developing a huge mine in Mexico called Penasquito that is coming in on budget and on time. It looks very good to us and next year they'll be bringing Pueblo Viejo online, a joint venture they have with
Barrick Gold
(ABX)
in the Dominican Republic. And beyond that there are a number of other projects to fill their pipelines, so we like the growth profile on Goldcorp and they're managing it very well.
The stock is up just 6% year to date, so just how undervalued do you think this stock really is
?
Foster
: In my view it's not that undervalued but because of their solid growth profile. I think they can trade at a premium to their peers because of their management and just the dynamics of the company. So I wouldn't call it a cheap stock but the outperformance would
be in the high multiples the company can command.
No. 3 --
Agnico-Eagle
(AEM) - Get Agnico Eagle Mines Limited Report
Foster
: Agnico-Eagle has gone through a big growth spurt and they have had operating issues ... They've started up five new mines in the last three years, which is a tall order. We believe they have all of their operating risks behind them and they should reach steady production as we move into year-end and I think the market's going to pay up for that.
Now the stock has already moved about 18% so far this year. Does it really have that much more room to run
?
Foster
: Yes, if you look back at the past 18-24 months the stock has underperformed because of the operating issues so there's more catch up to do for Agnico and their share price.
No. 2 --
Randgold Resources
(GOLD) - Get Barrick Gold Corporation Report
Foster
: Randgold fits the mold of the company that has grown organically. They've got a great team of geologists that have discovered world-class deposits in West Africa and we just love their growth profile and the fact that they founded it all themselves.
Are you worried about their rising cash costs, which have grown from $400 to almost $700 per ounce
?
Foster
: Not really ... the Achilles' heel of growth companies is that you have operating risk as they bring new projects into production ... Randgold is going through some growing pains, struggling with costs and operating issues that we think will get ironed out as time goes on.
I've heard from some analysts that Randgold's too expensive, that it trades at 22 times 2011 earnings, that it's too much of a premium. Why is that OK for you to stomach
?
Foster
: They're not too expensive, first of all, if you give them credit for all of the ounces that we expect them to develop over the next five-10 years. So my guess is that analysts who see them as expensive aren't seeing the growth potential in the company that we are.
No. 1 --
Kinross Gold
(KGC) - Get Kinross Gold Corporation Report
Foster
: If this
Red Back
/Kinross merger is completed than Kinross will be our largest holding. We have a very large holding in Red Back, a generous allocation in Kinross, so the combined company will be our largest holding.
Why else do you like Kinross? Why was it in your fund to begin with
?
Foster
: Well first of all the stock is cheap and we see value in the stock. It fell out of favor with investors over the past year, year and a half, so we see it as a value play number one.
And then secondly, they've got development projects. They're expanding a mine in Brazil, they've got a project in Ecuador that looks very attractive to us and then with the combination with Red Back now the Tasiast Mine will provide another leg of growth for the company.
Now I've heard from some analysts that its actually better to own gold companies that aren't going to go buy smaller gold companies like Kinross. Do you agree with that
?
Foster
: Well, we like growth ... It takes very skilled managements to make an accretive acquisition
and that's one form of growth, but what we really like to see is organic growth where companies go out and discover the properties they can put into production themselves.
Now as you mentioned Kinross is down around 15% year to date. What do you think it will take to get the stock out of its slump
?
Foster
: I think once the Red Back deal is finalized and we start to see drill results come out of Tasiast towards year-end I think that is going to be a catalyst to lift the stock much higher.
Now you also own the SPDR Gold Shares (GLD) - Get SPDR Gold Shares Report, the gold ETF. Why
?
Foster
: The GLD is more ... defensive. When we said earlier that gold stocks have leverage to the gold price well that same leverage applies on the downside. If we see there's some downside risk in the gold market we might go into GLD as sort of a hedge through a correction or weak point in the gold price.
According to VanEck's website, the GLD makes up 3.52% of the gold fund vs. Kinross' and Red Back's combined 11.07%. As a relatively substantial position, the allocation suggests that Foster is protecting the fund against short-term volatility in the gold price. Regardless of this short-term hedging, Foster thinks the gold price can rise more than $2,000 in the long term. This 63% rise could equate to a 252% rise in his gold growth stocks.
--
(SYMBOL) by Alix Steel in
.
Disclosure: TheStreet's editorial policy prohibits staff editors and reporters from holding positions in any individual stocks.