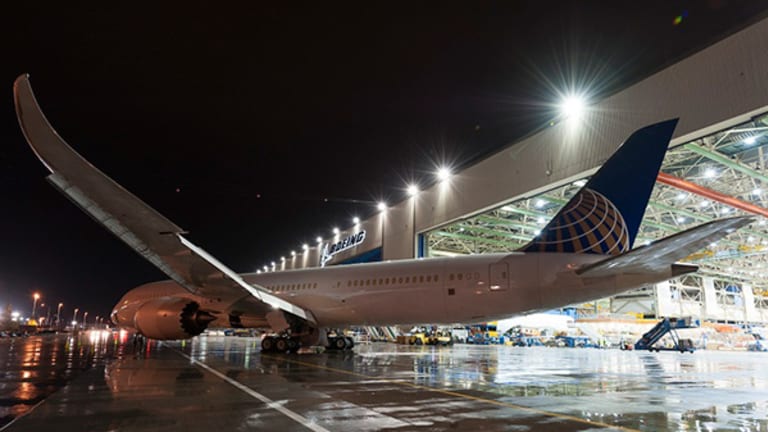 Top 4 Most Innovative U.S. Routes Flown by Boeing's 787 Dreamliner
Because it's a relatively small aircraft that can still carry enough fuel to fly extremely long distances, the 787 has opened routes that wouldn't have been possible before.
Because it's a relatively small aircraft that can still carry enough fuel to fly extremely long distances, the 787 has opened routes that wouldn't have been possible before.
NEW YORK (TheStreet) -- It seems safe to say that the Boeing (BA) - Get Report 787 Dreamliner, which began flying in 2011 for ANA, has expanded the margins of commercial aviation.
Because it is a relatively small aircraft that can still carry enough fuel to fly extremely long distances, the 787 has opened routes that would not have been possible before.
To date, Boeing has delivered about 230 aircraft to about 30 customers.
On certain routes, said aviation consultant George Hamlin, the 787 has a "Goldilocks effect" because it is "not too big and not too small -- it is just right."
He means that in the past, airplanes like the Boeing 747 and 777 and the Airbus A340 were required to fly certain extremely long-haul routes because only they could carry sufficient fuel. But the bigger airplanes accommodated hundreds more passengers than the 787 does -- and therefore eliminated the possibility of flying "long, thin routes" that lacked sufficient demand to fill them.
For this story, we consulted with airline experts as well as Boeing to assemble a list of the most innovative 787 routes, seeking to find routes that could not have been flown but for the aircraft's unique capabilities.
To start out, we award an honorable mention to United's (UAL) - Get Report Los Angeles-Melbourne flight, which at 7,918 miles is the world's longest Dreamliner route. Service began Oct. 26 aboard a 787-9.
 "The 787-9's extended range -- 8,550 miles compared with the 787-8's 8,200 -- enables United to launch the Los Angeles-to-Melbourne service, which will be the longest Dreamliner route in the world to date," United said in October.
No. 4: Stockholm-Oakland
Most people envision the 787 as something of a luxury aircraft, used on long-haul routes that are specifically attractive to business fliers.
This is not the vision of Norwegian Air Shuttle, which packs its 787s with 291 seats -- nine across in coach and seven across for the 32 "premium economy" seats in the front.
In May 2014, Norwegian began serving Oakland International Airport to Stockholm, a distance of 5,354 miles, and to Oslo, a distance of 5,207 miles. Introductory one-way fares on both routes were $236.
The flights were the first-ever non-stops from the two Scandinavian capitals to the Bay Area.
Additionally, "these flights are the exceptions that prove the rule that 787 service must come out of a major hub," Hamlin said. "Low-cost carriers try to stimulate traffic using low fares -- not necessarily in major hubs."
No. 3: Beijing-Boston
Boston is a leading U.S. city, but it is not a hub for any global airline. (JetBlue (JBLU) - Get Report has a Boston hub which offers domestic and close-in international flights.) Boston Logan International Airport is the 19th busiest U.S. airport, according to 2013 figures.
That means the airport's aggressive efforts to secure non-stop Asia service could not be rewarded until a smaller ultra-long-range aircraft came along. "The markets simply aren't big enough for a 777," Hamlin said.
In April 2012, Japan Air Lines, an early 787 customer, launched Tokyo Narita-Boston service, a 6,719-mile flight. On June 20, 2014, Hainan Airlines launched service from Beijing to Boston, a 7,071-mile flight. Hainan's 787-8 carries 213 passengers.
"The 787 is made for Boston," said Joel M. Chusid, U.S. executive director for Hainan, in a 2014 interview.
"Boston was the top U.S. market that did not have service to China," Chusid said. "We've been talking to Boston for approaching eight years. The primary reason we didn't start sooner was the lack of aircraft availability. We have the (Airbus) A340, but it was not well-suited to Boston-Beijing. It's too big."
Ed Freni, aviation for the Massachusetts Port Authority, said in a 2014 interview that "after many years of negotiating, (Hainan) told us the 787 would be the perfect airplane," Freni said. "We got a wink and a nod that they would do this when they got the 787, and we were able to finalize that deal. Boston has always been on their radar screen: The 787 is what made it happen."
No. 2: London-Austin
British Airways began flying the 787-8 with 214 seats between London Heathrow and Texas' Austin-Bergstrom International Airport on March 3, 2014.
London became the airport's first international destination other than Mexico. No one imagined that a non-hub city as small as Austin would be able to generate enough traffic to fill a daily flight to London, even if it is a technology and cultural center.
"When our folks laid out a map of potential routes for the airplane, they never imagined London to Austin would be a reality," said Boeing spokesman Doug Alder.
London-Austin service began with five weekly flights. From March through December, the flight carried 96,973 passengers, helping to boost the airport's 2014 passenger count, which rose 7% to 10.7 million passengers.
Said Hamlin, "London-Austin is a poster child for what this airplane can do." He said the flight benefits from British Airways' Oneworld partnership with American, the second largest carrier at Austin (after Southwest). "The combination of an alliance and effective equipment gets you this flight," he said.
United's Denver-Tokyo flight is another example of a flight from a U.S. city to a major international airport that would not have been possible without the 787, although Denver at least is a major airline hub.


No. 1 : San Francisco-Chengdu
United's San Francisco-Chengdu flight on June 9, 2014, was the first non-stop commercial flight ever from North America into the interior China, and perhaps the clearest indication that the aircraft's highest and best use is to open new frontiers in air travel.
At the time, at 6,857 miles, San Francisco/Chengdu was the longest 787 flight to operate non-stop in both directions. United operates its 787-8 with 219 seats.
The flight works because in San Francisco, United operates the best U.S. hub for Asian travel. There, United can gather literally everybody in the U.S. who wants to fly to Chengdu, starting with Bay Area business people whose companies have operations in rapidly growing Chengdu.
In December, United said it would increase SFO-CTU service from three weekly flights to daily between June 4 and Sept. 1. Surprisingly, the service increase was enabled by higher-than-expected leisure traffic originating in Chengdu.
While the two other U.S. global carriers are still adding service to the three coastal China gateways - Beijing, Shanghai and Hong Kong - United has its eyes on China's interior and on opening new markets. It benefits not only from its China presence and its San Francisco hub, but also from its lead in 787 orders.
United has taken delivery of about a dozen 787s and has placed orders for 65 of them. American took its first 787 last month and has not even announced what route it will fly: American has orders for 42 Dreamliners. Delta has not ordered any.
"We have a first-mover advantage," said Brian Znotins, United's vice president of network. "We have schedule coverage, a strong base of business traffic, and the best U.S. gateway to the Pacific. These are all competitive advantages."
-- Written by Ted Reed in Charlotte, N.C.
To contact this writer, click here.
This article is commentary by an independent contributor. At the time of publication, the author held no positions in the stocks mentioned.