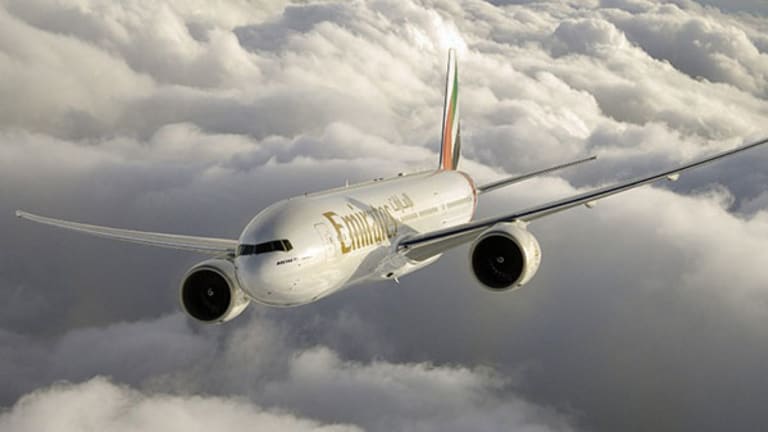 Top 3 Ways the U.S. Favors Middle East Airlines Over U.S. Airlines
The U.S. government subsidizes foreign airline purchases of Boeing aircraft, plans an Abu Dhabi customs pre-clearance facility, and gives away Open Skies treaty rights, all at the expense of the U.S. airline industry.
The U.S. government subsidizes foreign airline purchases of Boeing aircraft, plans an Abu Dhabi customs pre-clearance facility, and gives away Open Skies treaty rights, all at the expense of the U.S. airline industry.
WASHINGTON (TheStreet) -- As the big three Middle East carriers continue their rapid expansion into the U.S., the threat to domestic carriers intensifies as the government assists Emirates Airline, Etihad Airways and Qatar Airways in inexplicable ways, said the president of the leading airline pilot union.

Emirates, Etihad and Qatar are all state-owned carriers capable of trading short-term profits for the potential of expansive air service, said Lee Moak, president of the Air Line Pilots Association, in an interview.
"All three airlines have a similar business model, and that is to take over all the international flying in the world," Moak said. "They continue to add routes and order aircraft, and they are willing to do that at a financial loss."
Oddly, government policies appear to tilt in favor of the Middle East carriers at the expense of domestic airlines. For instance, the State Department wants to place a U.S. Customs and Border Protection at a pre-clearance facility in Abu Dhabi even though no U.S. airlines fly to Abu Dhabi. Etihad would be the primary beneficiary.
Similarly, the Export-Import Bank enables low-cost financing for foreign buyers of Boeing (BA) - Get Report aircraft, but no one offers similar assistance to U.S. airlines when they buy aircraft.
Last week, the Middle East airlines were flexing their muscles in the U.S.
On Tuesday, the UAE's Emirates, which is based in Dubai and owned by Dubai's government, put an Airbus A380 with 489 seats on the LAX-Dubai route, replacing a 237-seat Boeing 777-200LR. Emirates now operates 63 weekly flights from Dubai to seven U.S. destinations, including Dallas, Houston, Los Angeles, New York, San Francisco, Seattle and Washington.
On Wednesday, Qatar announced it will begin daily DFW-Doha service in July 2014, when both Qatar and Emirates will serve Dallas. Qatar should have an advantage, given that it -- like hub carrier American -- is a member of Oneworld, which it joined on Oct. 29.
Qatar has announced 2014 service to Oneworld hubs in Miami and Philadelphia. It already serves Chicago, Houston, New York and Washington.
For its part, Etihad plans to begin LAX-Abu Dhabi service in June. Etihad already flies Abu Dhabi to Chicago, New York and Washington Dulles. Etihad's strategy includes buying minority ownership in troubled airlines of other countries, something it has done or plans at seven carriers. So far, it has not revealed any plans to invest in a U.S. airline.

Airline industry leaders led by Delta (DAL) - Get Report CEO Richard Anderson frequently decry the U.S. government's failure to pursue a coherent aviation policy. In fact, various government agencies often seem to work in direct opposition to U.S. airlines' interests. Moak provided three examples.
First, through its Ex-Im Bank, the U.S. government subsidizes the purchase of Boeing aircraft by foreign carriers including Emirates and Etihad.
Boeing spokesman Tim Neale said the "Middle East carriers' use of export credit has been below the historic global average," and added: "The cost of government export credit doubled earlier this year and is now in line with what's available from commercial lenders without government loan guarantees. In fact, U.S. airlines have been getting better rates this year in the commercial bond market than foreign airlines have been getting using government export credit."
Moak said that if Ex-Im Bank's export credit "isn't that great, people wouldn't be using it." ALPA, Delta and Hawaiian (HA) - Get Reporthave filed three lawsuits challenging Ex-Im Bank transactions with various foreign carriers.
At the Dubai Air Show last month, the three Middle East carriers announced plans to buy 225 Boeing 777X aircraft, a symbol of their global aspirations, with Emirates taking 150 aircraft, Qatar taking 50 and Etihad taking 25. Neale said he expects the carriers will likely fund the purchases in the commercial financing market.
A second problem is that the U.S. has Open Skies treaties with 111 countries. That means carriers from those countries can fly to the U.S. and U.S. carriers can fly to those countries. The problem is that U.S. carriers don't want to fly there, so access to U.S. markets is negotiated away for nothing.
According to statistics compiled by ALPA, only 12% of the passengers between the U.S. and Abu Dhabi, Doha and Dubai fly on U.S. airlines. The rest fly on Middle East airlines. Among U.S. carriers, only three fly to the Middle East. Delta flies Atlanta-Dubai and JFK-Tel Aviv. United (UAL) - Get Report flies Dulles-Dubai, continuing to Doha; Dulles-Kuwait, continuing to Bahrain, and Newark-Tel Aviv. US Airways flies Philadelphia-Tel Aviv.
Meanwhile, the Abu Dhabi pre-clearance facility would allow passengers to the U.S. from Abu Dhabi to quickly clear customs before arrival. It appears that the State Department wants to enable the facility in return for unknown concession in other areas. "There's no rational explanation for this," Moak said.
Written by Ted Reed in Charlotte, N.C.
To contact this writer, click here.