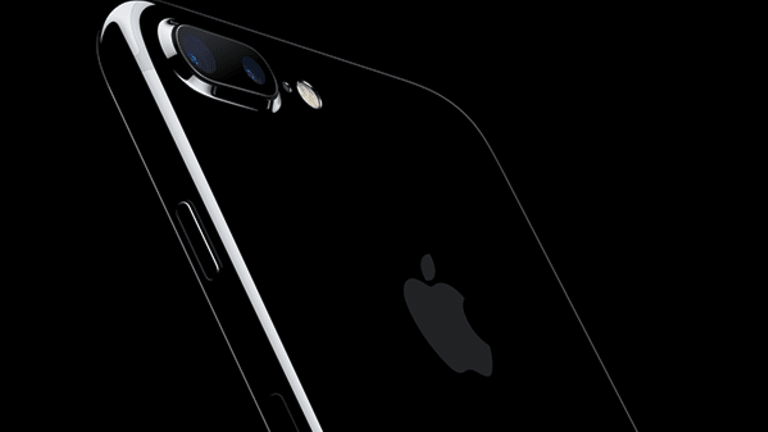 Top 10 Tech Stock Predictions for 2017
Apple and Samsung will release cutting-edge new phones, Twitter and GoPro could get sold, and trade tensions with China create problems for tech giants, among other prognostications.
Apple and Samsung will release cutting-edge new phones, Twitter and GoPro could get sold, and trade tensions with China create problems for tech giants, among other prognostications.
Editor's pick: Originally published Dec. 20.
Perhaps no sector is as prone to seeing wide-eyed predictions about massive changes that are about to hit entire markets and industries as technology. But more often than not, enormously-hyped tech trends end up doing less than expected in the short-term, even if some of them end up exceeding the wildest expectations of pundits over the long run.
Thus, when making predictions about what will happen in tech within one year, rather than five or ten, it usually helps to take a measured approach. That means one that realizes that while change is an undeniable constant for most parts of the sector, a lot of things will still look much as they do right now in 12 months.
With that in mind, here are 10 tech predictions for 2017. Our follow-up with 10 more predictions is available here.
1. Mobile hardware innovation makes a comeback.
Following a 2016 that -- with the possible exception of the iPhone 7-Plus' dual-lens camera -- saw Apple (AAPL) - Get Report and Samsung (SSNLF) deliver just incremental smartphone hardware improvements, larger changes are likely in store for 2017. Both firms are rumored to be prepping phones sporting edge-to-edge OLED displays. Apple reportedly wants next year's iPhones to support over-the-air wireless charging, and Samsung is believed to be prepping a phone with a foldable screen. Apple is also rumored to be interested in foldable screens, albeit for 2018 iPads.
Hardware advances could help the smartphone market return to meaningful growth, if only for a little while. Research firm IDC estimates smartphone shipments will rise just 0.6% in 2016 to 1.45 billion.
2. Virtual reality (VR) and augmented reality (AR) make gradual headway.
2016 was a big year for VR hardware, with Facebook's (FB) - Get Report Oculus Rift, HTC's Vive, Sony's (SNE) - Get Report PlayStation VR, Alphabet's (GOOGL) - Get Report Google's Daydream platform and Intel's (INTC) - Get Report Project Alloy all launching. But the commercial reception to these products was mixed, thanks to the high cost of PC-based solutions such as the Rift, the limited abilities of smartphone-based solutions such as Daydream and Samsung/Oculus' Gear VR and fledgling software ecosystems.
However, the PlayStation VR, which only launched in October, has been doing healthy sales, and should continue its momentum next year. Software support for other platforms should improve in 2017, and Microsoft's (MSFT) - Get Report Windows VR platform will enable cheaper PC setups. The VR market might not see fireworks next year, but it should edge closer to going mainstream, with gamers gravitating to PC and console headsets and everyone else more likely to buy smartphone solutions.
While VR headsets will mostly appeal to consumers next year, AR headsets are more likely to be picked up by businesses. Many of the first apps for Microsoft's HoloLens AR headset (still only available through a $3,000 developer's kit) target office workers. And if Google Glass finally sees a commercial launch, it will likely be through a business-focused Enterprise Edition. Consumer AR headset adoption might be more of a 2018 story.
3. Companies get more realistic about autonomous driving.
A slew of big automakers unveiled projects in 2016 that promise to bring a self-driving car to market in a few years, but it's not clear the companies appreciate the magnitude of what they signed up for. Simply having a chance to develop the hardware and software needed for cars to safely and effectively drive themselves at all times will require a lot of engineering talent, as well as a lot of real-world driving data.
Therefore, look for automakers to start considering joint ventures with rivals, after getting a better feel for just how challenging a problem autonomous driving is. Also, expect more of them to consider teaming up with Google: The search giant has about a decade of experience and over three million test miles under its belt, and now appears to be taking a more pragmatic approach to its self-driving efforts.
In addition, look for a better appreciation of what Tesla Motors (TSLA) - Get Report has accomplished via its Autopilot hardware and software. Like Google, Tesla has amassed a lot of data, and though some of the hype surrounding it is excessive, the company's new second-generation Autopilot system should be capable of taking over from drivers in many (though not all) common driving situations. A lot of its rivals, by contrast, can only offer basic driver-assistance features and a lot of promises.
Apple, Facebook and Alphabet are holdings in Jim Cramer'sAction Alerts PLUS Charitable Trust Portfolio. Want to be alerted before Cramer buys or sells AAPL, FB or GOOGL? Learn more now.
4. Enterprise and telecom M&A intensifies in response to capex declines.
We've already seen a pair of mega-deals -- Dell and EMC, Nokia and Alcatel-Lucent -- involving, respectively, IT giants and telecom equipment suppliers looking to reap cost synergies and offer end-to-end product lines as markets shrink. There could be even more such deals in 2017, as IT giants deal with further declines in non-cloud IT spending, and telecom carriers keep a tight lid on spending in the face of major revenue pressures.
With tens of billions in repatriated cash possibly on the way as a result of tax changes initiated by President-elect Trump, there could also be a pickup in acquisitions of reasonably-valued mid-sized players -- ones with, say, $5 billion to $15 billion market caps. Citrix Systems (CTXS) - Get Report, F5 Networks (FFIV) - Get Report, Juniper Networks (JNPR) - Get Reportand Check Point Software (CHKP) - Get Report are among the possibilities.
5. More cloud firms decide it's better to partner up with Amazon, Microsoft and Google.
2016 saw Spotify agree to let Google handle its infrastructure needs, and top cloud business app vendors Salesforce.com (CRM) - Get Report and Workday (WDAY) - Get Report decide to let Amazon (AMZN) - Get Report handle a decent portion of theirs. It's a safe bet that more such deals will arrive in 2017, as the scale, features and geographic reach of Amazon, Google and Microsoft's infrastructures lead more cloud app and service providers to decide running their own data centers (or at least building more of them) isn't worth the trouble.
Also look for more sub-scale cloud infrastructure firms to do some soul-searching about just how capable they are of competing with the big dogs. AT&T and VMware formed alliances with Amazon in 2016. Maybe it will be Verizon or CenturyLink's turn in 2017.
6. Twitter and GoPro get sold, possibly for less than what they're worth right now.
Both companies are struggling to grow their addressable markets, have seen big turnaround initiatives fall flat and have investor bases that are running out of patience. But in the absence of multiple suitors, any prospective buyer of either Twitter (TWTR) - Get Reportor GoPro (GPRO) - Get Reporthas to feel that time is on its side.
For all their shortcomings, Twitter and GoPro each still claim a loyal base of core users, as well as valuable, well-recognized brands. And Twitter in particular feels like it has a lot of untapped potential that could be realized by a company that knows how to revamp the microblogging platform's user experience and better leverage its content. The only question is how much more financial pain Twitter and GoPro have to endure before the companies decide they need to sell and/or buyers feel like the firms are too cheap to pass up on
7. Amazon and Facebook's threat to Google's ad empire becomes clearer.
Business was very good for Google's bread-and-butter ad operations in 2016. The company's aggressive efforts to monetize its mobile search traffic, together with YouTube's ad growth, led the number of paid ad clicks and views on Google properties to soar.
Things could start to get tougher in 2017, however, as the changes Google made to its mobile search pages to boost ad revenue has a smaller impact on growth. Meanwhile, Facebook (FB) - Get Report, whose tremendous news feed ad growth has already had an impact on Google's display ad business, could become a bigger headwind for Google's AdMob mobile ad network, given the momentum behind Facebook's rival Audience Network. Facebook is also going after Google's lucrative travel search ad business, but that's more of a wait-and-see story.
Amazon, for its part, keeps taking share from many of Google's best e-commerce ad clients. Amazon buys Google search ads too, but (relative to its size) spends less on them since so many Amazon shoppers head straight to its site or app. This has been offset by the strong uptake seen for Google's shopping search ads by most big retailers not named Amazon. As Google Shopping's growth slows due to high penetration rates, Amazon's impact on Google's e-commerce ad sales will likely become more pronounced.
These trends are unlikely to lead Google's ad growth to implode; Google Search is too valuable an advertising tool, and Google's monetization skills too strong, for that to happen. But Google's paid click growth could fall markedly from its current 30%-plus level.
8. Google's big lead in artificial intelligence (AI) becomes better appreciated.
That Google is betting big on AI is hardly a new revelation. But there is a habit among the press and analysts to label Google as one of several AI leaders, rather than the leader. Some time spent using services such as Google Photos, Google Translate and the recently-launched Google Assistant shows just how advanced Google's machine learning abilities, many of which can be applied to a slew of seemingly unrelated products and services, have become.
But there are also some less visible ways in which machine learning is helping Google out. It's used to do everything from improve the quality of search results to help advertisers optimize their ad bids to figure out which YouTube videos to recommend. It also plays a big role in Google's autonomous driving efforts, and provides users of the Google Cloud Platform with several AI-powered services generally viewed as best-in-class.
Machine learning algorithms become smarter as they're trained against more and more data to deduce patterns from. Google's algorithms may be reaching a point where markets start to look at them as a key competitive advantage worth many billions of dollars.
9. Trade tensions with China cause problems for select tech giants.
The NSA spying controversy showed how political tensions can impact the sales of many tech giants to the Middle Kingdom. With President-elect Trump threatening to impose tariffs on various Chinese goods, and also trying to grow manufacturing jobs for various Rust Belt industries, it's not hard to imagine a Chinese backlash hitting a tech sector that hasn't been particularly close to Trump, despite the recent tech roundtable he hosted.
Enterprise and telecom suppliers such as IBM (IBM) - Get Report, Oracle (ORCL) - Get Report, Dell EMC and Cisco (CSCO) - Get Report could all be affected by trade tensions. So might Apple, but one has to think their heavy use of Chinese manufacturing gives them some leverage.
10. Cloud, security and chip M&A remains healthy, but its financing might change.
A lot of the strategic arguments for further consolidation in these fields still apply. Enterprise tech firms want more exposure to cloud apps and services that are taking share from on-premise offerings, security IT spending continues to outperform IT spending in general and chip companies are able to obtain big cost synergies and more leverage with customers/suppliers by merging.
But whereas many of these deals have been debt-financed to date, higher interest rates and strong equity markets will probably make more firms think more about financing them with stock rather than debt. Repatriated cash could also be an option for some companies, should Trump's plan for a 10% one-time repatriation tax get approved.