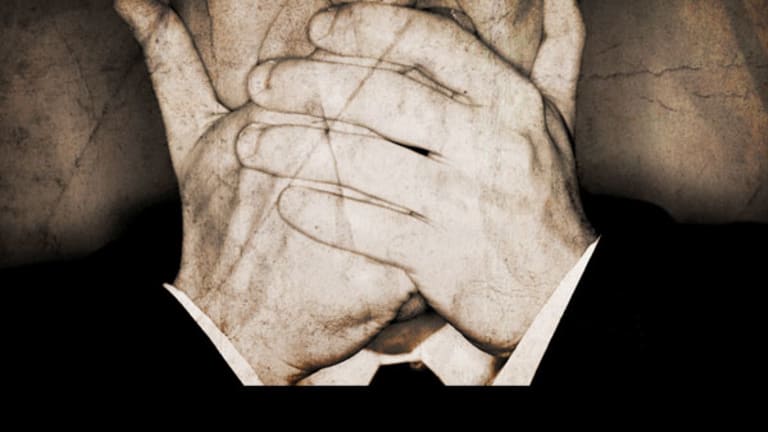 Top 10 S&P 500 Insider Sales of 2010
The Top 10 S&P 500 insider selling companies of 2010 have doubled selling of their shares in the current year.
NEW YORK (
) -- Fears that stocks have become frothy sank the markets on Thursday. One metric used to point the finger at the min-bubble conditions is the level of insider selling that has been going on among S&P 500 company executives. Insider selling is up, way up, and that could be the proverbial "tell" from those in the know that a market correction is coming. Insider selling among S&P 500 companies reached the highest point in four years during the first week of November, according to insider sales watchdog,
Insiderscore.com
.
However, insider selling is about sentiment as much as it is about crunching the numbers. The selling by individual companies, especially the biggest insiders sellers, can be misleading. While sentiment says that corporate executives do think valuations are a little out of hand, among the top 10 largest insider selling companies from the S&P 500 Index so far in 2010, the reasons behind the big executive divestitures of stocks don't necessarily support a view that the biggest sellers are signaling a correction.
In fact, the real "tells" among recent insider sells are not to be found in the Top 10 larger insider sells from S&P 500 companies, according to
Insiderscore.com
.
>>9 Insider Sales That are Raising Eyebrows
The level of insider selling among the S&P 500 Top 10 sellers in 2010 is high, roughly double last year's activity, and that's with a month-and-a-half left to go in the year. The doubling among the Top 10 S&P 500 sellers matches the doubling of selling activity so far for the S&P 500 universe as a whole. Additionally, even though the inside sales watchdog says that there isn't really seasonality to insider selling, previous Novembers have featured some of the biggest insider selling of all-time, and the data from
Insiderscore.com
is only through Nov. 11.
On a company-specific basis,
Microsoft
(MSFT) - Get Microsoft Corporation Report
and
M&T Bank
(MTB) - Get M&T Bank Corporation Report
and
Oracle
(ORCL) - Get Oracle Corporation Report
are the top three among S&P 500 insider sells in 2010, through November 11.
Steve Ballmer, for one, announced this month a huge stock sale. While Ballmer caught some flak for the selling done in the first week of November -- $1.34 billion worth of selling -- Ballmer said it's all about tax planning and diversification, which is the stock answer from corporate executives when they unload shares. In Ballmer's defense,
Insiderscore.com
notes that Microsoft shares have been trading in the middle of their 52-week range, albeit a narrow range, and it's much more eyebrow raising when an insider is selling at an all-time high for shares, or at least a multi-year high share price.
Bill Gates is always selling to fund his foundation, among other reasons -- to the tune of over $1.8 billion this year. Between the typical Gates selling and Ballmer's selling, Microsoft tops the list of inside sellers in 2010, with $3.3 billion in insider sales, yet the software giant has topped the list for the past three years, and it's nothing new.
M&T Bank, which is No. 2 this year among S&P 500 companies insider selling, was skewed by more than $2 billion recently sold by
Allied Irish Banks
(AIB)
.
Morgan Stanley
(MS) - Get Morgan Stanley Report
, which came in at 9th on the list, is also among the Top 10 because of an outside investor selling. China Investment Corp. sold $692 million worth of Morgan Stanley shares.
CareFusion
(CFN)
also features among the Top 10 largest insider sale companies in 2010 -- but only because
Cardinal Health
(CAH) - Get Cardinal Health Inc. Report
sold a huge stake in the spun-off company.
Ellison's Oracle selling is typical of the corporate personality sales that typify the S&P 500 Top 10 insider transaction.
Polo Ralph Lauren
(RL) - Get Ralph Lauren Corporation Report
,
Estee Lauder
(EL) - Get Estee Lauder Companies Inc. (The) Report
and
Amazon.com
(AMZN) - Get Amazon.com Inc. Report
are three more Top 10 insider selling examples where all the activity was done by one individuals or controlling families, Ralph Lauren and Jeff Bezos and the Lauder family.
No. 10 on the list of the Top 10 insider sells in the S&P 500 in 2010 is a better reflection of the typical insider selling that raises eyebrows.
Salesforce.com
(CRM) - Get Salesforce Inc. Report
is rated a "very negative" by
Insiderscore.com
. The interesting thing about the Salesforce.com selling is that it occurred in late August and September before shares of the company slumped from $123 down to $99. Now Salesforce.com shares are back in the range of $116.
In any event, here are the Top 10 S&P 500 Insider Selling Companies in 2010 and the dollar value of shares sold, through Nov. 11:
No. 1 - Microsoft:$3.3 billion
No. 2 - M&T Bank:$2 billion
No. 3 - Oracle:$1.5 billion
No. 4 - Google:$1.2 billion
No. 5 - Polo Ralph Lauren:$935 million
No. 6 - Amazon.com:$858 million
No. 7 - CareFusion:$705 million
No. 8 - Morgan Stanley:$694 million
No. 9 - Estee Lauder:$277 million
No. 10 - Salesforce.com:$272 million
And last but not least -- or, actually, last
and
least -- as for the S&P 500 company that has had the
least
insider selling in 2010, it's
Lexmark
(LXK)
, which is up 47% this year, even after a huge post-third quarter earnings decline of roughly 20%.
-- Written by Eric Rosenbaum from New York.
RELATED STORIES:
>>9 Insider Sales That are Raising Eyebrows
>>Top 10 S&P 500 Stock Buybacks in 2010
Copyright 2009 TheStreet.com Inc. All rights reserved. This material may not be published, broadcast, rewritten, or redistributed.