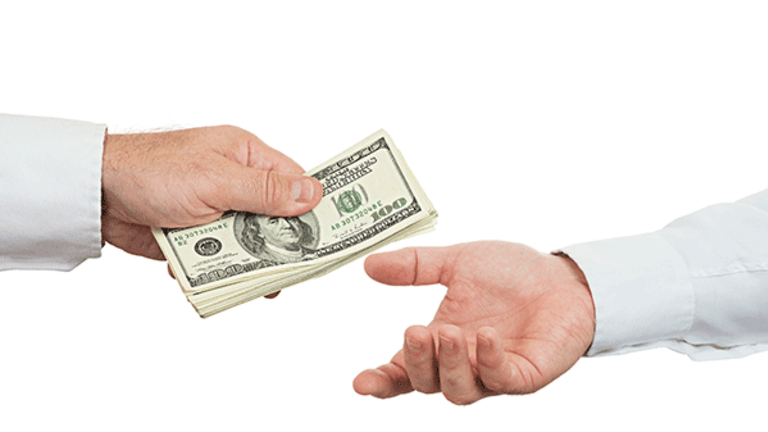 Top 10 Consumer-Staples Dividend Stocks for Safe Income Growth
These 10 safe dividend stocks have an average yield of 3% and have delivered high dividend growth for years.
Editors' pick: Originally published Sept. 22.
Consumer-staples stocks are easy for dividend investors to love. Their well-known brand names attract customers year after year. Their operations spit out cash faster than ATMs. Typical economic cycles do little to alter things.
Owning these stocks puts you in the same company as world-class investors such as Warren Buffett (see Buffett's dividend portfolio here). That's good company to be in.
The following 10 stocks are consumer classics and have been dividend-growth machines. Each stock yields more than 2%, offers safe income for conservative investors and has low price volatility.
Investors should keep an eye on these stocks' valuations, which aren't necessarily cheap today, but otherwise these companies can make sense for retirement portfolios.
1. Nestle (NSRGY) - Get NSRGY Report
Nestle is the world's largest food company with nearly $90 billion in annual sales spread over many segments. The company is based in Switzerland and has been around for more than 150 years.
The company makes and markets more than 50 major brands, and they cover just about every food and beverage category. The brands best known to U.S. investors include Nestle, Nescafe, Gerber Baby Products, Butternut, Crunch, KitKat, Carnation and Dreyer's.
Each of the company's products competes in an unending war for grocery shelf space and consumer loyalty. There is no time off for a holiday. The battle in the mature markets of Europe and North America is especially intense.
Over time, the fastest growth has been through major acquisitions such as Carnation and Gerber. The company has achieved a good level of success with this strategy and always focuses on stable, market-leading brands.
The current $1.95-per-share dividend payout offers investors an above-average 2.5% yield. The 65% EPS payout ratio is relatively low for a company in a mature industry like packaged foods. This may mean the company is keeping cash in reserve for further acquisitions, or it may simply reflect conservative Swiss values.
Company financials, including dividends, are measured in Swiss francs. Since the financial crisis, the Swiss franc's value has fallen 35% against the dollar. This means the dividend growth in dollar terms is dependent on exchange rates.
It also explains the volatility in the dollar-measured dividend-payout history.
Nestle has been paying dividends for 56 consecutive years, however. Over the last decade Swiss franc dividends have increased at a 21.3% annual pace. Over the past five, they've risen 15.4%.
The company's policy is to pay an annual dividend set at the time of the year-end meeting in December. So investors with a sweet tooth for Nestle will take note of how currency exchange affects dividends and that dividend payments are just once a year.
2. Anheuser-Busch InBev (BUD) - Get Anheuser-Busch InBev SA/NV Report
On a hot day when only a cold beer will do, this company has the solution. You have your choice of more than 200 beer brands including Budweiser, Corona, Stella Artois, Beck's, Bud Light, Skol, Modelo Especial, Michelob Ultra... The list goes on. Anheuser Busch InBev ranks No. 1 in both product breadth and revenue.
The company known for its Clydesdales is no longer independent but is now part of the global beer empire formed through a 2008 merger. Headquarters are now in Leuven, Belgium.
The company reports in dollars, but only 26% of sales volume comes from North America. The rest is spread around the world, so exchange rates matter.
Marketing and advertising are very important in the beer industry. Companies need to target specific income and lifestyle demographics with various products, and they must sponsor sports events and do savvy marketing at them.
Beer demand is not particularly sensitive to economic cycles, so revenue is very predictable. Beer is a relatively low-cost alcoholic beverage, so price increases usually don't kill the buzz. Beer typically contains barley and often contains corn and/or corn syrup, however, so when prices of these commodities rise, they can pinch margins.
Anheuser Busch InBev's $3.22-per-share annual payout (net of withholding taxes) offers investors an above-average 2.6% yield. The free-cash-flow payout ratio is just 55%, based on the past 12 months. This is low for a company in a slow-growing industry, so there is a good cushion here.
Anheuser Busch InBev has a short dividend history since the 2008 merger, so it's growth is distorted. In such a case, other measures can provide some help. Operating margins have hovered around the 32% level in recent years. These are unusually strong margins for this industry, providing more than enough cash to finance operations and the dividend.
There is also $62.03 billion of cash on the balance sheet, enough to pay the current annual dividend many times over. It seems like a good bet that the current dividend is safe and that future growth is likely.
3. The Coca-Cola Co.  (KO) - Get Coca-Cola Company Report
The Coca-Cola Co. sells its well-known Coca-Cola drink around the globe. But it also has hundreds of other nonalcoholic beverage brands, including Fanta and Sprite, just to name two.
Coca-Cola stands out as the world's largest beverage company. The only real competition is from PepsiCo. Many a beverage entrepreneur enters the market each year, but not that many survive.
PepsiCo is a holding in Jim Cramer's Action Alerts PLUS Charitable Trust Portfolio. Want to be alerted before Cramer buys or sells PEP? Learn more now.
The Coca-Cola Co.'s beverage portfolio is resilient to recessions, and many of its sugary beverages have consumers hooked.
The business thrives on marketing and product promotion, and much of Coke's growth comes from less-saturated international markets. It has been that way for more than 100 years.
With Coca-Cola there is no need to sacrifice yield, growth or safety. This stock has it all.
Little wonder that Warren Buffett has had a long-term love affair with the stock, and it's also worth noting that Coca-Cola is a dividend aristocrat.
The current $1.40-per-share payout offers a 3.3% yield. The next dividend increase most likely will come at year-end 2016.
The company has grown the dividend by 9.4% annually over the last 20 years. The payout ratio currently sits at 79% of EPS and 89% of free cash flow. It probably won't increase much more, which means future dividend growth will be driven by earnings growth.
Coca-Cola is highly profitable and generates huge amounts of cash. Operating margins tend to be greater than 20%. In each of the past four years, operating cash flow has been greater than $10 billion. Of the company's $91 billion in total assets, more than 20% is in cash. In other words, Coca-Cola's dividend is a sure bet.
4. Kraft Heinz (KHC) - Get Kraft Heinz Company Report
Kraft Heinz came into being through the July 2015 merger of the two companies. It was the perfect marriage of Oscar Mayer hot dogs and Heinz's mustard and pickle relish.
Today Kraft Heinz is a powerhouse in products sold in supermarkets. Its list of household-name brands is long: Oscar Mayer, Heinz, Planters, Velveeta, Philadelphia, Lunchables, Maxwell House, Capri Sun, Ore-Ida, Kool-Aid and Jell-O.
Kraft Heinz's brands are best known in the U.S., which is where the company gets 69% of its revenue. The other 31% of sales come from more than 100 countries. The company gets it products to market using a complex network of independent brokers and agents.
The packaged food business is extremely competitive. Grocery chains commonly charge fees when a new company seeks shelf space, so there are costly barriers to entry. Large investments in advertising, coupons and in-store promotion are required to establish and maintain brand awareness.
The Kraft and Heinz combination was prompted by the mature nature of the industry. The key now is efficiency. The company has an integration plan that targets $1.3 billion in cost cuts, the reduction of 8,500 employees and the sale of noncore assets.
The current annual $2.40-per-share dividend payout offers investors an above-average 2.7% yield. The last quarterly increase, to 60 cents a share, was recently declared, so it will be a while before the next increase comes around.
The limited operating history of the combined Kraft and Heinz businesses provides little information about dividend-growth habits. The same can be said about payout ratios, which currently run rather high at 75% of EPS and 98% of free cash flow. So short-term dividend growth could be limited.
5. Diageo (DEO) - Get Diageo Plc Report
Diageo is the world leader in the premium market for alcoholic drinks. Founded back in 1886, Diageo has its headquarters in London.
The easiest way to appreciate the breadth of this company's brand presence is to go visit any upscale provider of adult beverages and check out the top shelf.
There you're likely to find Johnnie Walker, Crown Royal, J&B, Buchanan's, Windsor, Bushmills, Captain Morgan, Smirnoff, Ciroc, Ketel One vodka, Baileys, Don Julio and Tanqueray. And then there is Guinness. Those brands help adds up to $10.5 billion in annual sales.
The industry is something of an oligopoly dominated by only a few competitors. They include Bacardi, Brown-Forman, Pernod Ricard, Beam Suntory and Constellation Brands. The legal booze business is government-controlled and taxed at multiple levels. If you want to cook up some bathtub hooch, that is one thing, but to commercialize it, you need broad distribution.
The road to a global presence means having an extensive network of distributors, wholesalers and retailers. Once that happens, it's a game of building a portfolio of brands. This takes acquisition capital.
Brand loyalty is strong, and that's good news for dividend investors. Small custom brands are popping up here and there. These are fun to sample but pose little threat.
The company likes to boast that key products such as Johnnie Walker, Captain Morgan, Ciroc and others are all in growing categories. Global revenue is growing faster than overall consumption, so this fact backs up management claims.
The current $3.19-per-share annual dividend payout offers investors a 2.7% yield. The current moderate EPS payout ratio of 60% leaves a lot of cushion.
Over the last decade, dividends have grown 4.5% each year, and they've grown 7.6% per year over the past five. You will notice that Diageo pays its dividend on a semiannual basis and that payments are typically much larger in the second half.
Diageo has $1.58 billion in the bank. That is not as big a cushion as others, but operating margins are steady in the 26%-30% range, so there is ample cash flow to fund operations and still pick up the bar tab.
6. Altria Group (MO) - Get Altria Group Inc Report
Altria Group business is centered around tobacco. This translates into huge profits, cash flow and dividends.
Although tobacco-cigarette smoking is on the decline in the U.S., Altria is responsible for U.S. sales of some of the most popular and best-selling cigarette brands, including Marlboro and Kool. The company has also been able to offset declining demand by raising prices. Note, too, the demand from people who still smoke tends to remain stable even during recessions.
Altria also sells cigars and snuff, owns a wine business and has expanded into the e-vapor market, which is a smart diversification move if more Americans stop smoking tobacco cigarettes.
The current dividend payout of $2.44 per share offers investors a 3.8% yield. Over the past 20 years dividend growth has averaged 2.9% annually, and over the past five it has averaged 8.5%.
Cash continues to build even with an 80% EPS payout ratio, but the company's consistent free-cash-flow generation and recession-resistant products provide plenty of safety.
7. Kimberly Clark (KMB) - Get Kimberly-Clark Corporation Report
If a consumer personal care or household product has anything to do with paper, chances are pretty good that Kimberly-Clark is involved.
Its $18.59 billion business includes Personal Care, (Huggies, Kotex, Depends) Consumer Tissue (Kleenex, Scott, Cottonelle) and K-C Professional, which sells paper products to hotels and other institutions.
Kimberly Clark gets about 50% of its revenue from outside the U.S. This exposes the company to foreign exchange risks, but the risk is about average for consumer product companies of this type.
The consumer paper products business is extremely competitive. No doubt Kimberly Clark's biggest rival is Proctor & Gamble.
Kimberly Clark's brands are highly regarded by consumers. The company spends millions each year for continuing quality improvements, and demand for consumer paper products is nearly impervious to economic cycles.
The current $3.68-per-share annual dividend payout offers investors a 2.9% yield. The payout ratio of 65% has been hovering around its current level for some time. This moderate level provides plenty of safety and room for growth.
The company has paid dividends continuously for more than 80 years and has raised its payout for more than 40 years in a row. Few businesses offer such a combination of safety and growth, and Kimberly Clark is certainly a favorite blue-chip dividend stock.
8. Unilever (UL) - Get Unilever Plc Report
Unilever is one of the world's largest packaged goods companies. Products are sold through supermarkets, drugstores and general retailers.
Of the $53.27 billion in annual sales, Personal Care provides 38%. It also provides 48% of operating earnings. Household Products contributed 19% of sales and 10% of income. Foods and Beverages account for the final 43% and 42%, respectively.
The company owns more than 100 brands including Dove, Lux, Knorr, Hellmann's, Lipton, Breyers, Talenti, Grom and Ben & Jerry's. The 13 largest brands have sales of $1 billion.
Unilever is an Anglo-Dutch company with headquarters in both Holland and London. The common currency is the euro. Unilever began its existence in two tiny countries, so business elsewhere has always been important. Unilever's style is to focus on emerging markets where demographics are favorable and markets are less competitive.
Unilever markets products in more than 190 countries, and what it calls emerging markets are responsible for 58% of its total business. Unit sales have been growing 9% on average over the past five years, offsetting mature markets in Europe, America and elsewhere. 
Overall volume growth last year at 2.1% shows that Unilever is doing well.
Except for brands like Ben & Jerry's ice cream and Talenti gelato, many Unilever products are daily-use items that are low in cost. This makes unit sales steady and predictable. The variety of currencies is a different matter. For dividend investors, currency risk management can be as important as advertising and other key drivers.
The current $1.39 per share annual payout offers an attractive 3.0% yield, and the 41% free-cash-flow payout ratio is low for a company in a stable industry. 
Over the last five years, the growth rate measured in dollars has been just 3.5%. Please remember, Unilever pays dividends in euros, and over the past five years, dividend growth in euros has averaged a consistent 7%.
Because of the strong dollar, however, half of the gain gets lost in translation. This means that investors need to take the possibility of further declines in the euro into consideration when it comes to Unilever. But it works both ways, so if the euro rises in value, U.S. investors benefit.
9. Philip Morris International (PM) - Get Philip Morris International Inc. Report
Philip Morris International was spun off from Altria Group in 2008. While the Altria Group sells cigarettes in the U.S., Philip Morris sells them in other countries. The company manufactures and markets more than 15 of the world's best-selling cigarettes in more than 180 countries around the would.
Brands include Marlboro and L&M, the world's No. 1 and No. 3 names, respectively. Overall, Philip Morris owns six of the top 15 best-selling brands worldwide. Aside from Marlboro and L&M, other brands include: Bond Street, Sampoerna A, Parliament, Philip Morris, Chesterfield, Lark, Fortune, Dji Sam Soe.
The company's overall market share averages more than 35% and approaches close to 80% in some countries.
Governments in many countries have increased sales and excise taxes on tobacco, but higher prices have not broken the world's smoking habit. And brand loyalty is high, meaning that Philip Morris International has steady and predictable revenue.
Investors are offered a well-above-average 4.1% dividend yield based on the current $4.16-a-share annual payout, and the dividend has compounded by 10.6% annually over the past five years.
A close look at Philip Morris International's financial statements is critical to appreciating the safety of the dividend. Operating margins are nearly 40%. This means that Philip Morris is generating healthy profits to finance its operations. The company's payout ratio is high, however, at 99% of free cash flow.
10. Colgate-Palmolive  (CL) - Get Colgate-Palmolive Company Report
Colgate-Palmolive is the world's third-largest maker of household cleaning and personal care products. This category accounts for 86% of the Colgate's $16 billion in annual revenue. The balance comes from the Hill's pet food business that is sold in the same grocery stores as other Colgate-Palmolive products.
You will easily recognize their most prominent brands: Colgate, Palmolive, Speed Stick, Softsoap, Irish Spring, Protex, Toms of Maine, Ajax, Axion, Fab, as well as Hill's Science Diet.
Colgate-Palmolive forged a strong international presence from the beginning. Only 30% of global volume (about 40% including Hill's) comes from the U.S.
There are few businesses more competitive than household and personal care products. Five companies control large shares of the market. Only Proctor & Gamble and Unilever command more business than Colgate-Palmolive. 
Colgate's financial results are subject to above-average exposure to exchange rates. In 2015, overall unit sales grew 5% but when translated into dollars, total revenue was essentially unchanged.
Colgate-Palmolive's management is highly experienced at hedging currency risks, however. This means that the value of important assets such as cash is preserved to finance operations and pay dividends.
Colgate also has successfully managed price increases and used cost controls to maintain operating margins and cash flow.
Investors are offered a 2.1% dividend yield based on the current $1.56-per-share annual payout. Colgate-Palmolive has an all-star history and has increased its payout at a 10.1% compound annual growth rate over the last 20 years. Over the past five years, the CAGR is 8%. The company is also a dividend king.
This is the sign of a highly stable business. The company's EPS payout ratio at 99% over the last 12 months is distorted by certain noncash charges, so the free-cash-flow payout ratio of 57% is a more accurate measure.
Stable businesses such as Colgate-Palmolive can appear boring, but with steady cash flow and growing dividends, boring can be OK.
This article is commentary by an independent contributor. At the time of publication, the author was long CL, PM, KMB and MO.