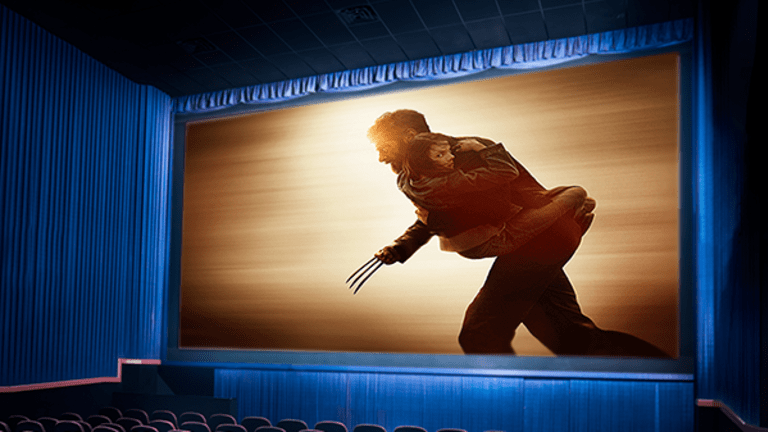 Spring Break is in the air, and summer movies are on the horizon!
Tinseltown has increasingly turned to comic book movies and sequels to drive ticket sales. And 2017 is no different, with some of the most anticipated movies fitting one category or another and often times both, according to ticket vendor Fandango, which compiled a list of the 30 most anticipated films this year.
2017 is expected to see a modest bump in revenue from 2016, when it generated around $11.43 billion, according to MKM Partners analyst Eric Handler. "While no one film genre stands out in 2017 as was the case in 2016, the year does appear deeper than last year with solid tent pole titles in nearly every month of the calendar," Handler wrote in a note to investors.
That should help offset lower ticket sales, as more consumers look to stay home to watch movies to look for alternative forms of entertainment. 
Movies like Disney's (DIS) - Get Walt Disney Company ReportStar Wars: The Last Jedi, Warner Bros. (TWX) Wonder Woman are expected to be big business for media companies that sorely need the box office revenue.
Everything gets underway, starting this week, with the latest film in the X-Men franchise, Logan. "Logan is [kicking off] the month of March like a solid punch to the gut later this week with the very R-rated film looking to replicate in some respects, the Deadpool R-rated superhero phenomenon," said comScore senior media analyst Paul Dergarabedian via email.
"WonderWoman and JusticeLeague look to give DC Comics a huge boost this year and Guardians of the Galaxy [Vol. 2] will be the latest in a long line of successful Marvel films to officially kick off the summer movie season over the first weekend in May," he added. "I have seen no signs of Superhero fatigue, just bad movie fatigue... so as long as the movies deliver the goods, people will keep lining up for them." 
In addition to known and existing properties, star power should help drive ticket sales, Benchmark analyst Mike Hickey wrote in a December research note.
Emma Watson from Beauty and the Beast was voted the most anticipated actress, with Daisy Ridley from Star Wars: The Last Jedi's  coming in second. Chris Pratt, who plays Starlord in Guardians of the Galaxy Vol. 2, was voted most anticipated actor.
Here's a list of 10 movies this year that are sure to rack up the ticket sales -- and maybe a few popcorns and sodas too.
Logan (March 3, 2017)
Starring Hugh Jackman in his final time as Wolverine/Logan, Fox's (FOXA) - Get Fox Corporation Class A ReportLogan is slated to kick off the blockbuster season -- one that's increasingly getting earlier every year.
"The studios have realized that the movies can define the month not the month that defines the movies," Dergarabedian added.
Jackman may be hanging up the claws for the last time, but it looks like he's going out on a high note. Logan has scored incredibly well with critics according to Rotten Tomatoes. It also has a high audience awareness, at 99% of movie goers aware of the flick.
Kong: Skull Island (March 10, 2017)
What do you get when you need another cinematic universe and you have the biggest monsters of all time? The set-up for a battle of the ages.
Following 2014's hit Godzilla movie, production company Legendary teamed up with Warner Bros. to shift Kong: Skull Island to Warners from Universal, with a showdown between King Kong and Godzilla scheduled to come in a few years.
Kong: Skull Island stars Tom Hiddleston, Brie Larson, Samuel L. Jackson, John Goodman and last but not least -- the biggest King Kong you've ever seen on screen.
I can already feel the ground shaking underneath me.
Disney's Beauty And The Beast (March 17, 2017)
Expectations for the live-action remake of Disney's Beauty and the Beast are nothing short of astounding as movie patrons are excited to be Disney's guest.
"The anticipation and excitement around this movie is astonishing," said Disney CEO Bob Iger on the company's first-quarter earnings call. "The first trailer drew more than 127 million online views in the first 24 hours, breaking the record held by Star Wars: The Force Awakens. And the trailer we released last week also generated more than 100 million views. The first week of ticket pre-sales has also been very strong reminiscent of pre-sales for some of our biggest Marvel movies."
Starring Emma Watson as Belle and Dan Stevens as Beast/Prince, this one is sure to be a crowd pleaser and get people talking -- and maybe the tea cups and clocks too.
The Fate Of The Furious (April 14, 2017)
How do you top Furious 7, which pulled in over $1.5 billion at the box office and saw movie goers pay their farewells to Paul Walker?
You bring back everyone in the franchise and make it even more over the top.
Starring Dwayne Johnson, Vin Diesel and adding Charlize Theron to the cast, The Fate Of The Furious is the eighth movie in the lucrative Universal (CMCSA) - Get Comcast Corporation Class A Report franchise which first appeared nearly 15 years ago.
Expectations are high coming off Furious 7 and with 97% of fans wanting to see the movie, it's a good bet to be a box office boon in April.
Guardians Of The Galaxy Vol. 2 (May 5, 2017)
Coming off the surprise 2014 hit of Guardians of the Galaxy, expectations are high for the sequel -- and it's not just because of Baby Groot.
Disney's Iger called it "another great Marvel film with even more of the fantastic action and humor that made the original Guardian such a breakout hit." With a cast of Dave Bautista, Diesel (Baby Groot), Chris Pratt and others, it's sure to be another Disney blockbuster.
Wonder Woman (June 2, 2017)
This is the first comic book movie in the new era with a female as a lead and the whole world is waiting for this one because of it.
Gal Gadot -- after her brief, scene-stealing appearance in Batman v. Superman -- is taking the reins in her own feature, as Diana Prince/Wonder Woman. 
The first three movies in the DC Extended Universe have received significant amounts of criticism, so it's important that Wonder Woman get DC back on the right path for the future of these movies.
Maybe Wonder Woman can use the lasso of truth on the critics to nudge them in the right direction.
Despicable Me 3 (June 30, 2017)
Universal has a franchise that came out of nowhere and it's going to get everything out of it that it can -- and then some.
Coming off the $1 billion gross that was Minions, Steve Carrell returns as the lovable former evil-doer turned Anti-Villain League agent, Gru. He's joined by an incredible voice including Kristen Wiig, Trey Parker and Julie Andrews. Oh and the Minions. Lots and lots of Minions.
Spider-Man: Homecoming (July 7, 2017)
After the nightmare that was The Amazing Spider-Man 2, Sony (SNE) - Get SONY GROUP CORPORATION SPONSORED ADR Report needed to give Peter Parker some help. Enter a relationship with Disney and Marvel.
Disney-owned Marvel has the rights to the Spider-Man character, but his movie rights are owned by Sony, due to deals done in the early part of the century. Sony agreed to let Spider-Man appear in Disney movies (see Captain America: Civil War) and in return, Marvel would help with creative direction of the franchise and also let some of its other characters appear in Sony's Spider-Man movies to help boost the appeal.
Starring Tom Holland as the radioactive web-slinger, Michael Keaton as The Vulture (yup, Batman is now a Spider-Man villain) and Robert Downey Jr. as Iron Man, this is the third reimagining of the movie franchise since 2002. 
Sony is definitely hoping that a spider does whatever a spider can [to boost the box office].
Justice League (November 17, 2017)
DC's answer to the Avengers, Warner Bros. is hoping for a Hulk-sized box office from this one or the franchise may be gone in a Flash.
Directed by Zack Snyder (he of the Man of Steel and Batman v. Superman criticism), the movie stars Ben Affleck as Batman, Gal Gadot as Wonder Woman, Jason Momoa as Aquaman, Ezra Miller as the Flash and Ray Fisher as Cyborg. From the trailers, the movie looks decidedly less serious than its predecessors, which can only help the enjoyment factor of the movie.
Otherwise, Superman may be fighting for truth, justice, the American way and a new director. 
Star Wars: The Last Jedi (December 15, 2017)
Star Wars: The Force Awakens was the biggest hit of 2015 and the third-biggest hit of all-time, at over $2 billion in box office revenue. Judging by anticipation, The Last Jedi may be just as big, if not bigger.
On Disney's recent-earnings call, Iger said he had recently seen the film, calling it "a great next chapter in the iconic Skywalker family saga." The movie stars Mark Hamill as Luke Skywalker, the aforementioned Daisy Ridley as Rey and, in her last role prior to her unfortunate passing, Carrie Fisher as General Leia Organa.
Dergarabedian noted  The Last Jedi may have a shot at surpassing its predecessor's box office results, given the hype surrounding it, coupled with it being Fisher's last role on screen. "Of course expectations have to be tempered, but if any movie has a shot at matching or surpassing The Force Awakens, it's "The Last Jedi," the analyst said.
Disney is certainly hoping the force is with this one.
Editors' pick: Originally published March 2.