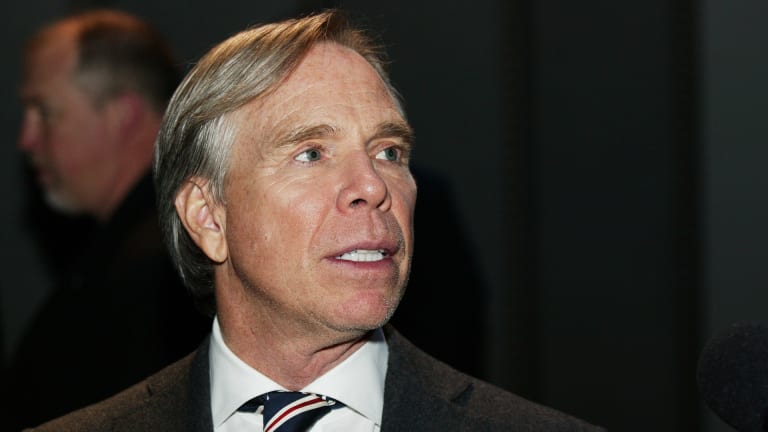 Here's How You Can Save Malls From Dying: Tommy Hilfiger
Designer and businessman Tommy Hilfiger started his business at 18 with $150 and a single store in his hometown of Elmira, N.Y.
Disruption is wreaking havoc in retail where designer Tommy Hilfiger made his fortune, yet he's fully onboard with the concept and how it's playing out, he said in an interview with TheStreet.
Hilfiger started his business at age 18 with $150 and a single store in his hometown of Elmira, N.Y., before he made it big in the fashion world—a tale he recounts in his 2016 autobiography, American Dreamer. Today, his brand is owned by PVH Corp. (PVH) - Get PVH Corp. Report .
Fresh from London Fashion Week, the globe-trotting Hilfiger talked about the state of retail, where malls are headed, the latest fashion trends and his perfect day.
This interview has been condensed for length and clarity.
Q. It's last-gasp time for some bricks-and-mortar retailers. How can they come back?
A. If the product, the ambiance and experience are right, they can. It's difficult for retailers to come back if they're not staying either on the trend or ahead of the trend. 
I see a a lot of sameness out there. You need to create a product that is different from the competition and better. The better mousetrap deal.
Retailers need approval by the millennials and the Generation Z [which is] coming up. So the youth has to embrace the brands, the retailers, the restaurants and even automobiles.
Q. Talk about how youth acceptance drives sales and has led to your success.
A. I've always been obsessed with keeping the brand young, because the youth will move the needle in society, whether it's in fashion, art, music, entertainment, sports, celebrity. We as a brand have to stay young and fresh.
I was the first to do it in the 90s when we were known for the street look and the sporty street look with logos and numbers and jerseys and the athletic inspiration. It's now coming back, and is on the Paris runways with the cool people, with the people who are possibly leading the way.
Q. One of your trademarks has been to cater to the "cool people." How did you work that aspect into your business and designs?
A. I've always been passionate about music. Actually, I say F.A.M.E.: fashion, art, music, entertainment. I've always been really quite, quite interested in those aspects of life and had my antennas up to see what's new and exciting. Then I would incorporate it into my brand. Whether it was something new in art or music or musicians or celebrities or the entertainment business, I've pulled that pop culture aspect into my brand, because I want it to be a cool brand and I wanted to keep it young, fresh, exciting and interesting. Otherwise, I think a brand or a retailer, restaurant, can become very boring and very staid.
Q. If you were a 20-year-old designer today, how would you do things differently? We have Amazon.com Inc. (AMZN) - Get Amazon.com, Inc. Report now, which has impacted fashion, retailers and other industries.
A. I would go direct to consumer, do something disruptive and build a product that nobody else has.
When I started, we didn't have social media. It was word of mouth and building something experiential and fun and cool. They say if you build it, they will come.
So I built something with no money—$150— and 20 pairs of jeans. I made the experience exciting and interesting and cool for the time. I played music, had all the cool people coming buying clothes from me.
As time went on and I started building my brand, I decided that I should be disruptive in advertising and marketing. George Lois, an advertising genius, helped me do that. He created a campaign that is historical, and it was disruptive. So I've always had that thought in my mind to continually disrupt, either with the product or with whatever I'm doing.
Q. What do you dream about now?
A. I'm always looking for what might be next. We've fused technology and digital into our whole company, from a shopping aspect, from a consumer communication aspect, from a big data aspect. We introduced SnapShop during our fashion show, where you watch the fashion show onscreen or in person and click and buy. Nobody does that. We are delivering to the consumer either same day or next day. And we are offering everything you see on the runway. We have also opened up the shows to the public and we are doing "see now, buy now" globally.
Most recently, we had 2.6 billion impressions during the show and sold millions of dollars worth of items when the show was happening and the hours and days following. It's really like bringing a flagship store to the audience.
Q. What are the latest fashion trends?
A. Fashion is cyclical, so styles are becoming bigger and bigger now, whereas in previous years they were a bit slim. We are also looking at a lot of logos. We are looking at glam and glitter for the evening and at slightly more oversize cuts in everything, like big puffer jackets.
Q. Where will malls be in five years?
A. They have to be phenomenal, exciting and offer great experiences. The mediocre or the less exciting malls will fall by the wayside. The whole shopping experience has to become a big experience for the consumer.
The consumer today wants a memorable experience. They want immediate gratification. They want to share whatever they're doing with friends. They want authenticity. And they want it to be as real and as exciting as possible.
Q. What's your perfect day?
A. Waking up in the morning, working out, doing some sort of exercise. Taking my son to school. Going back home, getting on the phone, taking care of business. Being on the phone with my business partners.
Then in the afternoons, I like to do the creative thing. I like to see shop designs, fashion designs, see new product designs, packaging. It's then I also pick model and photographers and create advertising ideas.
We are doing it all globally now, so we are in touch with head offices in Amsterdam and New Delhi and Shanghai and London and Rio. We are really all over the world and communicating with all of our teams.
More of What's Trending on TheStreet: