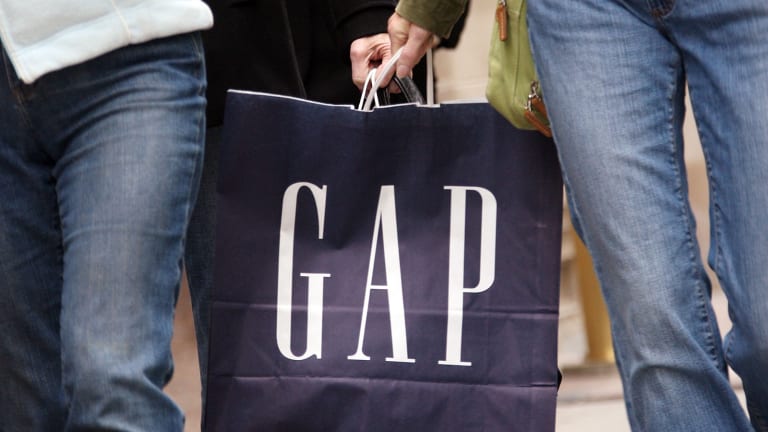 Gap's CEO Just Had a Bizarre Rant on Why He Doesn't Run a Mall Retailer
Good ol' Gap is making a comeback
Good ol' Gap is making a comeback
Gap is back, mall rats. But it wants to remind you that it's not just a mall retailer.
"Really, it's just flat-out wrong," said CEO Art Peck on the Gap Inc. (GPS) - Get Report earnings call Thursday Aug. 17, urging everyone to refrain from calling Gap a "mall-based apparel retailer."
"We have clear points of advantage," he said, first and foremost including "our portfolio of iconic, profitable brands."
Iconic? Eh, probably a stretch. But profitable isn't far off.
Here's a Quick Recap Capturing Twitter Outrage by Celebs Over Trump Remarks
Gap posted adjusted earnings of 58 cents a share, beating estimates of 52 cents a share. Shares of the mostly mall-based retailer popped 6% in after-hours trading. 
The quarter is the third consecutive one of same-store sales growth for Gap after years of struggles thanks to steep competition from e-commerce rivals (ahem, the Dark Star) and fast fashion retailers. Over the past two years, shares fell nearly 35%.
But the sun is out for Gap, at least for now.
"Below the top line we've demonstrated our ability to expand margins and we will continue to be aggressive and disciplined cost managers, to do the math," Peck said.
Speaking of Amazon.com Inc.  (AMZN) - Get Report , though, Gap is less than enthused to join the fleet of brands that bit the bullet to join the tech platform.
The possibility of a partnership between Amazon and Gap, he said, isn't in the forecast for now.
"I've been open in saying that we will always be where our customer is, so we are not close minded in making sure of that," Peck said toward the end of the call. "We are a fashion apparel company and people come to us to buy clothing."
More of What's Trending on TheStreet: