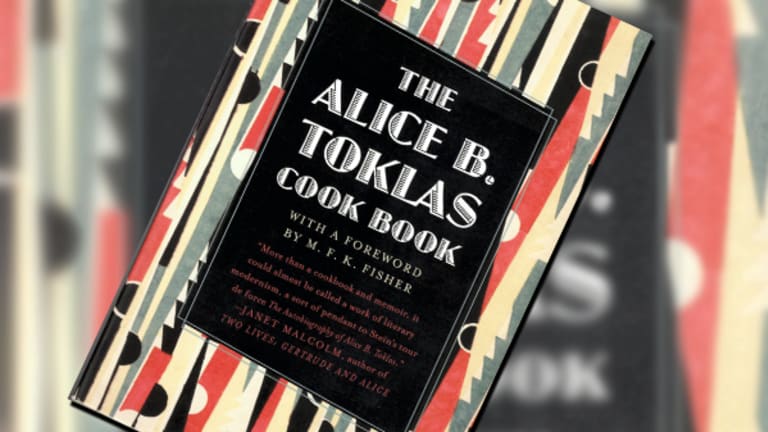 The Alice B. Toklas Cook Book became a cult classic for a single recipe buried in its twelfth and penultimate chapter, a collection of recipes from friends that Toklas solicited to fill out the volume. There was mushroom soup from the Algonquin Hotel, which Toklas and her partner Gertrude Stein frequented when they were in New York; a frozen garlic salad dressing from Carl Van Vechten, a patron of the Harlem Renaissance and Stein's literary executor; and a boozy eggnog from the Commonwealth Club in Richmond courtesy of Ela Hockaday, who founded the famous Dallas girls' school of that name and hosted Stein and Toklas when they visited the city in the 1930s.
Near the end of the chapter, between an "orange and lemon dessert" and a homemade sloe gin, is a recipe for hashish fudge provided by poet and artist Brion Gysin, a friend of the novelist William Burroughs. Random House omitted the recipe from the first American edition of the cookbook in 1954 but included it thereafter, and it became a counter-cultural favorite, ensuring the book's commercial success. Toklas herself offered a dramatic reading of the recipe, and Peter Sellers referenced it in his 1968 movie I Love You, Alice B. Toklas.
The recipe is readily available online; it's simple enough that "anyone could whip it up on a rainy day," Toklas writes, adding that "two pieces are quite sufficient" to inspire "euphoria and brilliant storms of laughter; ecstatic reveries and extensions of one's personality on several simultaneous planes are to be complacently expected."
But the hash fudge has obscured the considerable merits of a book that weaves together memoir and recipes. Cooks will enjoy versions of French classics such as boeuf bourguignon and bouillabaisse, not to mention oddities like the gigot de la clinique, a leg of lamb marinated for a week and injected daily with orange juice. Francophiles will swoon at Toklas's description of life in the French country, as in a day she and Stein spent in Saint Remy, a tiny town in Provence: "We walked to a small Gothic chapel. In a bare field there was a single very large leafless and symmetrical Japanese persimmon tree heavily laden with its deep-orange fruit, silhouetted against the brilliant sky."



Those with an interest in the history of art and literature will enjoy Toklas's casual references to important figures, such as a bass made for Picasso, whose work Stein started collecting in the early 20th century, or a recipe for eggs from the painter Francis Picabia. Toklas describes a trip she and Stein took around the U.S. in 1934 and 1935 after Stein published The Autobiography of Alice B. Toklas. The couple sees F. Scott Fitzgerald in Baltimore, who plies them with "an endless variety of canapes, to remind us, he said, of Paris," where they had an apartment on the Left Bank.
After seeing Scottie and Stein's cousins, Alice and Gertrude stay with Thornton Wilder in Chicago and Sherwood Anderson in New Orleans, where, Toklas writes, "I walked down to the market every morning realizing that I would have to live in the dream of it for the rest of my life. How with such perfection, variety and abundance of material could one not be inspired to creative cooking? We certainly do overdo not only the use of the word but the belief in its widespread existence. Can one be inspired by rows of prepared canned meals? Never. One must get nearer to creation to be able to create, even in the kitchen."

Toklas concludes with a description of life in rural France during World War II, but the couple apparently carries on with aplomb, complaining about the shortage of food and cigarettes and savoring small victories like the covert acquisition of a daily egg from a local farmer in exchange for the couple's dishwater, which the farmer took for his pig. Toklas never mentions the danger she and Stein faced as two Jewish lesbians, a subject Janet Malcolm plumbs in her book Alice and Gertrude, which begins with an extended analysis of the cookbook.
Toklas does allude to that risk in a passage that shows how the possibility of great cooking helped sustain her. "Through the long winter evenings close to the inadequate fire the recipes for food that there was no possibility of realizing held me fascinated - forgetful of restrictions, even occasionally of the Occupation, of the black cloud over and about one, of a possible danger one refused to face. The great French chefs and their creations were very real. Gertrude Stein had the habit of giving me for Christmas a very important cookbook - even during the Occupation she would surprise me with one."