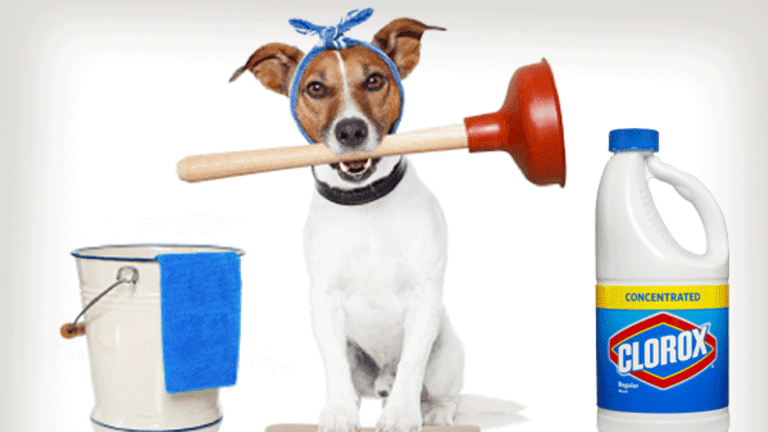 Toilet Bowl Cleaners Explain Everything About Clorox's Stunning Fourth Quarter
We spoke with Clorox Chairman and CEO Benno Dorer.
Clorox (CLX) - Get Report is fresh off a pretty clean quarter, with its sights now set on making the year ahead equally -- if not more so -- spotless. 
The consumer products company, whose brands include Glad, Brita and Hidden Valley, posted fourth quarter sales of $1.41 billion, topping Wall Street estimates of $1.40 billion. Sales rose a solid 5% from a year ago, marking Clorox' quickest pace of growth in four years. Volume -- led by demand for cleaning products such as disinfecting wipes -- gained an impressive 8%, which represented the largest increase in nearly 10 years.
Excluding one-time items, earnings came in at $1.25 a share, beating analyst forecasts for $1.22 a share. 
Clorox sees sales growth between 3% and 4% for 2017, up from a prior view for an increase of 2% to 4%. The company did narrow its full-year earnings guidance to be between $5.23 and $5.38 a share vs. $5.23 to $5.43 a share previously.
Nevertheless, shares popped over 4% on Friday to $125.14
TheStreet talked with Clorox Chairman and CEO Benno Dorer about the quarter and what he has planned for 2017. What follows is a condensed and edited version of our conversation.
Clorox Chairman and CEO Benno Dorer
TheStreet: Record shipments of toilet bowl cleaners? This writer didn't expect to see that on the press release, what drove that one?
Dorer: We have been on a strategy to trade up consumers from bleach for several years, and that hasn't perhaps been fully appreciated because the way people look at our individual segments is that bleach is in laundry and then other bleach-based products are in home-care. What we have managed to do is to trade people up from lower dollar offerings in bleach to higher dollar sprays and toilet bowl cleaners. 
This is part of a broad investment, but in particular one in convenient toilet bowl cleaners. One example is a product like the Clorox toilet wand, which has a wand and a disposable brush. It launched in 2004 but then all of a sudden when we began to invest in the brand again about two years ago it started to take off. That's because convenience-based cleaners are becoming so popular, in particular among millennials who love them. 
TheStreet: January brought another good month for wage growth in the U.S. If you look at the Clorox portfolio, it seems the more premium-priced stuff is out-performing. Is the lower income consumer still being cautious while the higher end consumer is out there spending?
Dorer: The growth is really coming across all consumer segments. I read jobs reports, confidence indices and other macroeconomic reports and all of those fundamentally positive things hasn't necessarily translated into category growth just yet. So, we aren't seeing people automatically gravitate toward our categories more. What this means is that we have to create our own growth, and the way we are doing that is by offering better value and by investing in our brands. We are investing more in our brands than we have historically and also taking costs out so we can make those investments.
We have also launched innovation -- 20 new stock keeping units (SKUs) over the past year -- that are mostly at the dollar price point. We have gotten into new channels, such as Dollar Tree (DLTR) - Get Report , where shoppers want to buy branded products but don't want to spend $3 to $5 for those products because they don't have enough cash. These one dollar SKUs are about $25 million in sales, and we think they have a lot of potential.
TheStreet: Selling products for a $1 is relatively new territory for the Clorox brand, no?
Dorer: In dollar stores such as Family Dollar and Dollar General (DG) - Get Report we have been very successful over many years. But, those places tend to have products that quite often are priced between $2 and $4. Dollar Tree is a good example, but also 99 Cents Only Stores, which lets us play at even a lower price than the other dollar stores. So this is a new focus area for us in the last twelve months.
Selling more than just bleach continues to help Clorox
TheStreet: The bleach and overall laundry business remained very competitive during the quarter. 
Dorer: If you look at all laundry detergents their sales have been softer over the last few years, and we are certainly affected by that. I will tell you that part of 'our weakness [during the quarter] was us cycling a price increase last year. The category has actually done really well. Some of what's happening is also the aforementioned trading up by people to other products that don't show up in the laundry category like disinfecting sprays and toilet bowl cleaners.
TheStreet: Renew Life was a big purchase for Clorox last year, how's the integration going? 
Dorer: It's ahead of expectations. The integration is well on track. We are getting major distribution wins across food and mass retailers. Safeway (SWY) is a major customer we are adding distribution with. Rite-Aid (RAD) - Get Report is one we are making major gains, also Walmart (WM) - Get Report . We have just finalized a new marketing campaign that will launch later this year and are planning new products.
The company is doing well in the U.S. and doing very well in Canada. My hope is that we can turn Renew Life in a few years into what Burt's Bees is today, which is a major contributor to the company.
TheStreet: How has the current volatile political environment in the U.S. impacted Clorox when it comes to doing business overseas, you are in 100 countries. 
Dorer: There has been no impact. About 83% of our portfolio is here in the U.S., where we are doing well. In terms of international, we are rather bullish because in the quarter we saw strong profit growth. That's in large part due to initiatives to invest in growth and on the profit improvement side. We think the quarter marked the start of a turnaround internationally. I expect more profits for the rest of the fiscal year. 
I am very optimistic that despite macroeconomic challenges overseas like currency [fluctuations] and cost inflation, which will probably persist for a little bit, our strategies will allow us to do well.