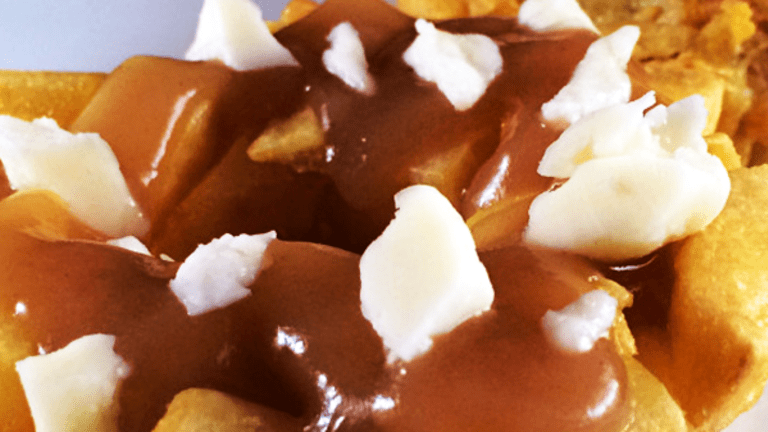 To Honor Canada's 150th Year, Tim Hortons Will Unleash Poutine Donuts
O Canada!
You'll need more than coffee to wash down these doughnuts.
To celebrate Canada's 150th anniversary as a nation, fast-food restaurant chain Restaurant Brands' (QSR) - Get Report Tim Hortons, best known for its coffee and breakfast food, is releasing Canada-inspired dishes to five stores in the U.S. beginning on July 1 for a limited time. The participating stores are one in Ohio, one in Michigan and three in New York.
The limited-offered menu includes Maple Timbits, bitesize maple-flavored doughnut holes that cost 25 cents for one or $1.99 for 10; the Maple Bacon Iced Capp, Tim Horton's frozen-coffee drink topped with whipped cream, maple flakes and bacon, which cost $3.49 for a medium size; and the Poutine Donut, a honey-dipped doughnut with potato wedges, gravy and cheese curds, which go for $1.49 each.
The Maple Timbits will be available at the participating restaurants throughout July, while the Maple Bacon Iced Capp and cheesy doughnut will only be sold on July 1.
Poutine originated in Quebec and is typically French fries with cheese curds and gravy on top. Tim Hortons appears to be taking a leap of faith by putting this 1950s dish in a doughnut.
Tim Hortons is headquartered in Oakville, Canada, and operates some 800 restaurants in the U.S.
Other fast-food restaurants that have sold poutine include Restaurant Brands' other brand, Burger King, and Yum! Brands' (YUM) - Get Report KFC.
Canada became a nation on July 1, 1867.
Read more: