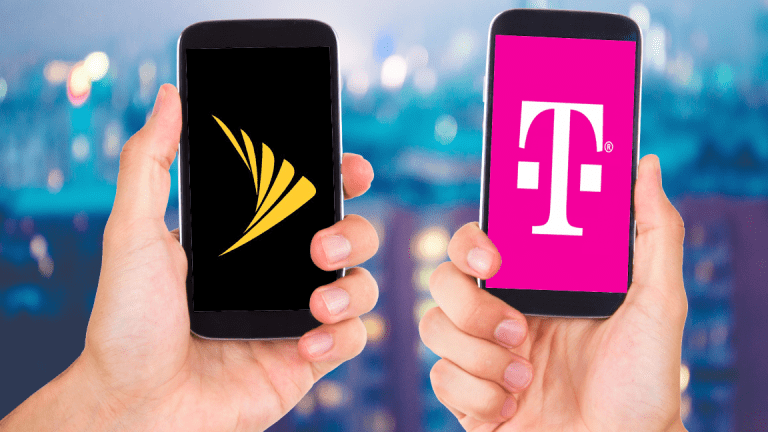 T-Mobile Stock Could Surge 43% to $90 on Deal With Sprint
There could be massive, multi-billion dollar synergies in a deal between T-Mobile and Sprint. If the proposed tie-up can clear regulatory approval, TMUS stock could be headed to $90, one analyst contends.
A T-Mobile US Inc.  (TMUS) and Sprint Corp.  (S) merger or acquisition has been in the works for a long time. While Sprint was struggling, T-Mobile was taking it to Verizon (VZ) and AT&T (T) . Now Sprint is doing better and the duo -- thanks to their unlimited offerings -- have forced Verizon and AT&T into the unlimited battle. With interests renewed, M&A talks are back on the table.
The argument for a tie-up are simple: Sprint/T-Mobile would be a more solidified force that will continue to chip away at Verizon and AT&T. Of course, others will argue that Sprint/T-Mobile reduces competition and therefore could be negative for consumers.
Analysts seem split on whether the government will let such a deal go through. Should they do so, Jefferies analyst Mike McCormack says TMUS stock could head to $90.
McCormack agrees that regulatory approval could be difficult. However, he makes the case that it could bring "massive synergies" and make for a stronger third player in the wireless carrier market.
Those synergies could run as high as $4.5 billion by the third year, and assuming an all-stock transaction, could push TMUS stock higher by more than 40% to $90 per share. With or without the deal, T-Mobile has "significant value" on its own. As a result, McCormack maintains his buy rating and $80 price target on TMUS stock.
TMUS stock is up 0.25% to $63.05 in early Tuesday trading, while S stock is down 0.77% to $7.76.
More of What's Trending on TheStreet:
Updated from 10:32 AM ET to omit Sprint's involvement in 2016 FCC spectrum auction.
This article is commentary by an independent contributor. At the time of publication, the author had no positions in the stocks mentioned.