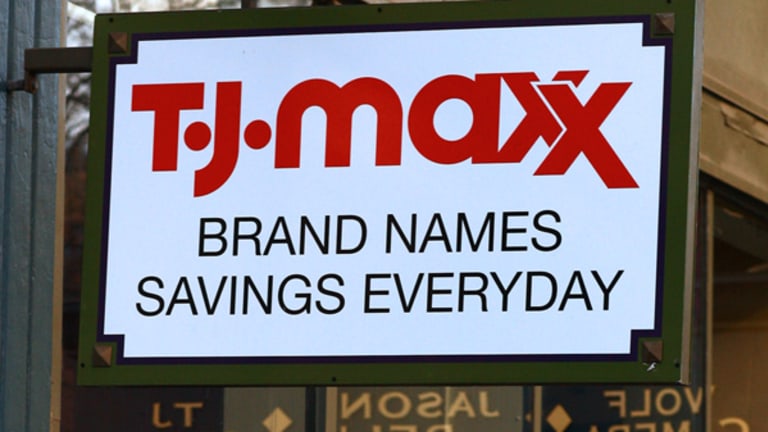 TJX Blows Away Everyone in Retail, Proves Americans Remain Thrifty
TJX's earnings show consumers love a great deal.
TJX's earnings show consumers love a great deal.
Despite the nation's major mall players such as Macy's (M) - Get Report and Kohl's (KSS) - Get Reportcrowing about improving sales trends in the third quarter, their progress looks a tad embarrassing in light of another monster set of results from off-price king TJX (TJX) - Get Report .
TJX stock rose about 1.5% in premarket trading Tuesday as third-quarter earnings came in at 91 cents a share, excluding one-time items. Wall Street expected 87 cents a share. Net sales rose 7% from the prior year to $8.3 billion, ahead of projections for $8.2 billion. TJX same-store sales trounced estimates across the board.
At Marmaxx -- a segment that includes Marshall's and T.J. Maxx -- same-store sales rose 5% compared to estimates for a 3.4% increase. HomeGoods clocked in with a 6% same-store sales gain, beating estimates for a 5% increase. T.J. Maxx Canada saw sales rise 8%, higher than estimates for a 5.6% gain. 
The company lifted its full-year earnings outlook to $3.46 to $3.48 a share from a prior projection of $3.39 to $3.43 a share. 
It appears that cautious, deal-seeking U.S. shoppers continued to fuel TJX results. "We expect that T.J. Maxx's off-price offerings were enticing for consumers as they tended to remain cautious throughout the election season and the recent period of uncertainty. Heading into the holiday season, the outlook appears even brighter," said Jim Cramer, TheStreet's founder and manager of the Action Alerts PLUS portfolio, which owns TJX shares, ahead of the results. 
On the other hand, TJX's mall rivals continued to see same-store sales declines despite stepped up discounts on apparel amid a warmer-than-expected fall.
Kohl's same-store sales fell 1.7% in the third quarter compared to Wall Street estimates for a 1.4% drop. At Macy's, same-store sales dropped 2.7%, less than estimates that called for a 3.4% drop.  J.C. Penney's third-quarter same-store sales fell 0.8%, compared to estimates for a 2.7% increase, in large part due to weakness in apparel.