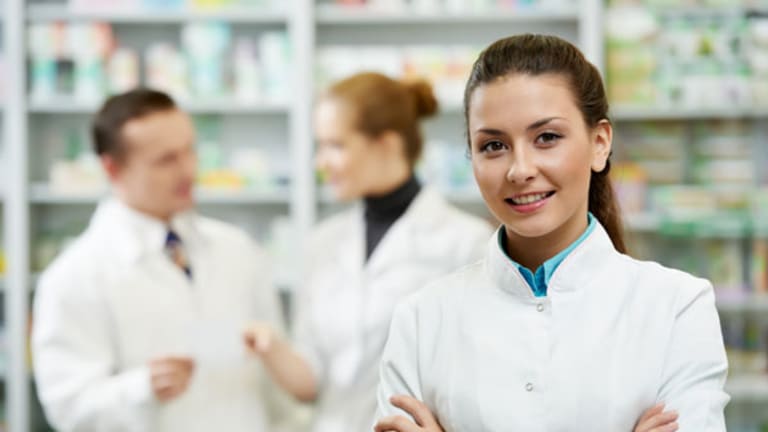 Titan Pharma: Run-Up Trade Into March FDA Panel
I expect traders will get an opportunity to profit from increased focus on Titan through March.
NEW YORK (
) --
Titan Pharmaceuticals
(TTNP) - Get Titan Pharmaceuticals, Inc. Report
is developing Probuphine, a proprietary, long-acting form of the opioid dependence drug buprenorphine. Probuphine is implanted just under the skin of the upper arm and provides continuous delivery of drug for six months.
The FDA accepted Probuphine for priority review with an approval decision expected on April 30. Titan also expects FDA to convene an advisory panel to review Probuphine, likely in the second half of March.
Various oral forms of buprenorphine, including Suboxone, have been used to treat opioid dependence for years, with sales well in excess of $1 billion annually. But oral buprenorphine has its drawbacks, patients can forget to take their pills or choose to sell them illegally. Probuphine avoids these problems and should improve compliance.
Titan licensed U.S. and Canadian rights for Probuphine to
Braeburn Pharma
. Titan received $15.75 million upfront and is eligible for another $50 million if Probuphine earns FDA approval, plus additional milestone payments and double-digit royalties on sales. Braeburn has also committed $75 million towards commercial launch. Titan secured this licensing deal while their market cap was under $80 million, so the investment by Braeburn is substantial and meaningful.
With that setup, let's talk trading Titan. The first key event will be the FDA advisory panel in the second half of March. Run-up traders like myself love to trade FDA advisory panels because so much of the stock action is predictable. I expect Titan's stock price to continue to move higher the advisory panel nears. The FDA will release its Probuphine review two business days prior to the advisory panel meeting date, which is the opportunity for traders to safely exit with profits (hopefully.)
Titan is currently listed on the OTC bulletin boards but management said a Nasdaq listing is a 2013 goal. With shares running up to their advisory panel and their late April FDA approval decision date, up-listing to Nasdaq may be attainable in the near future.
Titan has enough cash from the Braeburn deal to carry it through the FDA advisory panel and its April 30 approval decision date. The U.S. market for buprenorphine was $1.3 billion in 2011 and growing. Titan estimates Probuphine sales could reach $300-500 million per year at peak.
Titan, with a low stock price, large potential commercial market and enough cash on hand, has all the ingredients for a beautiful run up into the advisory panel.
Messier is long Titan shares.
Mark Messier is the founder of
. Messier is a DOJ-certified Criminal Intelligence Analyst and former IT professional, specializing in law enforcement applications. In 2008, Messier began trading biotech stocks, using his analytical expertise to detect and capitalize on human and market patterns. Starting with only $2,200 in his trading account, he has booked over $400,000 in profit in just 4 years. In April 2010, Messier founded the subscription-based stock-trading web site
to share his biotech trading ideas with the online investor community. Messier enjoys spending time with his wife and two young boys and visiting his "home away from home" in Costa Rica.