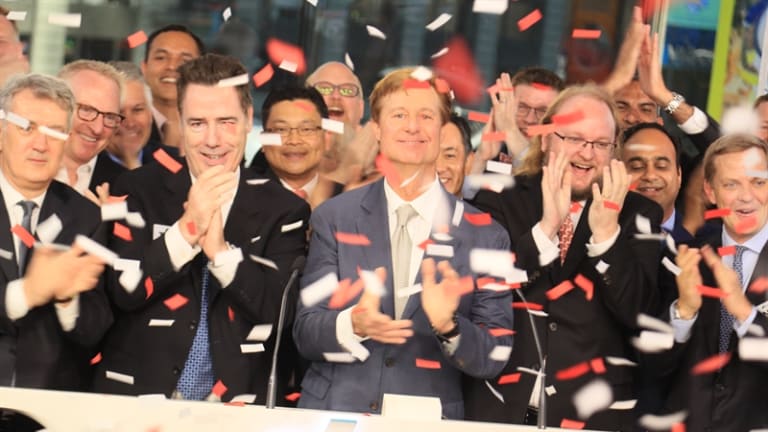 Tough Tech IPO Market Caused Listing Delay, Tintri CEO Tells TheStreet
The cloud storage company went public on Friday after delaying its IPO a day earlier.
Cloud storage company Tintri Inc. (TNTR) grabbed headlines this week when it said it would be delaying a planned initial public offering on Thursday, just hours before it was set to take place. 
After making some adjustments, though, Tintri debuted on Nasdaq on Friday, June 30, at $7.12 a share after pricing at $7. Shares of the company were up 5% to $7.35 by Friday's close. 
Tintri on Thursday had to significantly pare back its projected initial offering price to between $7 and $8 per share, down from its prior range of $10.50 to $12.50 per share. It also reduced the number of shares being offered to 8.5 million from 8.7 million shares, which meant it would raise about $53.8 million in net proceeds at the midpoint, instead of the $87.5 million it had previously hoped for.
Tintri ultimately sold 8.57 million shares, raising an estimated $50.3 million in net proceeds. Underwriters Morgan Stanley; Merrill Lynch, Pierce, Fenner & Smith Inc.; Pacific Crest Securities Inc.; Needham & Co. LLC; Piper Jaffray & Co.; Raymond James & Associates Inc.; and William Blair & Co. LLC can purchase an additional 1.29 million shares.
Tintri's rocky IPO process is indicative of the larger tech IPO market, which was off to a hot start at the beginning of 2017 but has cooled in the months since, due in part to investors taking on a more conservative stance about startup valuations. Tintro chairman and CEO Ken Klein told TheStreet some investors may have been scared by the backdrop of high-flying valuations and the crowded cloud computing market. 
"Clearly, there was a disconnect between how much customers love Tintri and how much investors love Tintri, but I'm confident that gap will close," Klein said. "There's a negative secular backdrop, so we're sort of guilty by association." 
"It's tough for IPOs right now that are smaller," he added. 
Klein said the negative backdrop mostly deals with recent enterprise infrastructure IPOs that "haven't done so well" since going public. One company that comes to mind is Nutanix Inc. (NTNX) - Get Report , which experienced a stunning 130% pop in its first day of trading but is down 23.2% year to date. It's common for tech unicorns to experience a huge first-day pop and then to shed that value, said Kathleen Smith, manager of IPO-focused exchange-traded funds at Renaissance Capital.
The risk of losing that value after the initial pop has been enough for some investors to rethink assigning monster values. Meal-kit company Blue Apron Holdings Inc. (APRN) - Get Report , which went public on Thursday, also had to revise its IPO price to a more conservative range, which analysts said could be tied to some fatigue over Snap Inc.'s (SNAP) - Get Report $3.4 billion IPO. The Snapchat parent popped 44% in its first day of trading but has slid 27.2% since then. 
"I call it the summer of tough love in the IPO market," Smith said. "Investors learned from Snap that these first-day pops can be dangerous. We're seeing much more conservative valuations." 
Investors have become more and more interested in the cloud storage segment because they view it as a legitimate area of growth, Smith explained. But determining the sector's valuation has become an issue, partly because it has become more and more crowded in the past few years. Investors also are demanding more visibility into a company's long-term growth -- a factor that likely influenced both Blue Apron and Tintri's IPO processes. 
"Tintri's recent results are kind of unclear to its trajectory," Smith noted. "Growth is the underlying question or issue, which made investors cautious. The company is much better off with a conservative valuation." 
Tintri posted net losses of $105.8 million, $100.97 million and $69.69 million on $125.11 million, $86.01 million and $49.8 million in the fiscal year ended Jan. 31 and the two previous years, Securities and Exchange Commission filings show.
Despite Tintri's challenging road to the public market, Klein said the money raised through the IPO fully funds the company's business model. Going public will also help Tintri drive greater awareness among its 1,300 clients, which include 21 of the Fortune 100 companies, Klein said. 
"Going public is like the Good Houskeeping seal of approval," Klein explained. "That gives large customers some comfort."
Wilson Sonsini Goodrich & Rosati PC represented Tintri on the IPO. Goodwin Procter LLP advised the underwriters.
Visit here for the latest business headlines.