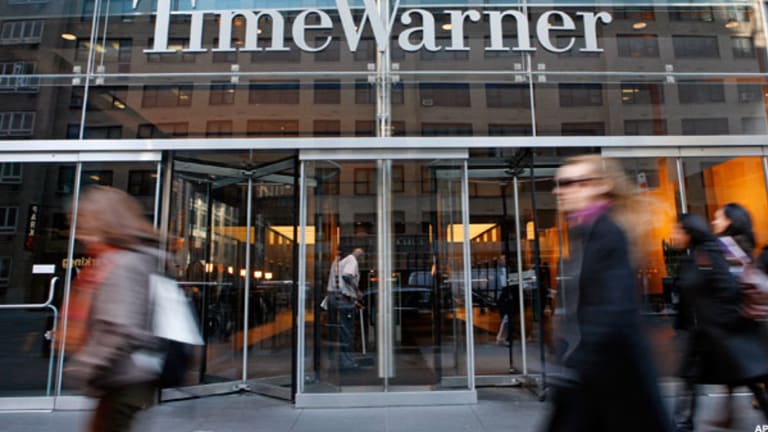 How You Can Watch HBO Without Having Cable Starting Next Year
Time Warner shares surges more than 3% after announcing plans to offering HBO as streaming service beginning in 2015.
NEW YORK (TheStreet) - Time Warner (TWX)  shook the payTV model on Wednesday announcing that it will offer its popular HBO network as a stand-alone online subscription service beginning in 2015.
The announcement, which had been the source of speculation for months, puts HBO, the maker of Games of Thrones and Boardwalk Empire, on a collision course with Netflix (NFLX) - Get Netflix, Inc. (NFLX) Report , the "over-the-top" streaming service that has become a pillar of contemporary media viewing. Time Warner shares were gaining 2.7% to $72.57 while Netflix was losing 0.8% to $445.05.
By offering to sell subscriptions to HBO as a stand alone streaming service, its CEO Richard Plepler made clear that he plans to target younger viewers, so-called millennials, who may not subscribe to a pay TV service.
"We see a big opportunity for a standalone HBO model around the world," HBO CEO Richard Plepler said on Wednesday. "We will go beyond the wall and launch an OTT service with the potential for hundreds of millions of dollars in increased revenue. There is a huge opportunity in front of us, and we will use all the means at our disposal to go after it."
Plepler spoke at Time Warner's Columbus Circle headquarters in New York as part of an investor day called in part to rejuvenate a stock price that had lost 15% as of Tuesday since reaching a closing high of $87.36 on July 16, five days after 21st Century Fox (FOXA) - Get Fox Corporation Class A Report Chairman Rupert Murdoch made an $85 a share buyout offer for Time Warner. Bewkes successfully deflected Murdoch's overture but has struggled to get shareholders excited again about the owner to TBS, CNN and Warner Bros. Entertainment.
A standalone HBO could provide Time Warner more leverage to expand internationally without having to go through pay-TV operators in countries around the world. It's not surprising that HBO would be the first major cable-TV channel to explore a stand alone online service. Along with sister network CNN, HBO may be the most well-known cable-TV network in the work.
And unlike most pay-TV channels, HBO has wording in its contracts with cable-TV and satellite operators that give it greater leeway than more ordinary channels to break out of the constraints of the pay-TV model. HBO would potentially receive less money from a Comcast (CMCSA) - Get Comcast Corporation Class A Report or Time Warner Cable (TWC) if it were to go direct-to-consumer, but it wouldn't jeopardize its place as a premium channel. 
Time Warner didn't say how much it plans to charge for a stand alone streaming service.
But HBO made clear who it plans to target: the millennial cord-cutters who don't see a reason to pay for a cable-TV subscription that requires them to pay for hundreds of channels they never watch. Plepler said that HBO is focused on the 10 million U.S. homes that pay for broadband services but don't get cable- or satellite-TV. In other words, the millennials, a demographic, Plepler said, that's growing.
"These consumers have no access to HBO," Plepler said. "That is a large and growing opportunity that should no longer be left untapped."
Cable-TV and satellite operators stand to lose from HBO's decision to launch an online direct-to-consumer service. For years, critics of the cable-TV bundle have demanded that subscribers be allowed to select their service "a la carte, rather than being required to pay for hundreds of channels they never watch. Pay-TV subscribers, especially those uninterested in live sports, may elect to drop their cable subscription for HBO's stand alone.
Plepler, though, rejected such arguments, insisting that HBO as a stand alone service, is aimed at broadband subscribers who don't have cable-TV rather than on giving potential cord-cutters yet another reason to cancel their payTV contract.
"I don't think it will be cannibalizing at all," Plepler said. "I think we're just going after folks who don't get pay-TV. I see the great preponderance of this as additive."
Another loser may be Netflix, though that remains questionable. Netflix continues to cut content deals with the world's largest media companies and film distributors, and on any given evening, occupies more Internet bandwidth than any other service even Google's (GOOG) - Get Alphabet Inc. Class C Report YouTube.
--Written by Leon Lazaroff with additional reporting by Laurie Kulikowski in New York
Follow @LKulikowski
Follow @LeonLazaroff
Leon Lazaroff is TheStreet's deputy managing editor.