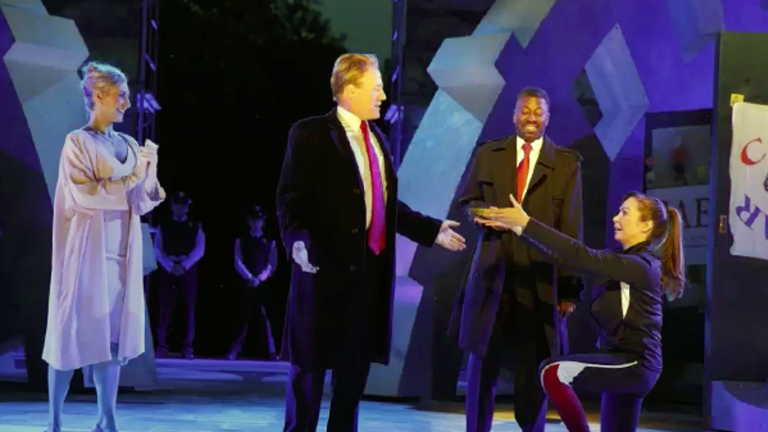 Time Warner's Support for Trumpian 'Julius Caesar' Shouldn't Be a Surprise
Time Warner, owner of HBO, had more to lose if it had pulled back from The Public Theater amid conservative criticism about its production of 'Julius Caesar.'
Time Warner (TWX)  reiterated its support for New York's Public Theater on Tuesday even as conservatives commended corporate sponsors for pulling back on a production of Julius Caesar in which the lead looks and acts like President Trump.
In a statement made public following two days of rescinded sponsorships and criticism from conservatives, Time Warner said it would continue to support the Public Theater's writers program though it underscored that Julius Ceasar was a separate endeavor from that program as well as the annual summer series, Shakespeare in the Park.
"As a company that values creative expression and artistic freedom, we director our support specifically to the Public's emerging writers program, and have done so for many years," the company said. "We are proud of our support for the emerging writers program, as well as our support of dozens of other preeminent institutions across the country that identify, cultivate and give voice to new and diverse storytellers."
For Time Warner, the decision to retain its support for the Public Theater was a signal to artists and writers as well as the millions of people who watch its networks and movies that it wouldn't be by swayed by political pressure. The outcry from conservatives including former Arkansas Gov. Mike Huckabee, was enough to prompt Delta Airlines (DAL) - Get Report , Bank of America (BAC) - Get Report and American Express (AAL) - Get Report to pull their support for the production,
"This was less about politics than about the freedom of artistic expression," Vivian Schiller, a former television executive at NBC News and NPR, said in a phone interview. "It's hard to imagine that the owner of HBO, with all they've produced, would then turn around and say, 'we have a problem with a modern interpretation of Shakespeare.'"
While Time Warner's culture may not lean as left as 21st Century Fox (FOXA) - Get Report  tilts right, its programming has historically catered to audiences that embrace liberal sensibilities as well as challenging even disturbing television productions. Politically, Time Warner's sentiments are probably best reflected in CNN's moderate-to-liberal newscasts (read Hillary Clinton rather than Bernie Sanders) as well as programs such as Full Frontal with Samantha Bee on TBS and Last Week Tonight With John Oliver at HBO.
Artistically, its mark has long been made by HBO, home for more than three decades, to edgy, barrier-bending serials. Few would argue that HBO set the pace for what many TV observers agree is a golden age in television production. The Walking Dead and Breaking Bad from AMC Network (AMCX) - Get Report would likely never have made if not for The Soprano's and Game of Thrones.
Yet among critics, the fact that Caesar's character speaks and acts similar to that of the former reality-TV star-turned-president was enough to convince corporate sponsors to pull back from the production. That the Trumpian Caesar is assassinated, as Shakespeare wrote in the classic play, inflamed political passions. Never mind that the production, like many in recent years, offers a modern take on a play believed to have been written in 1599 and that the second act closely examines the negative repercussions of the assassination.
"Its always been difficult for non-media corporations to fund controversial artistic expression,"Jane Kirtley, a professor of media and ethics at the University of Minnesota Law School, said in a phone interview from Minneapolis. "To expect corporations that don't have freedom of expressions as their central purpose to go out on a climb to support controversial material, especially in this time, is probably unrealistic. That may be disappointing, but it's not surprising."  
The Public Theater had this to say about its production of Julius Caesar.
The controversy over the play and corporate sponsorships prompted comparisons to recent legislative fights over funding for the National Endowment for the Arts and museums that elect to show art that may be offensive to some. Ultimately, Delta and Bank of America opted to distance themselves from the production. For Time Warner the stakes were higher.
"Corporations look to sponsor events or arts institutions because they're looking for positive PR and positive community value," Drew Train, managing partner at Oberland, a New York brand and advertising firm, said in a phone interview. "When that arts program starts to draw bad press, it becomes a problem that a Delta or Bank of America doesn't need. But Time Warner is a content creator. If they withdraw because of content, it creates a very dangerous precedent."