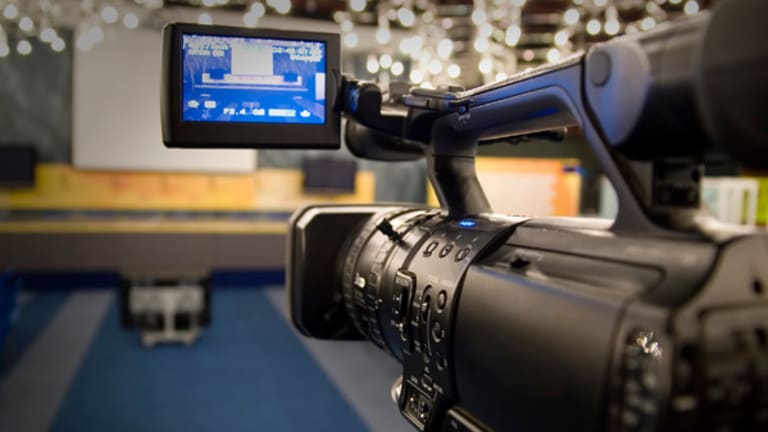 Time Warner Responds to Affiliate Fee Questions as Profit Rises on Ad Sales (Update 1)
Time Warner shares are rising, despite lower-than-expected second-quarter affiliate fees.
This story has been updated with information from Time Warner's second-quarter conference call.
NEW YORK (
) --
Time Warner
(TWX)
CEO Jeff Bewkes responded Wednesday to the one big question mark on his company's second-quarter earnings: the lower-than-expected growth in revenue from affiliate fees.
Affiliate fees grew 4% in the quarter, lower than a consensus estimate of 5%. BernsteinResearch media analyst Todd Juenger said the explanation for the lower-than-expected total may reside in an overall decline of subscribers at the cable-TV operator but for the moment, it's hard to tell.
Bewkes told the inquiring analysts on the conference call -- reporters are forbidden from asking questions on the quarterly gathering -- that Time Warner recently signed a distribution deal with a "Top 5" cable/satellite provider and said that the company secured the increase it wanted.
That deal gives Time Warner management more confidence that it can secure double-digit percentage increases on a compounded basis for affiliate fees through 2016, said Wells Fargo media analyst Marci Ryvicker in an investor note.
Time Warner shares were gaining 1.83% to $65.25 in early afternoon trading as the owner of
HBO
,
TBS
and
TNT
raised its full-year profit guidance and reported second-quarter sales and net income that beat estimates as the company's cable-TV networks and film studios grew more than expected.
Earnings on an adjusted basis were 83 cents a share, above consensus estimates of 76 cents for the three-month period ended June 30. Sales also beat Wall Street projections, increasing 10% from the same period a year ago to $7.4 billion; analysts expected revenue of $7.1 billion.
Growth for Time Warner came from advertising as Turner Broadcasting, led by CNN and TBS, delivered an 11% increase in ad revenue even as ratings are expected to have declined 4%, according to BernsteinResearch analyst Todd Juenger. Ad sales slipped at TNT and TOON.
Time Warner raised its forecast for 2013 earnings per share growth to a percentage in the "mid-teens" from the low double-digits compared to earnings of $3.24 per share which the company reported for 2012. Time Warner finance chief tktk added that third-quarter advertising is forecast to grow in the mid-single-to-high single digits, coming off an 11% increase for the second-quarter.
All told, Time Warner's performance was led by its cable-TV networks which posted record quarterly revenue of $3.8 billion.
Time Warner's "Man of Steel," "Hangover III" and "The Great Gatsby" produced a 13% revenue increase to $2.9 billion, beating projections. Adjusted operating income across the company increased 25% to $1.5 billion.
In something of a surprise, Bewkes said the company had decided to postpone the spin-off of its publishing group Time Inc. until early-2014. The spin-off had been slated for sometime in late-2013. Bewkes said the decision to delay the spin-off was made to give incoming Time Inc. CEO Joe Ripp, hired last month to head the publishing company. There isn't a "rush" to do it, Bewkes said.
True to trends throughout publishing, Time Inc., owner of People, Fortune and Sports Illustrated, reported a 5% decline in advertising sales. Revenue was in-line with projections at $833 million.
Time Warner shares have risen 37% this year.
Written by Leon Lazaroff in New York
>To contact the writer of this article, click here:
LeonLazaroff
.>.