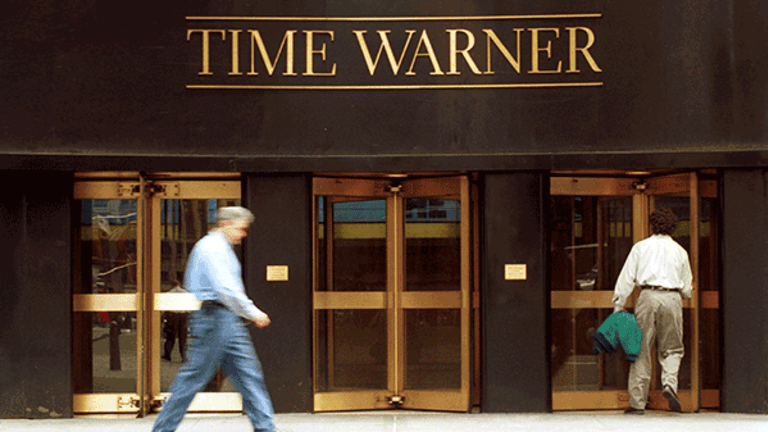 Time Warner Proving AT&T Right, Shows Strong Results From CNN, 'Fantastic Beasts'
Time Warner posts earnings that beat analyst estimates, proving once again that if AT&T wants content it can do no better than acquiring the owner of CNN, HBO and TNT.
Time Warner (TWX) , trying to win government approval for its $85.4 billion sale to AT&T (T) - Get Free Report , on Wednesday reported fourth-quarter earnings that beat analysts' expectations, driven by CNN's political coverage and Fantastic Beasts and Where To Find Them from the company's Warner Bros. film studio.
Much like Disney on Tuesday, Time Warner showed that despite little to no growth from advertising sales, pay-TV providers are spending more money to carry its networks which include also TNT, TBS and Adult Swim.
Led by Chairman and CEO Jeff Bewkes, Time Warner's earnings of $1.25 a share exceeded a consensus Wall Street estimate of $1.19, according to FactSet. Earnings were 18% higher than the quarterly result of $1.06 from the same period a year earlier. Revenue of $7.9 billion also beat the average analyst projection of $7.73 billion. 
But it was at Turner Broadcasting, its pay-TV network group, where revenue jumped 7% in the quarter to $2.83 billion. Turner's subscription fees, the money pay-TV providers pay to carry the channels, surged 14%, exceeding expectations as the 2016 elections fueled interest in CNN.
"Time Warner's fourth quarter was perfectly in line across the board, providing reassurance to investors whose primary concern in the 'no deal' branch of the risk/arb equation is 'what could blow up?'," Bernstein Research media analyst Todd Juenger wrote in an investor note.
Shares of Time Warner were adding 0.5 % to $96.75, though the company's stock price is largely a bet on whether the government will approve its merger with AT&T. The telecom giant has agreed to pay $107.50 per share, well above current trading levels. Bewkes is set to lead a conference call with investors at 8:30 a.m. EST.
Time Warner's Warner Bros. unit tallied revenue of $3.86 billion, beating a projected total of $3.67 billion and posting sales 17% higher than a year ago. The studio released J.K. Rowling's Fantastic Beasts as well as The Accountant during the quarter, with both performing well at the box office. Fantastic Beasts has grossed more than $800 million worldwide as of Feb. 5, according to tracking firm Box Office Mojo.
HBO contributed $1.49 billion, just a tad lower than a forecast of $1.5 billion. Time Warner said its adjusted operating income grew $1.75 billion in the quarter.
AT&T in October secured the cash-and-stock deal to buy Time Warner, an acquisition that AT&T CEO Randall Stephenson has labeled a "vertical merger" because it will combine a telecom distribution company with a content creator. AT&T is eager to own content that it can feature on its wireless services given that mobile advertising is the ad-industry's fastest growing segment.
"We compete nowhere," Stephenson said in December. "I don't think you can find an example where such a merger has been denied. ... Generally, vertical mergers are viewed as consumer friendly."
Approval by the Justice Department would give the Dallas broadband operators control over CNN, HBO and TNT as well as the Warner Bros. film studio and other media assets.
Turner results benefited from increased subscriptions to its cable TV channels and growth at its international networks, though advertising sales fell 2%, a decline that Time Warner blamed in part on foreign exchange rates. U.S. ad sales were little changed from a year ago, reflecting a trend throughout the cable TV industry.
HBO received 22 Emmy Awards in 2016, which Time Warner said is more than any other network for the 15th consecutive year. The awards included Outstanding Drama Series for Game of Thrones, Outstanding Comedy Series for Veep and Outstanding Variety Talk Series for Last Week Tonight with John Oliver. Westworld, a series that debuted last year produced by Warner Bros., averaged more than 13 million viewers per episode, the most for a first-year show in HBO history.
HBO Now, the standalone subscription version of the premium cable TV channel, meanwhile, expanded in 2016 into Spain, Brazil and Argentina. Time Warner took the rare step of disclosing the number of subscribers to HBO Now, revealing that the service has more than 2 million paying customers. Subscription revenue at HBO increased 5% in the quarter though the company executives said growth at the network wouldn't accelerate until the second-half of 2017.
Results at Warner Bros. were further bolstered by higher television licensing revenue and increased production as the film studio continues diversify its operations.