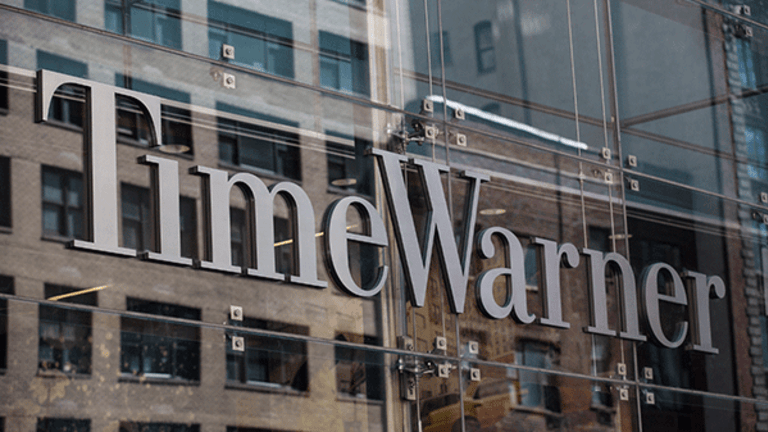 Time Warner Earnings Show Why AT&T Wants to Spend $85.4 Billion to Buy It
Time Warner's third-quarter earnings show investors why AT&T was willing to pay a premium to acquire the owner of HBO, Warner Brothers film studio and CNN.
Updates from 9:53 a.m. EDT with comments from Time Warner's CEO.
Time Warner's (TWX)  latest earnings shows why AT&T (T) - Get AT&T Inc. Report wants to buy the media conglomerate, and also why it wanted to sell. 
Ten days after agreeing to be acquired by the global telecom operator in a transaction valued at $85.4 billion, Time Warner's third-quarter earnings are certain bolster AT&T's argument that it's justified in paying a hefty premium to acquire HBO, the Warner Brothers film studio and a stable of pay-TV networks led by TNT and CNN.
Indeed, Time Warner's results exceeded the expectations of Wall Street analysts as earnings of $1.87 a share amounted to a stunning 46% increase from the same period a year ago when earnings were $1.25 per share. Analysts had been expecting a per share profit of $1.36.
In a further demonstration of its attractiveness to investors, Time Warner raised its full-year 2016 earnings forecast, adjusted for some charges, to $5.45 to $5.55 a share from $5.35 to $5.45 a share, a modest but positive sign. Revenue of $7.2 billion for the quarter jumped 9% to $7.2 billion, beating a consensus Wall Street projection of $6.97 billion.
The higher-than-expected totals were attributable in part to strong box-office results from Suicide Squad and The Legend of Tarzan and home video sales led by Batman v. Superman: Dawn of Justice and The Conjuring 2. Additionally, Time Warner's pay-TV networks secured accelerating growth from so-called affiliate fees, money that pay-TV operators pay to carry its networks.
Curiously, though, AT&T's much ballyhooed deal proposal, which needs regulator approval to become official, has been treated gingerly by investors. While media investors generally have a high opinion about Time Warner compared to its rivals, questions about securing regulatory approval continue to weight on its shares.
Though AT&T agreed on Oct. 22 to pay $107.50 per share to acquire Time Warner, shares have traded on par with where the stock closed a day before the deal was announced on Oct. 22. Time Warner on Wednesday was little changed at $88.15, a 22% discount to AT&T accepted offer price. Speaking on an investor conference call, Time Warner CEO Jeff Bewkes said he expects the transaction to close by the end of 2017, "if not sooner."
Time Warner general counsel Paul Cappuccio said he had no indication whether the Federal Communications Commission would review the transaction in addition to the Department of Justice.   
But investor reticence to own Time Warner shares appears to have had little impact on operations. Adjusted operating income, a closely watched metric, grew 12% to $2.1 billion while revenue at Warner Bros revenue grew 7% to $3.4 billion bolstered by box-returns from Sully and Lights Out. 
At the company's Turner Broadcasting System, which also includes the TBS and Adult Swim networks, revenue climbed 9% to $2.6 billion due to a 12% increase in subscriptions and 2% gain in advertising sales. Revenue from affiliate fees that pay-TV operators pay to carry the Turner networks, grew 12% in the quarter compared in the second quarter. CNN was the top-rated news in primetime among adults 18-49 for the fourth consecutive quarter, the company said.
"AT&T shareholders are getting more for their $107.50 than they originally thought," Bernstein Research media analyst Todd Juenger said in an investor note on Wednesday.
Nonetheless, Time Warner's earnings report wasn't without red flags.
Time Warner said Turner continues to lose U.S. cable subscribers, a trend that is prompting every major media company to launch or license their networks to a multi-channel streaming service such as Dish Networks' (DISH) - Get DISH Network Corporation Class A Report SlingTV. Additionally, Time Warner acknowledged that many contracts with pay-TV operators governing its affiliate fees will come up for renewal in 2017, setting up the possibility that increases, if any, won't be as large as in past years.  
Similarly, the pace of subscription growth for HBO was 5.2% ion the quarter less than a 6.1% increase in the second quarter, prompting Juenger to write that "one can't help but worry some of it is also churn from the end of the Game of Thrones season."
For the present, revenue at HBO grew 4% in the third quarter quarter to $1.4 billion. Operating income at the unit grew 2% to $530 million as the premium pay-TV channel won 22 Emmy Awards, the most of any network for the 15th consecutive year. Among the winners were Game of Thrones, Veep and Last Week Tonight with John Oliver.
Though analysts had speculated that Time Warner might reveal its subscription total for HBO Now, the company's year-old stand-alone streaming platform, it didn't do so. Industry observers have speculated subscriptions have reached more than 1.5 million. HBO Now is proving to be a popular and profitable business even though it is far surpassed by its chief rival Netflix (NFLX) - Get Netflix, Inc. Report which has more than 86 million customers worldwide.
Time Warner's sale to AT&T, Bewkes said, would not effect its investment in Hulu or its relationship with multi-channel streaming platform that the service plans to launch early next year.  In August, Time Warner took a 10% stake in Hulu, joining its three original co-owners: Disney (DIS) - Get Walt Disney Company Report , Comcast's (CMCSA) - Get Comcast Corporation Class A Report NBCUniversal and 21st Century Fox (FOXA) - Get Fox Corporation Class A Report . Comcast is a holding in the Action Alerts PLUS charitable trust portfolio.
"We don't think the merger here changes anything," he said.
Time Warner will also be a part of AT&T's 100-channel DirecTV Now online service which CEO Randall Stephenson said last week would launch in December at the compelling price of $35 a month. Time Warner also licenses its networks to Sony's (SNE) - Get Sony Corp. Report PlayStation Vue.