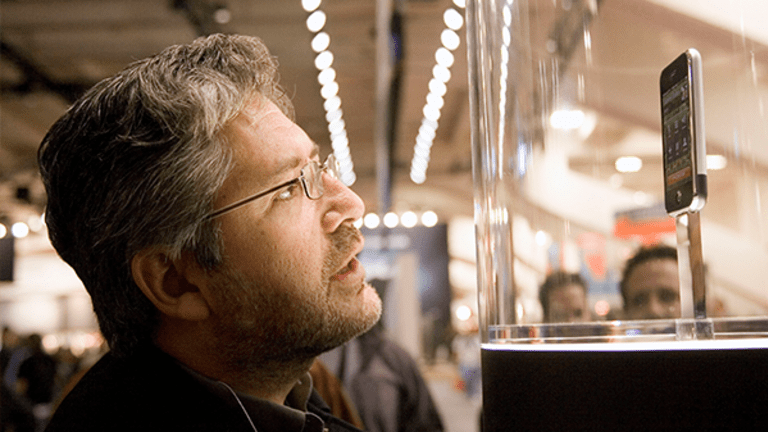 Buy Apple, Dump Qualcomm
They may be battling it out in the courtroom, but the stocks are not tied together.
Apple's (AAPL) - Get Apple Inc. Report arch nemesis Qualcomm (QCOM) - Get Qualcomm Inc Report reports quarterly results after the market close Wednesday. Investors will certainly be listening for an update on the company's high-profile litigation with Apple.
Year to date, shares of Qualcomm are down nearly 14%, while Apple is up almost 30%.
Back in January, Apple announced it would sue Qualcomm for $1 billion, saying that Qualcomm has been "charging for royalties for technologies they have nothing to do with." Apple alleges that over a dozen companies contributed to the cellular standard, "Qualcomm insists on charging at least five times more in payments than all the other cellular patent licensors we have agreements with combined."
Fed up with the disrespect, Apple and its suppliers pulled the plug on $1 billion worth of royalty payments until the dispute is settled. If that wasn't enough, Apple began cooperating with the Korean authorities' antitrust investigation of Qualcomm. In December, Korean regulators fined Qualcomm $854 million for unfair trade practices.
The Apple tussle follows the U.S. Federal Trade Commission lawsuit over unfair licensing practices.
For its part, Qualcomm shot back and sued Apple. It alleged that Apple doesn't pay Qualcomm for six non-essential battery patents. Qualcomm also filed an action with the United States International Trade Commission to issue a Limited Exclusion Order to ban the importation of iPhones from China. The ITC action will probably take 16-18 months to resolve.
Qualcomm is expected to report third-quarter fiscal 2017 (ending September) earnings of $0.81 per share. Revenue is forecasted to be down 13% to $5.26 billion. Qualcomm licensing revenue (QTL) is expected to be down about 40%, because of the withheld royalties and some minor disputes with a few other customers.
Coming out of the second quarter, Qualcomm had minor inventory issues in China that management expected to be ironed out this quarter.
Sales of semiconductors, known as the QTC division, are expected to down about 5% year over year to 190 million units. That is actually better than last year when QTC unit sales declined more than 10%. Unit growth is expected to get out of negative territory and start growing by the first quarter of next year as the company continues to roll out new products and smaller die sizes.
Because of the shift to smaller die sizes and the adoption of the 400 and 600 Snapdragon chipset, gross margins should begin to grow again. Analysts expect margins in the rage of 62-63% this year. In fiscal 2016, Qualcomm had a gross margin of 60.8%.
For full-year fiscal 2017, analysts are looking for revenue to decline 3.5% to $22.7 billion. Next year, the forecast is for revenue to be down 2%, but that is likely too low and will probably be revised up as sales of mid- and low-priced mobile phones continues to grow in China and the emerging markets.
While both Qualcomm and Apple are battling it out in the courtroom, the stocks are not tied together. Investors are ignoring the litigation because Apple is expected to grow revenue 4.9% this year and 12.4% next year. Similarly, driven by shipments of the new iPhone 8 (expected in September), EPS should go from an estimated $8.90 this year to $10.60 next.
While the litigation will remain a headwind for Qualcomm and value investors will likely be attracted to the stock because it's down so much, Apple shares should move higher because the company continues to grow.
Apple's shares rose 0.5%, while Qualcomm's fell 1.6% by Wednesday's close.
Apple is a holding in Jim Cramer's Action Alerts PLUS Charitable Trust Portfolio. Want to be alerted before Cramer buys or sells AAPL? Learn more now.
More of What's Trending on TheStreet:
Game of Thrones Has Become Huge -- Here's How You Can Quickly Tell
At the time of publication Chris Laudani had no positions in any stocks mentioned.