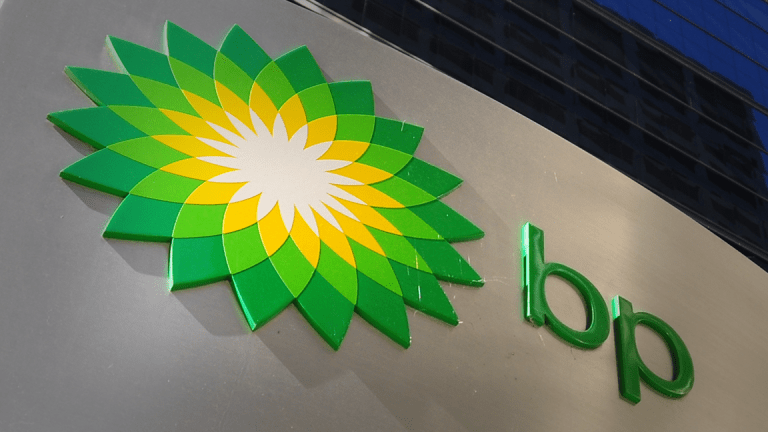 Multiple Tailwinds Take Shape That Could Drive BP Gains
Never mind the market noise, BP outlook is bright.
BP PLC (BP) - Get BP p.l.c. Sponsored ADR Report  been hit hard in the recent wave of market selloffs this month and is off 9% since the latest downturn started on Oct. 9.
The shares' swoon may be more symptomatic of broader market fears and not fundamental weakness, according to Piper Jaffray analysts. The group rated the international oil giant 'overweight' on Oct. 22 and set a $52 price target, more than 20% above its Tuesday afternoon $41.80 a share handle.
Piper's Jaffray's bull thesis is that a series of new projects through 2021 remain in line with projected production growth and could produce strong earnings. "Adding 900mboe/d of new projects through 2021 that underpins the targeted 5% production CAGR from 2016 to 2021E" is one reason for optimism the analysts wrote. And, BP's "production growth is toward upper-end of the peer group," the note said. 
BP also leads the industry in free cash flow yield and is likely to hold the advantage.
Piper Jaffray's thesis echoes Goldman Sachs, whose analysts wrote in August that the company, "is on the cusp of delivering one of the industry's strongest pipelines of new oil & gas projects." The Goldman analysts added, "we estimate that BP's portfolio of new projects is more profitable today and is now among the best in the industry." 
One potential headwind, though, would be falling oil prices. Oil prices have risen in 2018 at a healthy clip, with the WTI Crude Oil index increasing 10.6% this year, and the Brent Crude Oil index rising about 15.3% on the year. But now it seems OPEC could soon start to pump oil supply onto the market aggressively. The Saudi Arabian government said the oil cartel is in "produce as much you can mode." The Saudi Arabian energy Minister Khalid Al-Falih said at a conference in Riyadh recently "We will meet any demand that materializes." 
Nonetheless, the move, while not a positive for oil prices, doesn't seem to be dissuading Piper Jaffray. TheStreet's Jim Cramer agrees with Piper Jaffray, as the Action Alerts Plus team added to its position in BP oil Tuesday. 
BP Oil reports earnings October 30.