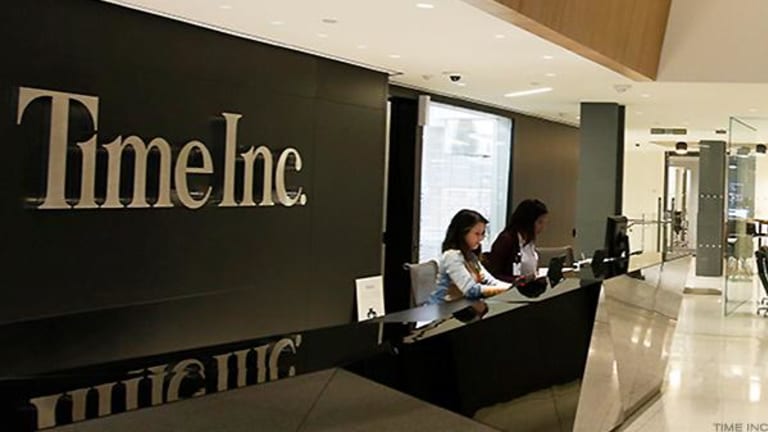 Time's Sluggish Outlook Intensifies Pressure for a Sale
Time offers first quarter and 2017 revenue forecasts that fall short of analyst expectations, giving further weight to speculation that the publisher may need to sell.
Time (TIME) , which is entertaining buyout offers, is expecting things to get worse before they ever get better.
The publisher of Fortune, People and Sports Illustrated said Thursday that both advertising and circulation revenue would fall in the current quarter in percentage terms in the low-single digits compared with the same period a year ago. Time's forecast of $3 billion in sales for 2017, which trailed analyst estimates, would translate to a 2.5% decline.
Time's fourth-quarter financial results weren't much better. Revenue of $867 million fell short of an average Wall Street forecast of $874 million, and is 1% less than a year earlier. Print advertising, still the company's largest source of revenue, tumbled 10% while subscription sales dropped by 9%. Earnings per share also missed the consensus estimate, with the 75-cent figure three cents below the projected 78 cents.
On the bright side, operating income increased 14% to $182 million on corporate restructuring and a 63% jump in digital advertising sales to $166 million.
Shares of The New York company were up 0.9%, or 17 cents, Thursday morning to $19.17.
For Time, the results and its immediate outlook are likely to put more pressure on CEO Rich Battista to sell the company. Earlier this month, Time began to share information about the health of its businesses to longtime rival publisher Meredith (MDP) - Get Meredith Corporation Report   and an investor group led by Edgar Bronfman, the former owner of Warner Music. 
"Bottom line, we think the disappointing guide only adds more fuel to M&A speculation," Wells Fargo media analyst Eric Katz said in a note to investors. "We would point out that both Time and Meredith's stock significantly increased since Nov. 3, when Time reduced its 2016 guide for the second time last year. So we think today's soft guide puts further pressure on Time's management team to pursue a sale."
Meredith, the Bronfman group and other yet unnamed parties signed nondisclosure agreements earlier this month to obtain information about the company's businesses that may not be always available in quarterly filings. In November, Time rejected an $18 per share bid from the Bronfman group, which also includes Ynon Kreiz and Len Blavatnik's Access Industries.
Meredith, which publishes Better Homes & Gardens, among other titles, in addition to owning 17 broadcast TV affiliates, was close to acquiring much of Time in 2013 until negotiations fell apart. News of the Des Moines, Iowa, company's apparent renewed interest surfaced in January.
Time has hired Morgan Stanley for financial advice. No timetable has been set for the talks, which could terminate without a sale.