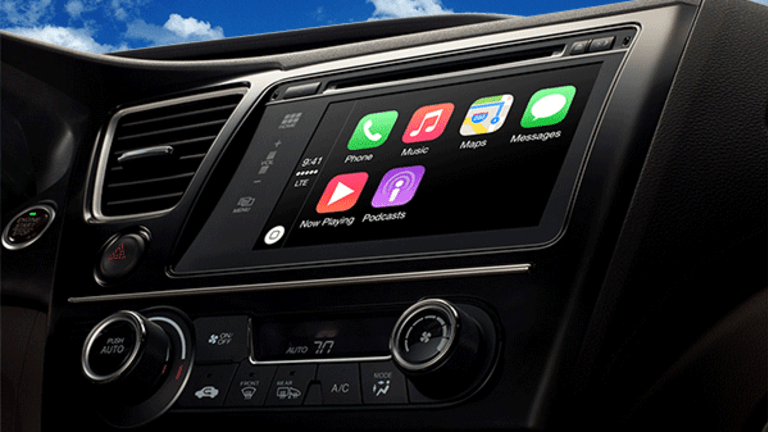 Tim Cook's Willingness to Confirm an Apple Self-Driving Car Project Says a Lot About Its Importance
Here comes the iCar, perhaps.
If there's anything that Apple Inc.'s (AAPL) - Get Apple Inc. Report  corporate culture has been known for since Steve Jobs began his second stint at the company in 1997, it's an obsession with keeping the company's work on new products under wraps until they officially launch. Both to keep the competition from gaining an edge, and to control the presentation and marketing of Apple's products to consumers.
That makes Tim Cook's decision to confirm that Apple is working on an autonomous driving system years before the system might be commercially available a little startling. The decision likely has much to do with the size of Apple's self-driving project, something that has led the company to hire scores of auto industry execs and engineers, as well as road-test Lexus SUVs fitted with self-driving systems. Given these actions, and all the reports that have emerged about Apple's car efforts since early 2015, declining to confirm the project for a couple more years would have bordered on comical.
There's another reason to confirm the project, however: Apple is trying to play catch-up in a very competitive race, and publicly announcing and promoting its work could aid the company's attempts to recruit top talent and form partnerships with top automakers and parts suppliers.
Early on Tuesday, June 13, Bloomberg ran a column in which Cook is quoted as saying Apple is "focusing on [developing] autonomous systems" for the automotive market. He also called the effort "the mother of all AI projects," and argued the auto industry is being simultaneously disrupted by the creation of autonomous driving systems, electric cars and ride-sharing services.
Cook declined to say whether Apple will eventually build its own car, or just create self-driving systems (and perhaps other hardware/software) for third-party automakers. Past reports have indicated that Apple's car project, codenamed Titan, is now focusing on the latter under the oversight of veteran Apple hardware engineering exec Bob Mansfield. Bloomberg reported last October that Apple has given a streamlined Titan team until the end of 2017 to "prove the feasibility of [its] self-driving system and decide on a final direction."
Considering the colossal manufacturing and R&D investments needed to become an automaker from scratch, as well as the investments needed in things like creating stores, providing financing and conducting safety testing, it's hard to blame Apple for (reportedly) narrowing its ambitions. There's a reason why Tesla Motors  (TSLA) - Get Tesla Inc Report is the first new high-volume U.S. automaker to emerge in decades. But building a mass-market autonomous driving system isn't a walk in the park either, both due to the engineering challenges and the competition that Apple faces.
Tesla has made tremendous progress for the Autopilot systems built into its cars, and racked up a lot of real-world driving data along the way. The Autopilot 2.0 systems built into the latest Tesla cars can take over from drivers in many real-world environments, and are said to provide the hardware needed to support full autonomy (software, of course, is the bigger challenge here). The self-driving fleet supported by Alphabet Inc's  (GOOGL) - Get Alphabet Inc. Class A Report Waymo has racked up more than 3 million miles on public roads, and claims to have significantly cut the cost of the LIDAR sensors used by its systems relative to third-party LIDAR sensors. Waymo, which can leverage Google's big AI and mapping investments, has a partnership with Fiat Chrysler, and has held talks with other major automakers.
Some big-name automakers, such as BMW, Ford Motor Co.  (F) - Get Ford Motor Company Report , General Motors Co. (GM) - Get General Motors Company Report  and Honda Motor Co. (HMC) - Get Honda Motor Co. Ltd. Report , have their own autonomous driving projects underway. So does Uber, though Waymo's high-profile trade secret theft lawsuit against the ride-sharing leader could throw a wrench into its plans.
Apple's historical chip and hardware engineering strengths -- strengths that were on full display during last week's WWDC conference keynote -- should help its catch-up efforts. Particularly with an exec such as Mansfield overseeing Titan. And when it comes to creating the software and user interfaces that cars containing an Apple self-driving system will use, Apple's track record of creating simple, intuitive UIs won't hurt its cause.
Here, it should be noted that the company is also reportedly working on a car operating system. This solution is different from Apple's CarPlay interface, which runs on top of third-party operating systems, and would compete against BlackBerry Ltd's undefined QNX OS and Google's recently-launched Android Automotive OS.
At the same time, Nvidia Corp.  (NVDA) - Get NVIDIA Corporation Report is putting much effort into developing silicon for self-driving systems, as are Intel Corp (INTC) - Get Intel Corporation Report and Mobileye NV (MBLY) (the former is set to buy the latter). Meanwhile, Waymo and Tesla's self-driving hardware engineering teams have made a lot of progress, and though Apple is clearly investing a lot in developing machine learning algorithms that could be leveraged by both its existing products and Titan, Google arguably retains an edge here.
Regardless, one can't fault Apple for making Titan a priority, nor for taking the unusual step of confirming the effort long before it yields consumers get to use the fruits of Apple's labor. As I saw all too well at CES, autonomous driving and several other trends are turning cars into very powerful, self-aware, Internet-connected, mobile computers.
For Apple, a consumer tech giant with a huge mobile footprint, standing on the sidelines while this trend unfolds simply isn't an option. Even if some deep-pocketed peers have head starts.
Apple's shares rose 0.8% to $146.58 by Tuesday's close.
Jim Cramer and the AAP team hold positions in Apple and Alphabet for their Action Alerts PLUS Charitable Trust Portfolio. Want to be alerted before Cramer buys or sells AAPL or GOOGL? Learn more now.
Visit here for the latest business headlines.
Read More Trending Articles:
Here's How the Federal Reserve Could Ruin Your Stock Portfolio on Wednesday: Market Recon
Sears Is Going Down in Flames So Look Out, It's Going to Be Messy