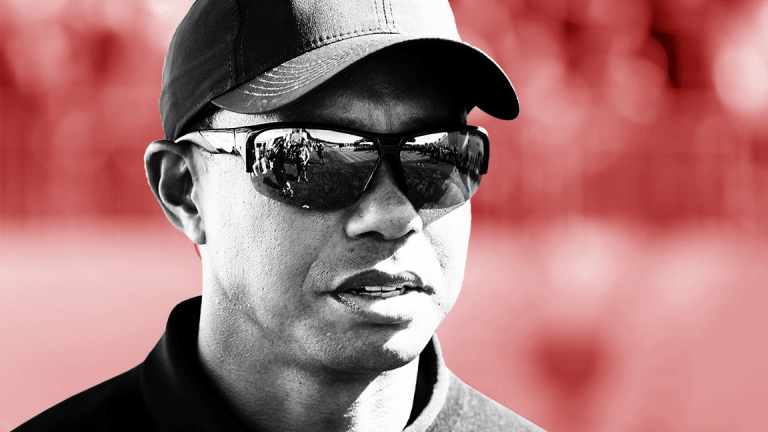 Publish date:
Tiger Woods' Comeback Won't Revive His Brand
All eyes are on Tiger Woods as he attempts a golf comeback, which usually arrives with a major perk of winning — mind-blowing sponsorship deals.
All eyes are on Tiger Woods as he attempts a golf comeback, which usually arrives with a major perk of winning — mind-blowing sponsorship deals.
All eyes are on Tiger Woods as he attempts a golf comeback, which can arrive with a major perk of winning mind-blowing sponsorship deals. 
Those eyes, though, reveal a wariness (and weariness) of the once-invincible athlete, whose golf bag is overloaded with enough ill health, bad behavior, arresting mug shots and dashed wins to keep Woods permanently in the sponsorship bunker. Even if Woods prevails at the Hero Golf World Challenge this week and goes on to dominate the sport again, brand-marketing experts say what won't return are the big sponsorship paydays that Woods enjoyed before injuries set in and his misconduct became widely known starting in 2009.
That's the year that Woods drove his car into a neighbor's oak tree after taking prescription drugs. Later, it was revealed that he had had affairs with multiple women, which led to a divorce from his wife and treatment for sex addiction. In May of this year, Woods was charged with DUI and was released. 
Shareholders, too, may be reluctant to see Woods as a spokesman for the companies that they've invested in. University of California/Davis researchers wrote in a study that shareholders of Nike, Gatorade and other Tiger Woods sponsors lost a collective $5 billion to $12 billion in missed stock-price gains in the wake of the scandal involving his extramarital affairs.
The UC Davis researchers looked at eight sponsors for which stocks prices were available, including AT&T Inc. (T) - Get Report   , Gillette (owned by Proctor and Gamble Co (PG) - Get Report  ), Accenture plc (ACN) - Get Report  , Gatorade maker Pepsico Inc. (PEP) - Get Report  and Buick parent General Motors Corp.  (GM) - Get Report .
"Woods is highly problematic: how he went down, the multiple misses, how his marriage ended and lots of police mug shots," Stefania Pomponi, president and co-founder of marketing agency CLEVER, told TheStreet. "He is not healthy as an athlete, either. And he has golfed with [President] Trump twice since Trump became president. Brands are trying to distance themselves from Trump now."
As far as Pomponi is concerned, many sports figures outshine Woods in charisma, professional consistency and back stories. Among those she sees beating him in the endorsement game are retired New York Yankee Alex Rodriguez, NBA players LeBron James and Steph Curry, and Shalane Flanagan, this year's female winner of the New York City Marathon.
Pomponi says Curry is especially bankable, as he's "the whole package. He brings his adorable girls when he's giving interviews, he's got a dynamic wife who has a food company and is opening restaurants, and he's a tremendous athlete. And he's easy on the eyes; so is his entire family."
Pomponi added that even former San Francisco 49ers quarterback Colin Kaepernick, who spurred a now-controversial movement when he protested racial injustice by refusing to stand for the national anthem on the football field, could work for some brands. "He's divisive, but if a brand wants a spokesman who stands for something, Kaepernick is a good fit," she said.
Ted Wright of marketing firm Fizz told TheStreet that Woods' story "is about being perfect on the golf course, which makes his brand one-dimensional. If he's not winning, there's no there there." 
Overall, many brand experts are taking a wait-and-see attitude toward Woods. "The jury would be out," Stephen Hahn-Griffiths, chief research officer at Reputation Institute told TheStreet. "There would be people who vehemently like Tiger, or [who] wouldn't like him at all because of his checkered past. The majority would say, 'Let's see how he performs in the future.' He not only has to perform, he has to behave."
Hahn-Griffiths compares Woods' story to Martha Stewart's, who saw her fortunes plummet after she was convicted of felony charges and served jail time. Han-Griffiths said that like Stewart, Woods' sponsorship options will now be much fewer — and lower paying. He also suspects that Woods' existing sponsors have bailout clauses that allow them to break ties immediately, without repercussions, if the athlete misbehaves.
However, one sponsor is all in with Woods. "Tiger coming back is really beneficial for us," Bridgestone Golf president and CEO Angel Ilagan told TheStreet. "Frankly, he benefits us because of his endorsement value. He is one of the few celebrity athletes out there whose endorsement matters. And in golf, he is probably the only one who makes a difference."
Best of luck, Tiger. We will see.
(Editor's pick. Originally published Nov. 30.)
More of What's Trending on TheStreet: