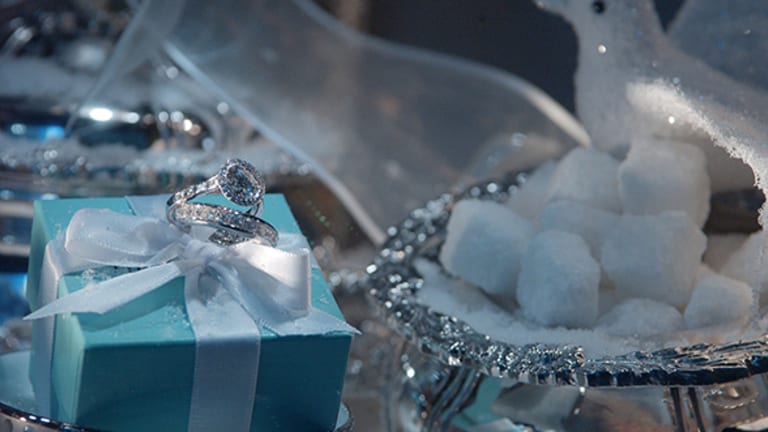 Tiffany's Tough Times to Continue so Sell Stock Ahead of Earnings
Tiffany reports first-quarter fiscal 2016 earnings Wednesday morning. Here's why I would sell the stock ahead of the news.
NEW YORK (TheStreet) -- Tiffany (TIF) - Get Report reports first-quarter fiscal 2016 results Wednesday morning. I would sell the stock ahead of the news.
Tiffany faces a whole series of headwinds that don't seem to be letting up. Unfavorable economic conditions in many of Tiffany's most important regions, the strong dollar and slowing foreign tourism are all weighing on the company's results. Even though the company is well managed and plans to open 12 to 15 new stores this year, I don't think it's enough.
The company is expected to report revenue of $918 million, down 9.2%. Earnings per share of 70 cents will be up 8%. Many analysts are bullish on the stock. The bulls think Tiffany could produce sales as high as $970 million. Bulls are forecasting a tough first half followed by a strong second half, which will lift the stock higher, but I think that's overly optimistic.
Sales of jewelry less than $500 have been lackluster. Tiffany's silver business has been in decline since 2007. Because of the strong dollar, foreign tourist travel to New York has slowed. North America is almost 50% of Tiffany's sales, so strong tourist travel to Tiffany's flagship New York City store is a must.
Sales in Japan (14% of revenue) declined 13%, to $148 million, in the fourth quarter and 4%, to $554 million, in the full year. Europe (12% of sales) was flat. Asia-Pacific (23%) was the best performing region. For the year, total sales in Asia rose 9% to $1 billion.
On the last conference call, management told investors to expect expenses to rise faster than revenue as the company spends more on marketing. Even with a strong back half, the company will have flat gross margins and higher marketing expenses, mean operating margins have probably peaked as well. Under that type of scenario, I think it will be difficult to drive earnings enough to move the stock.
If you think the company will earn $4.21 a share this year, TIF is already trading at 20 times estimates, which, historically is full valuation for the stock. To me, Tiffany is more attractive in the mid $70s.
This article is commentary by an independent contributor. At the time of publication, the author held no positions in the stocks mentioned.