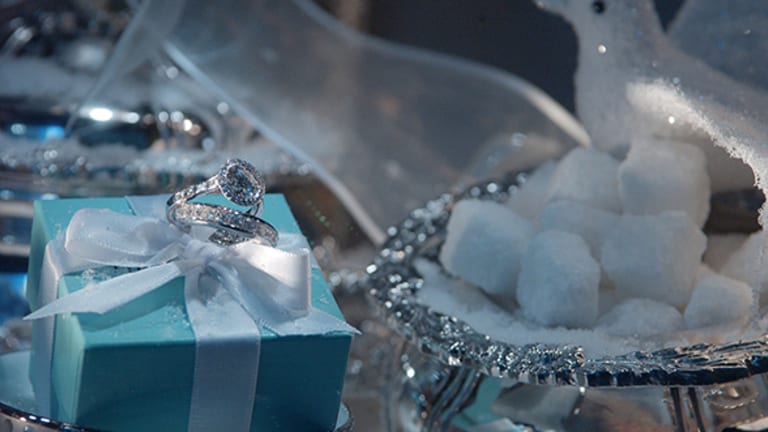 Tiffany Still Needs More Polish
Jewelry maker Tiffany continues to struggle globally, even as its stock shoots up.
Exuberant investors should polish their eyeglasses and then look back over the latest results for Tiffany (TIF) - Get Free Report , which were once again severely lacking on the sales line.
Shares of the high-end jeweler rose more than 6% in premarket trading on Thursday as investors cheered better-than-expected second-quarter earnings and a reiterated outlook.
The company reported that earnings, adjusted for one-time items, declined 5% from the prior year to 86 cents a share vs. Wall Street estimates for 71 cents a share. Tiffany benefited from price increases taken earlier in the year, lower gold and silver prices from last year that are now flowing through its financials, and a good number of share repurchases.
Executives continue to foresee full-year sales declining by a low-single-digit percentage from the prior year, and earnings dropping by a mid-single-digit percentage.
But Tiffany's challenges -- mostly structural in nature -- continue. It has difficulty growing sales in key global markets. That calls into question whether the company can achieve its reaffirmed outlook.
Net sales declined 6% year over year to $932 million, slightly missing analyst forecasts for $933.9 million. In the Americas division, same-store sales dropped 9%, excluding the impact of the strong U.S. dollar. Wall Street was looking for a 7.8% increase. As in prior quarters, the strong dollar continues to impact tourist spending in major U.S. markets for Tiffany such as New York City, where it has prominent stores on 5th Avenue and Wall Street.
The strong dollar is a macroeconomic factor that was also a problem during the second quarter for Macy's (M) - Get Free Report , which operates its historic flagship store in New York City's Herald Square and has other satellite stores in prominent tourist locations. According to Macy's, credit card sales from international visitors to its stores fell 12% in the second quarter, following a 20% drop in the first quarter. 
Meanwhile, same-store sales in Tiffany's Asia Pacific region plunged 9% on a constant currency basis in large part to "significant" declines in Hong Kong, the company said. Both a strong Hong Kong dollar and the Chinese government anti-corruption crackdown on gift-giving for party officials continue to weigh on luxury goods players.
And as a result of the sustained pressure on oil prices, same-store sales dropped 22% for Tiffany in the United Arab Emirates region, where it has five stores.
"We are increasingly concerned that Tiffany is situated in the crosshairs of a more challenged consumer environment in the U.S. and abroad," analysts at Oppenheimer wrote ahead of Tiffany's results.
Tiffany stock is valued at about 17.5 times estimated forward earnings, a premium to the broader S&P 500. One would think Tiffany is knocking the cover off the ball.
But Tiffany's second quarter proved that its results are in bad need of a good polish before such a valuation is deserved.