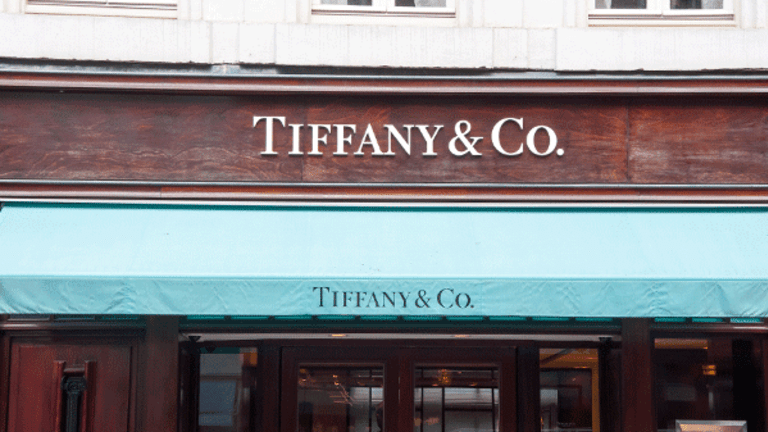 Tiffany Sales Disappoint Post-Election, and a Rebound Is Unlikely
Heightened security stemming from New York neighbor Donald Trump's election limited traffic to the iconic flagship store.
New York City's Tiffany & Co. (TIF) flagship store on the corner of 5th Ave. and 57th St., is an American icon and a major source of the luxury retailer's revenues.
Slackened shopping at the store during the holiday season dented Tiffany's stock on Tuesday. Tiffany's shares had fallen nearly 2.5% by the closing bell.
During the period, Tiffany's American sales clocked in 4% lower year over year, at $483 million. And comparable store sales for the region also dropped by 4%, compared with the 2015 holiday season.
Sales at the flagship store fell by 14% during the holidays. That's because of increased security and restricted travel on Fifth Avenue due to the election of Donald Trump, who lives next door and spent much of November and December interviewing potential cabinet members. Many shoppers were unable to access the store.
There were some positive notes in Tiffany's holiday season sales announcement. Globally, net sales rose 1%, to $966 million during November and December. The company's Asia-Pacific and Japan segments saw year-over-year sales growth of 7% and 16%, respectively.
Still, overall sales were weak, dragged lower by both declining American sales and a 10% year-over-year sales decrease in European markets. Worldwide, comparable store sales slipped by 2%.
Trump will soon move into the White House but his absence from New York is unlikely to reverse long-brewing trends. The store had been experiencing declining sales even before the Nov. 8 elections. In the third quarter of 2016, same-store sales were down 2%.
Luxury goods retailers have been battling headwinds due to economic woes and uncertainty worldwide. From a slowdown in China's economy to Brexit, to Trump, people are nervous and not spending a lot of money on fripperies. That's led to declines for Tiffany and other companies such as Kate Spade, Michael Kors, and Coach. Earlier this month, luxury retailer Neiman Marcus walked back from its intention to go public.
Retail as a whole has become a minefield for investors, with department store stalwarts such as Macy's and Sears hemorrhaging sales and cash. And luxury retail has the potential to be even more dangerous.
Investors who have no stomach for risk should continue to stay away from Tiffany & Co. Uncertainty on the geopolitical and economic landscapes make this a perilous play, at least for the short term.
---
A crisis is coming. But I've found seven companies that should continue to prosper no matter what's going on in the economy. Each one of these powerful yet overlooked companies barely even blink when the market tumbles. And they'll skyrocket when it rebounds. You can pick up all seven for pennies on the dollar right now. Get their names here before it's too late.
The author is an independent contributor who at the time of publication owned none of the stocks mentioned.