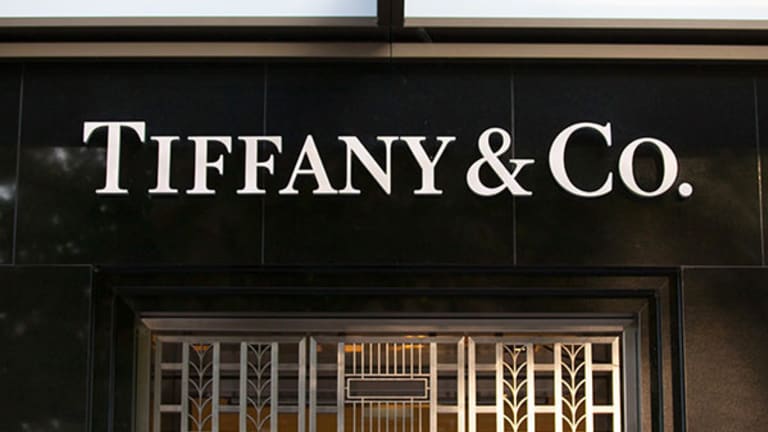 Tiffany Falls, Zale Jumps on Holiday Sales
Shares of Tiffany and Zale are moving in sharp contrast after releasing holiday sales numbers.
NEW YORK (TheStreet) -- Tiffany (TIF) - Get Report shares were losing ground on Friday, even after the upscale jewelry retailer said that comparable sales for the holiday period rose 6% and reaffirmed its year-end outlook.
Shares were losing 2% to $90.16.
Tiffany's global sales in the two-month period ended Dec. 31 rose 4% to $1.03 billion, though on a constant-currency basis net sales rose 8%, the New York-based company said. Tiffany's comparable-store sales rose 6% in the same period.
"Tiffany enjoyed a good holiday season with overall sales results in line with our expectation, and we were pleased to see growth across our fine and statement, engagement and fashion jewelry categories," Chairman and CEO Michael Kowalski said in a statement. "Based on these sales results and related margins, we expect that full year earnings before certain charges will meet the most recent forecast we provided in November."
In November, Tiffany had boosted its adjusted earnings guidance for the fiscal year to a range of $3.65 to $3.75 a share. Including charges, the company expects GAAP EPS to range between $1.27 and $1.37 for the January-ending quarter.
Tiffany said that comps in the Americas region, its largest distribution of its 286 stores, rose 7%, while total sales on a constant-currency basis rose 7% to $550 million.
Its next largest region, the Asia-Pacific region, saw total sales rise 8% on a constant-currency basis to $196 million, while comp sales were flat from the prior year. Tiffany said that higher sales in China were offset by declines in other parts of the region.
In Japan, total sales increased 9% in constant-currency to $135 million. Japan's comp sales rose 10%.
Shares of Zale surged 16.3% to $16.46 after the Dallas-based jeweler said November and December-combined comps for its Zales branded stores rose 4.4% from 3.1% in the same period last year, while comparable sales for its Peoples branded stores rose 2%. Together, comparable sales, which include e-commerce sales, rose 2%, the company said. On a U.S. dollar reported basis, comps were up just 0.7%.
That said, revenue for the two-month period fell by 2% to $556 million. Zale attributed the decrease to the closing of 91 stores and a decline in the Canadian exchange rate.
"During the holiday period, we maintained our focus on increasing exclusive product penetration, driving gross margin improvement and building our core national brands," CEO Theo Killion said. "We executed a solid holiday season despite a challenging retail environment. Our holiday performance gives us confidence we can achieve our financial expectations for the fiscal year."
Zale also said it expects gross margin for the January-ending quarter (its second fiscal quarter) to rise 200 basis points from last year to 52.6%, and operating margin to rise 100 basis points from last year to 8.6%, reflecting "efficiencies gained from our merchandise sourcing program, discipline around promotional activities and a favorable commodity cost environment." 
A third jewelry retailer, Signet Jewelers (SIG) - Get Report, parent company of Kay Jewelers and Jared, reported strong comps but said that promotions hit gross margins, which would ultimately affect the quarter's bottom line.
Signet shares were falling 1.9% to $72.23.
-- Written by Laurie Kulikowski in New York.
Disclosure: TheStreet's editorial policy prohibits staff editors, reporters and analysts from holding positions in any individual stocks.