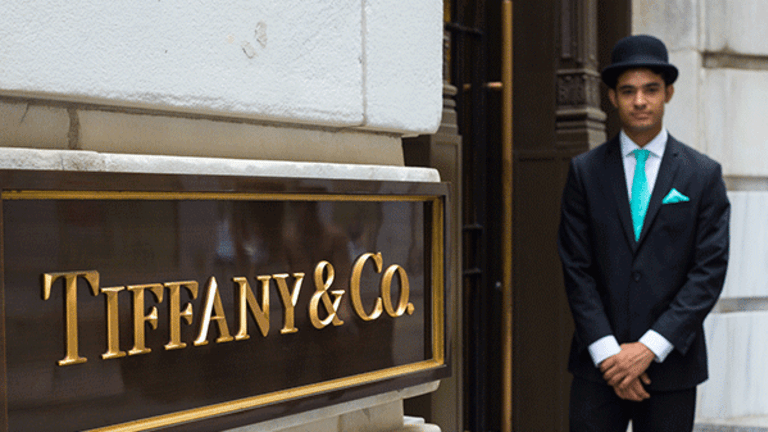 Publish date:
Even With a Tarnished Quarter, Tiffany & Co. Delivered Surprises
Tiffany slammed Wall Street's estimates on fourth-quarter earnings and is still looking for a new CEO.
Tiffany slammed Wall Street's estimates on fourth-quarter earnings and is still looking for a new CEO.
It wasn't a sparkling quarter, but Tiffany & Co. (TIF) - Get Report  managed to deliver Wall Street a solid earnings beat only one month after ousting CEO Frederic Cumenal.
Before Friday's market open, Tiffany reported fourth-quarter earnings of $1.45 a share on $1.23 billion in revenue, higher than the $1.37 a share in earnings and $1.22 billion in sales analysts expected. Shares of Tiffany spiked 3.49% to $93.12 in early-morning trading.
For the full year, Tiffany reported earnings of $3.75 a share, lower than last year's $3.83 a share and revenue of $4 billion, compared to the $4.1 billion generated in 2015.
Meanwhile, global same-store sales were unchanged for the three months ended Jan. 31 versus the prior year, while Wall Street predicted a decline of 1.1%. But, in the U.S., comparable store sales fell 2% for the fourth quarter and 6% for the year.
"We attributed a portion of the softness in the U.S. throughout the year on local customers, which we believe was tied to macro market and political uncertainties," said Mark Aron, vice president of investor relations, on Friday morning's earnings call. He noted that foreign tourism spending was also down likely due to the concerns surrounding terrorism.
At the jewelry retailer's flagship store in New York City, sales fell 7% in the fourth quarter and 11% during the full year. During the holiday months of November and December, Aron revealed that same-store sales fell a whopping 14%.
Still, Tiffany appears to be committed to driving long-term growth.
The fourth-quarter earnings beat comes a little more than a month after Tiffany's board of directors ousted Cumenal, who served in his position for less than two years. Former CEO and Board Chairman Michael J. Kowalski took over as interim CEO, while the company searches for a permanent replacement.
"I'm so pleased to be working with Mike, the board and all of Tiffany's dedicated employees to accelerate the execution of our key strategies for the years ahead," Tiffany CFO Mark Erceg said on the call. "One of those strategies is expanding our e-commerce and omni-channel capabilities, which require us to upgrade certain IT systems."
Tiffany began its search to find a new CEO in February and Kowalski said on the call that "it may take time" to fill the position with a person holding "broad experience and broad management" skills.
"We believe Tiffany has a set of powerful strategies that can propel our business forward," Kowalski said. "With the right leadership and pace of execution, we believe there are substantial opportunities to grow our business."
The company's inventories decreased 3% to $2.2 billion by the end of the fourth quarter and its gross margins rose to 64.1% in the period, compared to 63% a year ago.
Erceg also noted in the fourth quarter that Tiffany saw strength in watch sales, which could pose another threat to Fossil Group's (FOSL) - Get Report diminishing traditional watch business, as TheStreetrecently reported.
As of Jan. 31, Tiffany operated 313 stores in 28 countries, 125 of which are located in North America after closing five stores, relocating five and opening 11.