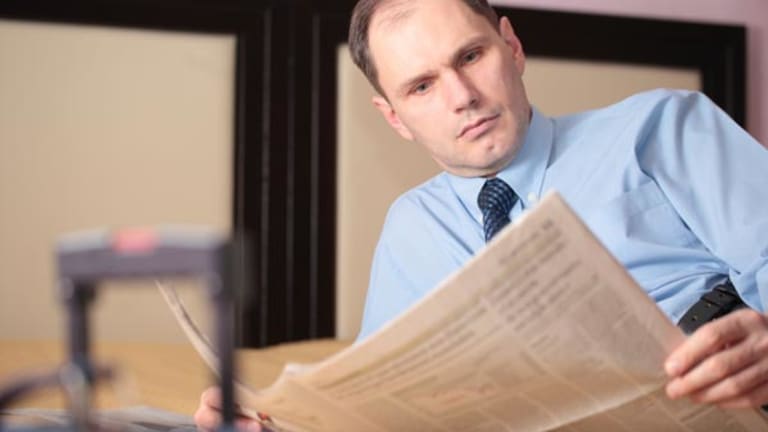 Thursday's Top 10 Articles, Videos on TheStreet
These stories made today's top 10 list of articles and videos on TheStreet.
NEW YORK (
) -- In case you missed them, here are the top 10 most popular articles and videos on TheStreet today.
Sign up for free email delivery of our daily Top 10.
Chelsea Therapeutics: FDA Panel Live Blog
Adam Feuerstein
An FDA panel meets today to review Chelsea's hypotension drug Northera.
Don't Fret About Aetna, Raytheon
Gregg Greenberg
Harvey Neiman, portfolio manager for the Neiman Large Cap Value Fund, names his favorite stocks, including Aetna, Raytheon and Intel.
Stocks Rebound on U.S. Housing, Jobs Data
Andrea Tse
Stocks were back in positive territory late Thursday morning following data showing surprising strength in German business confidence and a better than expected read on U.S. jobless claims.
Stocks Under $5: Telecom Earnings Play
David Peltier
David Peltier suggests that investors hang up on this telecom stock, despite an upbeat earnings report.
10 Dividend Stocks That Will Let You Retire (Update 1)
Frank Byrt
They carry lower volatility and have proven to outperform over time.
Apple Investors Divided on Dividends
James Rogers
Apple investors are split on what type of dividend strategy the tech giant should implement.
5 Big Stocks to Trade for Gains
Jonas Elmerraji
Here's a look at how some of the biggest names on Wall Street are trading technically.
Analysts' Actions: HP, VVUS, JNPR, K
TheStreet Staff
Here are today's top research calls.
Buy JPMorgan Chase Now: Graseck (Update 1)
Philip van Doorn
Calling JPMorgan Chase 'the cheapest money center' bank, Morgan Stanley analyst Betsy Graseck says investors should buy the stock.
Sears to Spin, Sell Stores After Earnings Flub (Update 1)
Antoine Gara
Sears is spinning and selling stores in a move to raise cash and ease liquidity strains.
This article was written by a staff member of TheStreet.