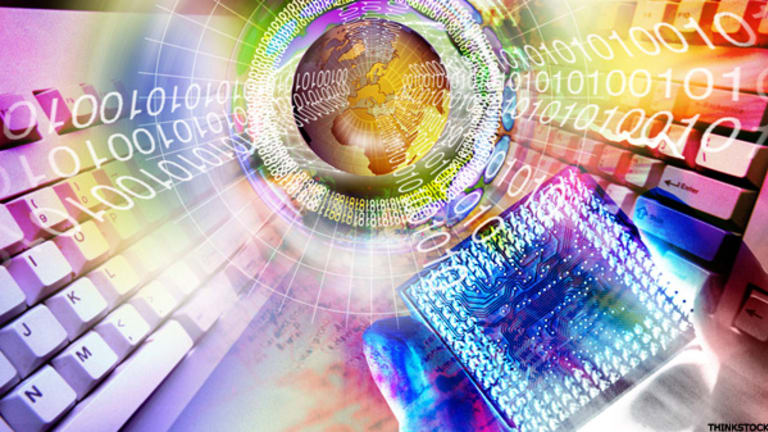 Thursday's Tech Winners & Losers
Advanced Micro Devices and Symantec were among tech names to benefit from analyst upgrades.
Updated from 11:46 a.m. EDT
Tech stocks traded up on Thursday, with several stocks benefiting from analyst upgrades.
Hoku Scientific
(HOKU)
jumped 38.1% after the maker of fuel cells announced that one of its subsidiaries received a seven-year contract worth up to $185 million. Under the deal, which begins during the second half of 2009, Hoku will provide polysilicon to Global Expertise Wafer Division, a subsidiary of
Solar-Fabrik
. Before the first shipment occurs, Global Expertise is required to make prepayments to Hoku in the amount of $51 million. Shares of Hoku Scientific closed up $2.65 to $9.60.
Elsewhere,
Advanced Micro Devices
(AMD) - Get Report
rose 7.9% after Stifel Nicolaus upgraded the chipmaker to buy from neutral. The firm said that AMD's first-quarter stumble was an anomaly and that AMD will get back on track during the second quarter. Additionally, the broker slapped a $17 price target on the stock. Shares closed up $1.08 to $14.72.
Meanwhile,
Quest Software
(QSFT)
traded actively after the software company said that it would acquire ScriptLogic for about $90 million in cash. "In addition to expanding Quest's presence in the small- and medium-sized business space, the deal broadens Quest's capabilities to support both Windows server-based and client-side needs as well as allowing ScriptLogic to benefit from Quest's global footprint and extensive presence and knowledge in the Windows market," Quest said. The deal is expected to close during the third quarter. Shares of Quest, down 12 cents earlier in the day, closed up 6 cents to $16.50.
Symantec
(SYMC) - Get Report
rose 3.2% after Robert Baird upgraded shares of the software company to outperform from neutral. The firm said that integration challenges are behind the company and that earnings guidance does not reflect the possibility of share repurchases. Shares closed up 62 cents to $20.06.
Finally,
Blackboard
(BBBB)
rose 2.7% after the software company closed the sale of $165 million in convertible senior notes. Underwriters fully exercised their option to buy an additional $15 million notes to cover overallotments. Blackboard plans to use about $19.4 million of the proceeds to repay outstanding debt on its senior secured-term loan facility. The rest of the proceeds will be used for general corporate purposes. Shares closed up $1.12 to $42.27.
As for the broader technology sector, the Nasdaq 100 was trading up about 19 points to around 1941.