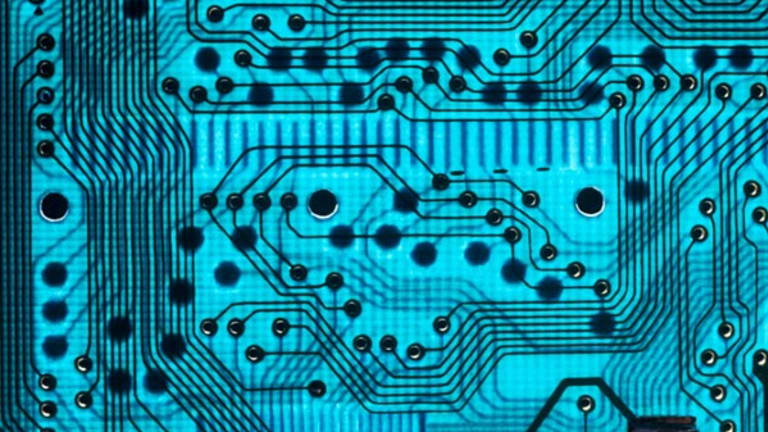 Thursday's Tech Winners & Losers
Web Methods soars after the software company's acquisition by Software AG.
Updated from 11:48 a.m. EDT
Shares of
WebMethods
( WEBM) were among technology's winners Thursday, soaring 27.2% after the software company agreed to be acquired by
Software AG
for $546 million, or $9.15 a share.
The all-cash deal represents a 26% premium to WebMethods's closing price of $7.28 on Wednesday. "Combining our product portfolio and sales team with those of WebMethods gives us a major foothold in the critical North American market," Software AG said. The deal is expected to close during the second quarter. Shares closed up $1.98 to $9.26.
Rackable Systems
(RACK)
slumped 15.6% after the server-maker warned that it would post a first-quarter loss. The company now sees gross margin falling 30% lower than its previous forecast. Rackable blamed the gross margin pressure on an "intensity of competition" in its largest accounts.
The company also expects higher operating expenses, which are due, in part, to one-time charges associated with the cancellation of an order from a customer. Expenses also will be higher because of severance charges and charges related to sales and use-tax exposures from past sales to various customers. The company still expects to post revenue of $70 million to $75 million. Analysts polled by Thomson First Call project earnings of 5 cents a share on revenue of $73.8 million. Shares closed down $2.64 to $14.24.
Shares of
Vocus
(VOCS)
jumped 17.2% after the software company priced a follow-on stock offering at $19.50 a share. The company sold more than 3 million shares in the offering, an increase of about 192,000 shares over its initial filing. Some 1.8 million shares were sold by selling shareholders while the rest were sold by the company. Thomas Weisel Partners led the underwriting syndicate. Shares closed up $3.36 to $22.89.
ScanSource
(SCSC) - Get Free Report
rose 4.8% after the maker of bar-code scanners said that third-quarter revenue would be above Wall Street's forecast. For the quarter ended March 31, the company sees revenue of $484 million to $492 million. During the year-ago period, the company posted revenue of $405.6 million. Analysts project revenue of $476.9 million. ScanSource plans to issue its third-quarter results on April 26. Shares closed up $1.32 to $28.84.
Shares of
Radcom
(RDCM) - Get Free Report
plunged 37.7% after the company warned that it would post a loss for the first quarter because of weaker-than-expected sales in the Far East and in the U.S. For the period ended March 31, the company sees revenue of about $3.4 million, well below the $5.1 million that it posted a year ago.
"We are disappointed in our first-quarter sales, which reflect execution issues that we are now strongly focused on solving, together with the lumpiness of our sales model, whose large average-sized deals increase the implications of the timing of each deal," the company said. Shares closed down $1.04 to $1.72.
Other technology movers included
Sun Microsystems
(SUNW) - Get Free Report
, up 7 cents to $5.93;
Intel
(INTC) - Get Free Report
, up 20 cents to $19.58;
Cisco Systems
(CSCO) - Get Free Report
, down 4 cents to $26.06;
Microsoft
(MSFT) - Get Free Report
, up 5 cents to $28.55;
CMGI
( CMGI), up 8 cents to $2.28; and
Qualcomm
(QCOM) - Get Free Report
, down 35 cents to $43.30.