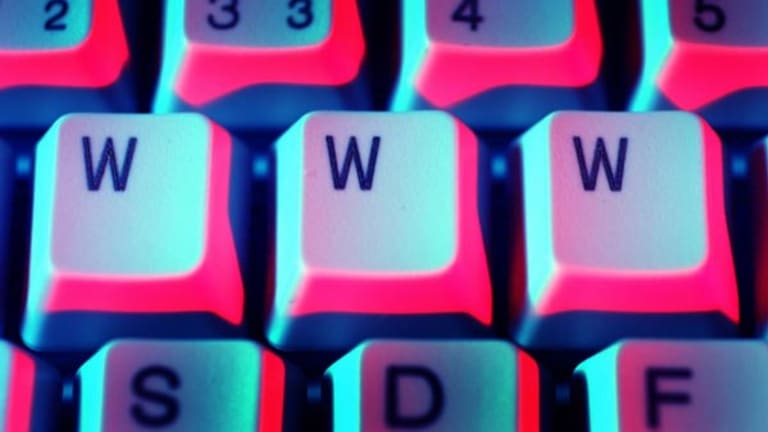 Thursday's Tech Winners and Losers
Apple shares get a lift.
Updated from 1:41 p.m. EDT with new stock prices
Tech stocks rose Thursday following strong earnings reports frommany of the sector's big names, as the major market indices werenudged higher in part by a drop in weekly unemployment claims.
Apple
(AAPL) - Get Apple Inc. Report
gained $6.05, or 3.7%, to $168.94 following the company's
, which blew past Street expectations for the quarter.Apple posted a profit of $1.05 billion, or $1.16 a share, comparedwith profit of $770 million, or 87 cents a share, the year before.Revenue climbed 43% to $7.51 billion. Analysts were expecting earningsof $1.07 a share on revenue of $6.96 billion.
Gross margin, however, fell to 32.9% from 35.1% in the year-ago quarter and the company offered a conservative forecast of revenue of $7.2 billion andearnings of $1 a share. Analysts were expecting revenue of $7.15billion and earnings of $1.10 a share in the current quarter.
Shares of
Qualcomm
(QCOM) - Get QUALCOMM Incorporated Report
added $1.27, or 3%, to $43.16 afterthe company beat Wall Street expectations for the second quarter and
liftedits guidance
for the current quarter and full year. Sales duringthe second quarter increased 17% to $2.60 billion and were ahead ofanalysts' estimates of $2.5 billion. The company reported a profit of$894 million, or 54 cents a share, beating the consensus of 52 cents ashare.
Semiconductor and storage maker
LSI
(LSI) - Get Life Storage Inc. Report
surged after the company
reportedbetter-than-expected
first-quarter results, though it posted a lossof $14 million, compared to a net income of $30 million a year ago.Excluding items, the company reported earnings of 10 cents a share,compared with earnings of 11 cents a share the year before. Revenuerose 42% to $661 million. Analysts had been expecting earnings of 7cents a share on revenue of $634.6 million. An analyst at Carisupgraded the stock to above average from average. Shares of LSI wereup $1.03, or 20.8%, to $5.99.
Internet service provider
Earthlink
(ELNK)
added 52 cents, or6.4%, to $8.64 after it
swungto a first-quarter profit that beat expectations, and increasedits full-year forecast. Earthlink reported a first-quarter profit of$54.4 million, or 49 cents a share, compared with a loss of $30million, or 24 cents a share, in the year-ago quarter. The resultsbeat Wall Street's expectations for a profit of 33 cents a share.Quarterly revenue, though, slipped to $263.1 million from $324.1million a year earlier, a decrease of 18.8%. Analysts were expectingrevenue of $265.1 million.
Motorola
( MOT) shed 29 cents, or 3%, to $9.26 after the company gave
as it struggles with its mobile-phone unit. The companyreported a loss of $194 million, or 9 cents a share, in the firstquarter, vs. a loss of $181 million, or 8 cents a share, in theyear-ago period. The latest quarter included 4 cents of charges.Analysts expected a loss of 7 cents a share in the quarter. Salesplunged 21% to $7.45 billion and below the $7.75 billion Wall Streetwas expecting. Motorola said it expects to report a loss in a range of2 cents to 4 cents a share, before items, in the second quarter, widerthan Street estimates of a loss of a penny a share.
Motorola's results also took a toll on investor sentiment aroundits rival
Nokia
(NOK) - Get Nokia Corporation Sponsored American Depositary Shares Report
. Shares of Nokia were off 68 cents, or2.3%, to $28.51.
Amazon
(AMZN) - Get Amazon.com Inc. Report
was down $3.31, or 4.1%, to $77.69after the company reported numbers higher than Wall Street's estimatesfor the first quarter but
loweredits outlook for operating income for the full year. Operatingmargin in the first quarter, which analysts have been watching, wasalso flat at 4.8%.
Shares of IT security company
Vasco Data Security
(VDSI)
plunged $3.47,or 25.1%, to $10.36 after the company
missedStreet expectations and reported lower-than-expected revenue.Vasco has a high number of customers in the financial services sectorand a slowdown in orders from customers led to a revenue shortfall,said the company. An analyst at Morgan Keegan also downgraded thestock to market perform from outperform.