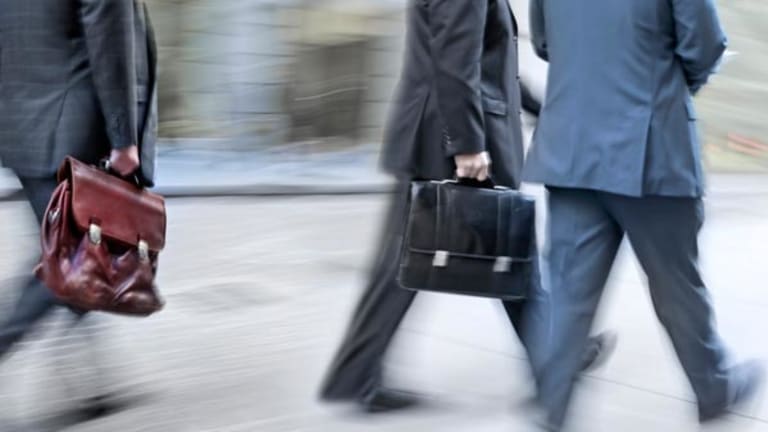 Thursday's Analysts' Upgrades and Downgrades
Who made what calls.
CHANGE IN RATINGS
Chico's
(CHS) - Get Report
outlook cut at Credit Suisse:Credit Suisse said it is lowering its 2007 EPS estimates on CHS to $1.32 from $1.57 based on lower comps and margin assumptions. Reduced target price to $33 from $46.
Chico's
(CHS) - Get Report
downgraded at UBS: UBS said it is downgrading CHS to Neutral from Buy after company significantly lowered its 2006 and 2007 outlook. Reduced target price to $25 from $40.
eBay
(EBAY) - Get Report
downgraded at Piper: Piper said it is downgrading EBAY to an Underperform rating as structural problems such as rising costs of buyer acquisition and retention will hurt margins.
Gateway
( GTW) upgraded at Bear: GTW was upgraded from Underperform to Peer Perform, Bear Stearns said. E-Machines owner proposed to buy the company's retail business, though the company's fundamentals remain soft.
Landstar Systems
(LSTR) - Get Report
upgraded at BB&T: LSTR was upgraded from Hold to Buy, BB&T Capital said. $58 price target. Issue over exclusive FAA contract should eventually blow over, and the company should hold up well in a difficult economy.
Navteq
(NVT) - Get Report
downgraded at Jefferies: Jefferies said it is downgrading NVT to Hold from Buy due to possibility of Q3 revenue miss. See weakness in SUV sales, competition from TomTom, and possible softness at Garmin. 2006 estimates cut 2 cents to $1.12.
Par Pharma
( PRX) added to Sell List at Goldman Sachs: Goldman said it is downgrading PRX to Sell from Neutral and adding it to its America's Investment Sell List based on valuation. Shares are up 32% since July 7 and visibility remains low. 2007 estimates lowered to $1.08 from $1.26.
Smithfield Foods
(SFD)
upgraded at Suntrust: SFD was upgraded from Neutral to Buy, Suntrust Robinson Humphrey said. $35 price target. Business has stabilized, and the GKIS bid may mark the bottom of the protein glut.
Supervalu
(SVU)
upgraded at JP Morgan: SVU was upgraded from Underweight to Neutral, JP Morgan said. Valuation call, though execution risk does exits. 2.5% dividend yield is solid.
Westlake Chemical
(WLK) - Get Report
downgraded at UBS: UBS said it is downgrading WLK to Neutral from Buy based on softer outlook for PVC. Lowered target price to $32 from $35.
Wyndham Worldwide
(WYN)
added to Buy List at Goldman: Goldman said it is adding WYN to its Americas Investment Buy list based on valuation. Company reported solid Q2 results and announced $400 million buyback plan. Price target at $33.75.
STOCK COMMENTS / EPS CHANGES
Energy East
( EAS) target lowered at Jefferies: Price target on EAS lowered to $23 from $26.50, Jefferies said. Subsidiary NYSEG received final rate order from NY Public Service Commission. 2007 estimates cut to $1.50 from $1.65 and reiterated Hold rating.
Realogy
(H) - Get Report
numbers cut at Morgan Stanley: Shares of H now expected to reach $24, Morgan Stanley said. Estimates also cut, to match the company's new guidance. Buyback will not be enough to make up the difference.
Johnson & Johnson
(JNJ) - Get Report
target price raised at UBS: UBS said it is raising its target price on JNJ to $80 from $73. Believes company is gaining momentum in the face of easy comps. Maintained Buy rating.
Phillips-Van Heusen
(PVH) - Get Report
estimates raised at Prudential: Prudential said it is raising its 2007 estimates on PVH by 13 cents to $2.50 a share due to solid Q2 results and higher Q3 and Q4 guidance. Maintained Overweight rating.
Qwest
(Q)
estimates raised at Morgan Stanley: Q estimates boosted through 2008, Morgan Stanley said. Company has solid momentum, but CMCSA could also step up competition. Valuation appears full, though management will likely return cash to shareholders. Underweight rating.
Taro Pharma
(TARO) - Get Report
upgraded at Goldman Sachs: TARO upgraded to Neutral from Sell, Goldman said. See potential M&A interest and valuation from eventual release of audited financial statements. Price target increased to $14 from $11 and 2006 estimates cut to $0.66 from $0.78.
Tech Data
(TECD) - Get Report
estimates reduced at Morgan Stanley: TECD 2007 estimate lowered to 97 cents a share, Morgan Stanley said. Europe continues to be soft, and the company's margins may not bounce back in the near term. Equal-weight rating.
Weyerhaeuser
(WY) - Get Report
estimates lowered at Morgan Stanley:WY estimates cut through 2008, Morgan Stanley said. Continued weakness in the homebuilding sector could weigh on sales. DTC purchase also takes away from share/debt buybacks.