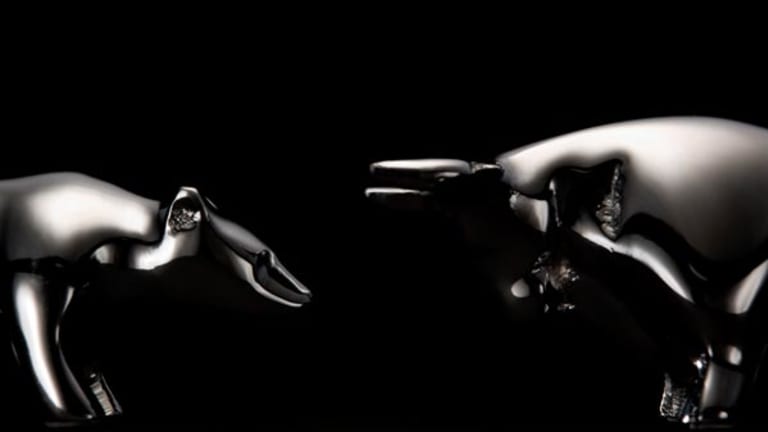 Throw a Super Bowl Party for $100 or Less
Here's what you need to know to score the best deals for an affordable game day.
NEW YORK (MainStreet) -- Super Bowl parties are an American tradition, uniting football fanatics and those just in it for the chicken wings and commercials, but if you're hosting this year, the excitement of game day may be dimmed by anxiety over how to entertain your rowdy guests without overspending.
After all, no matter how many times you say "BYOB," appetizers, beer, cups, plates and other party essentials can add up quickly, especially with a large group. To find out ways to keep costs down without skimping, we spoke to a few savvy deal and food experts. As an extra challenge, we set the total party budget at $100 or less for a guest list of about 10 people.
Here's what you need to know to score the best deals for an affordable game day.
Read on for our breakdown on the estimated costs of everything you'll need, plus advice on how to score the best deals for an affordable game day.
Invitations
No need to spend a dime when announcing your Super Bowl bash -- simply send out a free invitation using Evite or Facebook to inform your fellow revelers of the details. Both come with RSVP features, so you'll know how many people to expect.
And don't be afraid to ask guests to bring something to help keep costs down.
"Planning a party under $100 can be done as long as you plan ahead, and it's best to get guests involved," says Andrea Woroch, a consumer and money-saving expert for
Kinoli
, the company behind freeshipping.org and a variety of other Web sites that help consumers save money while shopping online. "You might request that attendees bring along a finger food, or their favorite beer, liquor or wine."
Total:
$0
>>Resolutions 2012: Destroy Debt
Snacks
While the football game may be the main focus of your party, you can be sure guests will come with appetites a-blazin'. Before serving hot appetizers, it's best to kick the party off with some easy snacks.
For starters, buy a few bags of munchies, such as pretzels and potato chips -- but cut costs by buying generic labels rather than the big-name brands.
Veggie platters are another great snack to serve early on in the game, and they don't have to be pricey if you assemble them yourself.
"Avoid the temptation to buy a pre-packaged tray of veggies -- you're only paying for convenience and presentation," Woroch says. "Instead, pick up a few fresh items that are easy to prepare, such as carrots and celery, and arrange them around a bowl of dip."
As far as the dip goes, you can often find a generic ranch dressing for less than $2.
Prices at my local grocery store:
1 bag of mini pretzels (generic, 16 oz.): $1
1 bag of potato chips (generic, 18 oz.): $2.79
1 bag of baby carrots (generic, 32. oz.): $2.49
1 bunch of fresh celery: $1.49
1 bunch of fresh broccoli: $2
1 zucchini (9 oz.): $1.40
1 bottle of ranch dressing (generic, 16 oz.): $1.67
Total:
$12.84
Hot appetizers
When the game reaches halftime and Madonna hits the stage, it's time to start rolling out some tasty hot appetizers.
Although appetizers can get pricey, you can keep costs down by making finger foods yourself rather than buying them frozen or premade. For instance, you can make potato skins with just a few simple ingredients from the grocery store: potatoes, cheddar cheese, sour cream and salsa.
Another way to save money is by using "double-duty" ingredients -- those that can be incorporated in more than one dish, says Chef Claire Robinson, host of the Food Network's
5 Ingredient Fix
. With that in mind, consider creating quesadilla wedges with leftover cheddar cheese, salsa and sour cream you bought for the potato skins.
Of course, no Super Bowl party is complete without chicken wings, and you can save money by buying uncooked wings from the grocery store and cooking them yourself. One
from allrecipes.com simply calls for chicken, hot sauce and Cajun spice.
You can also pour some of the ranch dressing you got for the veggie platter in a bowl as a dipping sauce for your appetizers.
Prices at my local grocery store:
6 baking potatoes: $3
2 bags of shredded sharp cheddar cheese (generic, 8 oz. per bag): $4.58
Sour cream (generic, 8 oz.): 99 cents
4 packages of uncooked chicken wings (16-18 in a package): $31.84
2 bottles of Texas Pete hot sauce (12 oz. per bottle): $2.66
McCormick Cajun seasoning (3.18 oz.): $2.88
3 bags of flour tortillas (generic, 10 tortillas per bag): $5.67
1 jar of salsa (generic, 16 oz.): $1.79
Total:
$53.41
Soda
When it comes to soda, save by buying generic when possible and offering just a few choices. Also, "I'd suggest buying two-liter bottles rather than cans," says Andrew Schrage, co-owner of personal finance site
. "It's more cost-effective and there's less of a mess."
As far as ice goes, the cheapest route is to make your own in your freezer, then put it in an ice bucket.
Prices at my local grocery store:
1 bottle of Coca-Cola (2 liters): $1.79
1 bottle of Sprite (2 liters): $1.79
1 bottle of orange soda (generic, 2 liters): $1.35
Total:
$4.93
Alcohol
What's a Super Bowl party without the booze? But if you're planning on supplying some, just keep a few tips in mind.
"Liquor stores are a madhouse during the days leading up to the game, so consider stocking up on your favorite liquid provisions a week out," Woroch says. Adds Schrage: "Prices at your local or state liquor store are usually better than the grocery store."
Of course, booze costs can add up quickly, so consider supplying one or two cases of inexpensive beer for your guests and encouraging them to bring any additional beer or hard alcohol themselves. As mentioned earlier, you can include this on the invitation to give your friends a heads-up.
"Most guests are more than willing to do this since you're giving them a place to watch the game," says Schrage.
Prices at my local liquor store:
1 case of Bud Light (24 cans, 12 oz. each): $15.79
Total:
$15.79
Serveware
Before buying any new serveware for your party, first scour your kitchen cabinets to see what serving platters, bowls and trays you already have.
If you could probably use another tray or two, consider heading to your local dollar store to find serving platters in various shapes and styles.
Prices at my local dollar store:
16-inch round plastic serving tray: $1
Plastic veggie and dip tray: $1
Total:
$2
Dinnerware
When it comes to bowls, plates, cups and utensils, you can either use washable dishes you already own or buy cheap disposable ones for easier cleanup.
If you go the disposable route, head to your local
dollar store
for the best deals. In fact, Woroch says you can find these items -- plus napkins -- priced at 45% less than what supermarkets or drug stores charge. Schrage adds that you can often find bowls, plates, cups and utensils in different colors at the dollar store, so whether you're a Giants fan or love the Patriots, check out what the offerings are in blue, white and red. Also, keep in mind that most of the foods you're serving can be eaten with your hands, so no need to stock up on too many utensils.
Prices at my local dollar store:
1 pack of The Home Store paper napkins (160 napkins): $1
1 pack of Dart red plastic party cups (16 cups per pack, 16 oz. each): $1
1 pack of white plastic utensils (48 utensils, includes knives, spoons and forks): $1
1 pack of 6-inch Guestware foam bowls (30 in a pack): $1
1 bag of 8⅞-inch Guestware foam plates (30 in a pack): $1
Total:
$5
Dessert
Keep dessert simple, offering one or two easy-to-serve, low-cost items.
One cheap -- and sweet -- option is ice cream with one topping, such as whipped cream or chocolate syrup.
Prices at my local grocery store:
Hershey's chocolate syrup (24 oz.): $2.29
Turkey Hill vanilla and chocolate ice cream (48 oz.): $3.29
Total:
$5.58
Grand total
After tallying the costs of each category, the grand total in party expenses is $99.55 -- ringing in just below our $100 limit.
These costs were calculated without using any coupons or rewards cards, so if you take advantage of those benefits on your shopping journey, you can probably score even bigger savings.
"Check your weekly store circulars for sales and coupons, which can be found online for most grocery stores these days," Woroch says. "Also, check coupon sites that offer grocery coupons like CouponSherpa.com where you print them from your computer."
Woroch adds that another clever way to cut costs is by buying gift cards for your local supermarket at a discount from Web sites such as GiftCardGranny.
It's also important to note that although I shopped at a regular grocery store, if you are a member of a bulk store such as
Costco
(COST) - Get Report
or
Sam's Club
, your savings might be even greater. Now that's something to cheer about.
Super Bowl commercial time is sold out, but there are some companies that could benefit from big-game ad spending. Here are 10 that could use a Super Bowl-sized boost in business!
>To submit a news tip, email:
.
Follow
TheStreet
on
and become a fan on