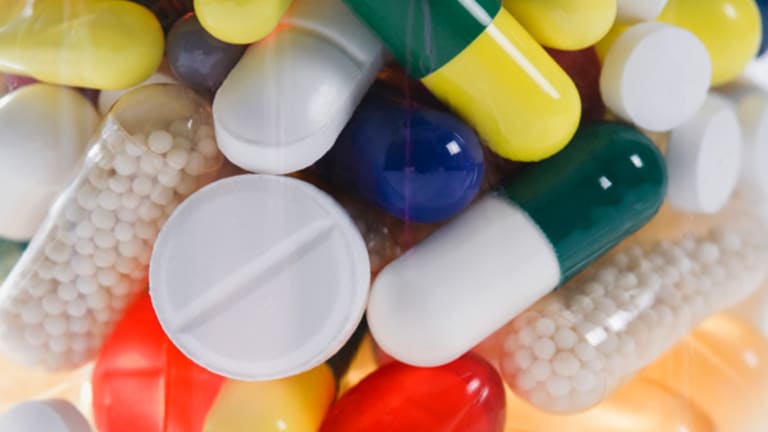 Threshold's Pancreatic Cancer Drug May be Obsolete Before Launch
Improved treatments for pancreatic cancer challenge the relevance of Threshold's TH-302
NEW YORK (
) --
Threshold Pharmaceuticals
(THLD)
reported positive pancreatic cancer survival data this weekend from a Phase IIb study of TH-302, a prodrug that releases chemotherapy under hypoxic (low oxygen) conditions, at the European Society for Medical Oncology (ESMO) conference. Unfortunately, the TH-302 results show lots of variability and the comparison arm in the study may soon be outdated, making the drug's prospects difficult to interpret.
Given Threshold's $399 million market capitalization, estimated $60 million in cash, and the long wait for definitive phase III data in pancreatic cancer, I'm not sure there's much to do with the stock at current levels.
Threshold closed Friday at $7.24.
I don't have a strong view about Threshold but I lean negative, especially because the company will likely need to raise additional capital.
Threshold's phase IIb study enrolled 214 pancreatic cancer patients randomized to receive TH-302 (at doses of 240 mg or 340 mg) plus gemcitabine or gemcitabine plus a placebo. (
Eli Lilly
(LLY) - Get Eli Lilly and Company (LLY) Report
sold a branded version of gemcitabine under the Gemzar label until the chemotherapy drug went generic in 2010).
Earlier this year, Threshold reported progression-free survival (PFS) in the TH-302 high dose arm reached 6.0 months, slightly outperforming the low dose and significantly exceeding the PFE of 3.6 months observed for the control group. Response rates supported the PFS benefit. At the higher dose, TH-302 recipients had a 26% overall response rate (ORR), including two complete responses, compared to a 17% and 10% ORR for the low-dose and control arms, respectively.
At ESMO this weekend, we learned that patients in the TH-302 high and low dose groups had a median overall survival of 9.2 months and 8.7 months, respectively, versus 6.9 months for gemcitabine alone. Although the hazard ratio (HR) -- a measure of relative risk between drug and control -- barely shows a benefit (HR = 0.96 for both arms), investigators noted that post-progression crossover muddled the results. The adjusted survival data were excluded from the ESMO slides, but post hoc analysis shows a modestly greater survival benefit for TH-302 recipients once crossover patients are excluded (HR = 0.77 and 0.76 for the high and low dose groups, respectively).
Although this analysis suggests the drug is moderately efficacious, the study's unusually wide confidence intervals -- a measure of variability -- and essentially equivocal p values hint at an underlying data unreliability that should worry the bulls. However, even without this clinical red flag, it's hard for me to get excited about TH-302.
For years, no studies showed a clear benefit for gemcitabine-containing combination regimens in pancreatic cancer (a February 2012 paper by Ying et al. in
World Journal of Gastroenterology
offers a good overview.) Yet some recent evidence suggests the pancreatic cancer treatment landscape may be changing, which could mean trouble for Threshold.
Let's take a closer look at a large European study published in the May 2011
New England Journal of Medicine
(Conroy et al. NEJM 2011; 364:1817-1825).
In this trial, investigators randomized 342 patients to either FOLFIRINOX -- a combination chemotherapy regimen including leucovorin (FOL), fluorouracil (F), irinotecan (IRIN), and oxaliplatin (OX) -- or gemcitabine. Despite increased toxicity, FOLFIRINOX significantly improved ORR (31.6% versus 9.4%), PFS (6.4 months versus 3.3 months), and median survival (11.1 months versus 6.8 months) compared to gemcitabine.
Key efficacy metrics for the gemcitabine control group in the NEJM study almost exactly match those in the Threshold TH-302 trial with good reason: The two studies enrolled a nearly identical population of pancreatic cancer patients.
Most oncology studies use Eastern Cooperative Oncology Group (ECOG) performance status as a measure of a patient's well being, with lower scores indicating less disability. In Threshold's study, 30%, 45%, and 39% of patients in the control, low, and high dose TH-302 groups, respectively, had an ECOG score of zero, meaning the patient is "fully active, able to carry on all pre-disease performance without restriction." This closely matches the ECOG scores from the NEJM study (37% and 39% for the FOLFIRINOX and gemcitabine arms, respectively, had an ECOG score of zero).
Other baseline factors, including median age and male gender, were also similar. In fact, a few variables suggest patients in the NEJM study may have been slightly sicker than those in the Threshold trial. Fewer of the NEJM patients had a primary tumor in the pancreatic head -- some studies indicate a slightly more favorable prognosis for masses in this location, which is near the bile duct -- and more had liver metastases. Despite the obvious limitations of cross-study comparisons, the groups seem at least interchangeable.
Bulls contend that FOLFIRINOX is too toxic for most patients to tolerate. I'm not so sure that's true, and physician opinions vary. Importantly, despite the increased toxicity, FOLFIRINOX-treated patients in the NEJM study had a significantly longer "time to deterioration," as measured by quality of life scores, than did those in the gemcitabine arm. Meanwhile, Threshold's investigators have noted that low dose TH-302 recipients demonstrate improved dose intensity -- a measure of tolerability -- than those treated with higher doses. Those factors indicate that TH-302 isn't devoid of meaningful adverse effects, and suggest that FOLFIRINOX may be less toxic than feared.
The NEJM study results also appear to be reproducible. A study published earlier this month (Peddi et al. J Pancreas 2012 Sep 10; 13(5):497-501) by investigators from the Mayo Clinic, Washington University, and University of Wisconsin demonstrates even better outcomes for PFS (7.5 months) and overall survival (13.5 months) with FOLFIRINOX. Admittedly, this is a single-arm trial in relatively very healthy individuals, but the investigators conclusion is noteworthy: "FOLFIRINOX...is more effective than any other regimen in patients with pancreatic cancer and its toxicities did not preclude its use in the patients studied in this review."
Threshold's pivotal phase III trial, which is still being planned, will compare TH-302 against FOLFIRINOX and increase the risk of failure, or against gemcitabine and risk irrelevance. I'm assuming the latter. In that case, TH-302 may prove modestly effective compared to gemcitabine, but it won't reach the market for at least three years.
Further, I'm not sure how Threshold and partner
Merck KGaA
intend to differentiate TH-302 and justify branded pricing, especially given that inexpensive generic alternatives like FOLFIRINOX seem to have superior efficacy. Lastly, several competitors will report pivotal trial data for novel agents in pancreatic cancer over the next six months, most notably
Celgene's
(CELG) - Get Celgene Corporation Report
Abraxane and
Clovis Oncology's
(CLVS) - Get Clovis Oncology, Inc. Report
CO-101. Should any of those drugs show a meaningful benefit, the bull case on Threshold will be even harder to make.
For more on Threshold, read columnist Adam Feuerstein's
view of the TH-302 pancreatic cancer data
.
Sadeghi has no position in any stocks mentioned in this column.
Follow Nathan Sadeghi-Nejad on
.
Nathan Sadeghi-Nejad has 15 years experience as a professional health-care investor, most recently as a sector head for Highside Capital. He has worked on the sell side (with independent research boutiques Sturza's Medical Research and Avalon Research) and the buyside (at Kilkenny Capital prior to Highside). Sadeghi-Nejad is a graduate of Columbia University and lives in New York. You can follow him on Twitter @natesadeghi.