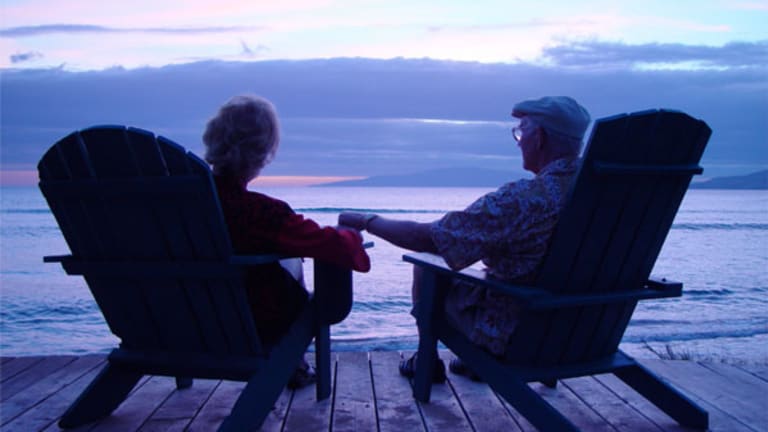 3 Ways for Retirees to Protect Their Portfolios In Volatile Stock Markets
A looming trade war has thrown markets into a tizzy. Here's what experts are saying retirees should do to secure their portfolio.
Investing for retirement can be tricky by itself.
A looming trade war between the U.S. and China doesn't help to alleviate those pressures.
In these volatile times, retirees should talk with their financial advisers to pick the best asset allocation strategy that's right for them. This can help minimize the harm that markets can inflict on investors.
In the meantime, here are a few ways retirees can best protect themselves from the unpredictability of the market.
Don't Panic
Financial planners will tell retirees that emotional investing should be avoided at all costs and in fact, with the way markets are today, experts say retirees should do nothing at all right now.
Careful consideration should be taken with how retirees invest for the future, and any financial decision should be based on their situations, not on what the market is doing, says Ed Snyder, co-founder of Oaktree Financial Advisors. Revisiting short-term goals does not mean changes have to be made, but it's smart for retirees to evaluate what their options are and identify what parts of their portfolios might need to improve based off of their own circumstances.
"This is the time to be disciplined," Snyder said. "Human instinct is telling you that you should be doing something right now, but in reality you probably shouldn't do anything."
Have Cash on Hand
Having a diversified portfolio will help retirees minimize the volatility in the stock market. But another safeguard that experts recommend is to have a rainy-day fund of cash reserves that will insulate from a major dip in assets.
Retirees should look to put away money that covers at least one to two years of living expenses, explains Ric Edelman, founder of Edelman Financial Services. 
"Take a look at how much money you spend on a total basis," Edelman said. "You should have enough to maintain that spending for a year or two without having to tap into your investments. Think back to 2008. If people were forced to withdraw money in 2008 to pay their bills, they were withdrawing money while their accounts were down 30 or 40 or 50% in value, but by having ample cash reserves you can avoid having to sell investments while they're down in value."
Stay in the Market
Retirees thinking about exiting the stock market just because its been under-performing for a few days might want to reconsider, experts say. Saving for retirement is all about the long-term investment, and leaving at the wrong time could set retirees back because it's difficult to gauge when they would need to enter the market again, stresses Marguerita Cheng, CEO of Blue Ocean Global Wealth.
"One of the most important things to do is stay invested," Cheng said. "If your goals haven't changed, don't do anything drastic, but if you really are getting nervous, a very good solution to this dilemma is making your lump sum of money in a slightly less aggressive in a balanced or target-date fund."
Cheng suggests retirees keep investing conservatively to weather the risks that come in a volatile market. 
"I would tell people, 'It's not trying to time the market, it's your time in the market,'" Cheng said. "The worst thing we can do for clients or the worst thing that clients can do is to pull out at the wrong time."