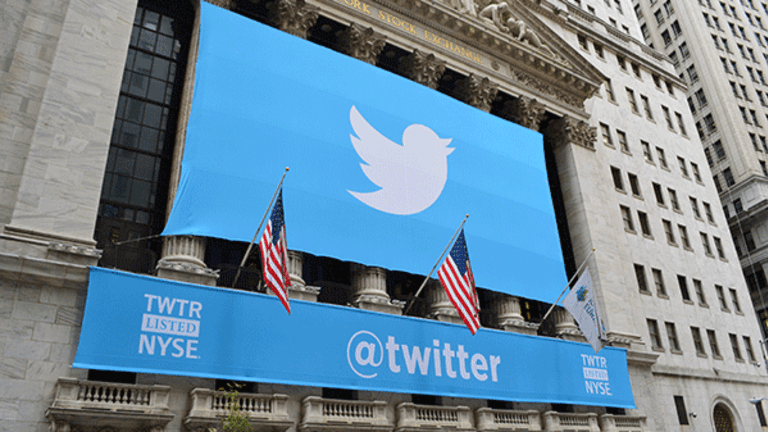 Three Problems That Twitter Will Have to Overcome
The social media company has been unable to generate enough advertising revenue to satisfy investors. The number of Twitter (TWTR) users also isn't growing fast enough.
When it reported quarterly results Thursday, Twitter (TWTR) - Get Twitter, Inc. Report  said that it is making significant layoffs. In its third-quarter shareholder letter, the company said it lay off about 9% of its workforce, which equates to about 350 jobs. The announcement confirms a Bloomberg report earlier this week that said the company was planning to lay off about 8% of its workforce in order to reduce costs.
The news comes shortly after the social media company failed to find a buyer. Google parent Alphabet, Disney and Salesforce were among the companies rumored to have interest. The reported layoffs would mark the second time Twitter has made major job cuts in the 13 months. Last October, the company laid off more than 300 workers. That came shortly after Jack Dorsey, the company's founder, returned as CEO. 
Twitter faces big challenges, none larger than its inability to generate advertising revenue. The number of people who use the site's 140-character messaging has stagnated. 
Alphabet is a holding inJim Cramer's Action Alerts PLUS Charitable Trust Portfolio. See how Cramerrates the stock here. Want to be alerted before Cramer buys or sellsGOOGL?Learn more now.
Still, some observers see promise in Twitter. It has been the communication channel of choice for Donald Trump throughout his presidential campaign. Other politicians and celebrities use it, as well, and have millions of followers. 
Here are three problems that Twitter needs to fix to improve its market position and perhaps make itself more attractive to potential acquirers. In its earnings report before the bell Thursday, Twitter said adjusted earnings per share were 13 cents and revenue was $616 million. On average, analysts were expecting the company to report adjusted EPS of 9 cents on revenue of $606 million.
1. Slow User Base Growth
Twitter has been hovering around 300 million monthly active users for a while. (This number was 317 million in the third quarter, up 3% from a year earlier.) The slow growth stems largely from increased competition. Many consumers are opting for alternatives that allow for similar quick messaging in words and pictures, including Snapchat and Instagram. 
Year-over-year growth of Twitter's user base was also 3% in the second quarter. During that same period, Facebook saw an increase of 15% in its user base. Facebook has impressed analysts in recent months through its ability to generate advertising revenue.
Facebook is a holding inJim Cramer's Action Alerts PLUS Charitable Trust Portfolio. See how Cramerrates the stock here. Want to be alerted before Cramer buys or sellsFB?Learn more now.
Twitter users are considered revenue generators when they remain active and engaged. With a falling or slow-growing user base, ad revenue is likely to fall, creating a further slowdown in earnings.
In addition, as the online technology news site Recode has reported, Twitter's ads have become more expensive compared to other social media sites.
2. Bad Reputation
Twitter has struggled with trolls and other abusers who harass users. Trump and his followers have sometimes used the Twitter to bully voters who do not agree with them. Other candidates from both the Republican and Democratic party have engaged in inordinately heated and personal exchanges. Abusers can mask their identities by using fake twitter names and creating multiple accounts to troll an individual.
According to the The New York Times, "more than 800 journalists have been the subject of anti-Semitic attacks on Twitter."
Though the company has tried to filter mean tweets and even block some based on account origin and behavior, it has yet to find the optimal balance between free speech and decency. Twitter does not monitor bad behavior but relies on its users to flag it.
A number of potential suitors may be reluctant to associate their brands with this aspect of Twitter.
3. Overvalued Stock 
The company went public at $26 in September 2013 and saw the share price open at $45.10 due to strong investor demand.
But its inability to generate advertising revenue has stymied its growth. The company's value has declined by more than half from its opening price, and even more from its all-time high near $70. A number of analysts have downgraded the stock, including Mizuho Securities. An analyst wrote in a research note, "The stock is overvalued as business fundamentals have deteriorated significantly over the past 12 months."
This article is commentary by an independent contributor. At the time of publication, the author held no positions in the stocks mentioned.