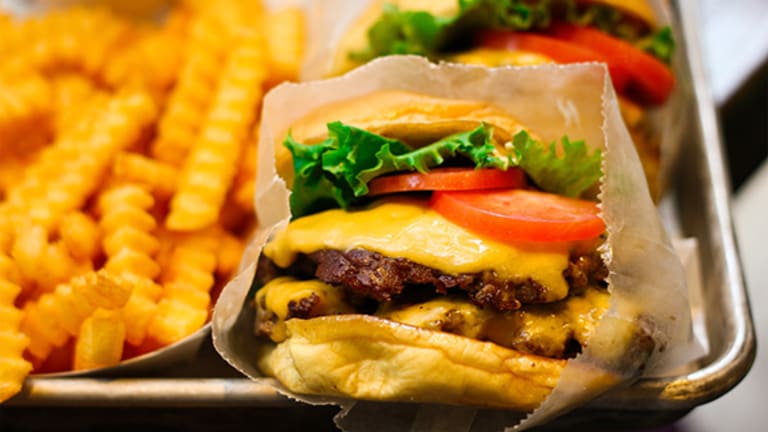 Three Huge Reasons Why Shake Shack Would Be an Amazing Acquisition
Rumors are circulating that Shake Shack (SHAK) is in play.
Rumors are circulating that Shake Shack (SHAK) is in play.
Shake Shack's (SHAK) - Get Report stock has had a sizzling December -- up as much as 8.5% month to date at the highs ($39.37) of the session on Tuesday -- amid speculation potential acquirers were sniffing around the better burger joint.
TheStreet takes a brief look at the biggest reasons why Shake Shack would be an attractive purchase, even at the inevitably steep price tag.
Shake Shack has cracked the code on mobile ordering early in its life.
What has taken Starbucks (SBUX) - Get Report years to build, Shake Shack has seemingly built overnight.
As TheStreetfirst reported earlier this month, Shake Shack has expanded its new mobile ordering capability to 27 locations out of its total of 56 in the U.S. Most recently, Shake Shack has debuted the service in several locations in Philadelphia.
Shake Shack's biggest push has come in its home market of New York -- also its largest -- where mobile ordering is live in nine out of 18 sites. Mobile ordering is still not available in Shake Shack's busiest New York City locations such as Grand Central Terminal, Herald Square and its birthplace in Madison Square Park. That's likely due in large part to executives trying to figure out how to solve the operational challenges of servicing the crazy long lines at these high-profile spots while also being inundated with mobile orders.
You can now mobile order Shake Shack's breakfast
But there soon may be a test site on how to pull off such a feat.
"It [mobile ordering] will be here [Penn Station] soon -- you'll see mobile ordering coming to every Shake Shack," Shake Shack's senior VP of operations Zach Koff recently told TheStreet in an interview. "It will be super critical at a place like Penn Station -- you could sit on the train and order and then have it ready when you arrive," Koff added.
Shake Shack launched its first-ever mobile ordering app for iPhone users (an Android-based app is in development) in October at its Midtown East location in New York. Diners simply select their food and choose an available pickup time. All pickup times are in 15-minute increments.
In addition to removing the hassle of waiting in line for regular customers, if Shake Shack rolls out the app globally in 2017 it may attract new people to the brand. 
"We believe that mobile ordering [for Shake Shack] holds the promise to meaningfully bolster throughput if successful, and thereby yield incremental traffic and customer frequency," says William Blair analyst Sharon Zackfia.
Shake Shack has proven its concept overseas.
Whereas Chipotle (CMG) - Get Report has no clue generally on whether its brand travels well overseas due to its reluctance to open stores abroad, Shake Shack has shown there is an appetite for what it cooks from people internationally. 
Shake Shack's brand has traveled well abroad
Shake Shack now has 41 locations -- mostly licensed stores rather than company-owned -- across Japan, the Middle East, Russia, Turkey, United Kingdom and South Korea. This year has brought particularly successful openings in Tokyo and South Korea. On its third quarter earnings call in November, executives said they remain on track to open a flagship store in Central London before year's end.
That ability to find success overseas early on should have any would be suitor excited about Shake Shack's long-term potential.
Shake Shack is getting better at opening restaurants. 
The upstart burger and fry flipper is opening restaurants quicker than it used to, offering hope that it not only could reach its 450 store count goal in the U.S. over time but possibly exceed it. At the time of its IPO in January 2015, Shake Shack had a modest goal of opening 10 restaurants a year. Since the IPO, when it had about 63 locations open, it has now broken through the 100 mark by opening spots in Boston and New York City's Penn Station.   
Shake Shack is targeting 21 to 22 new restaurant openings in the U.S. next year, a faster pace than the 19 expected to open this year. About 10 international openings are anticipated for next year, consistent to the number unveiled in 2016.