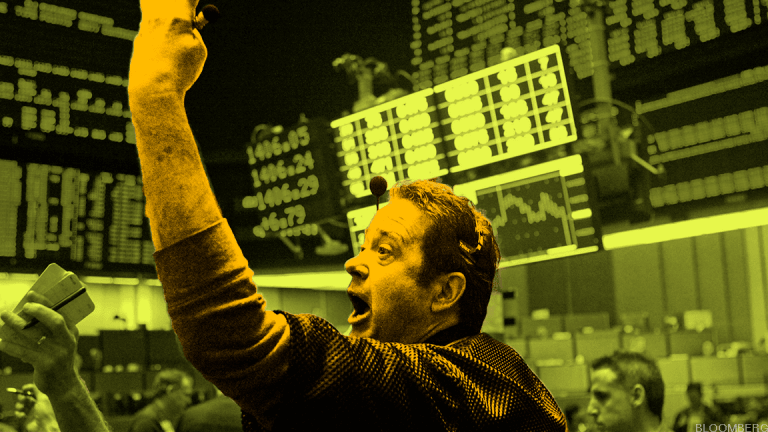 3 Hot Stocks From One of Wall Street's Best Analysts
This top analyst knows what he's talking about when it comes to stock picking. Here are some top trades.
This top analyst knows what he's talking about when it comes to stock picking. Here are some top trades.
How do you find the best stock ideas out there? The answer is simple- find the stock picks from a market expert who consistently makes the right choices.
Using TipRanks data, we pinpointed B.Riley FBR analyst Craig Ellis as the No. 1 stock picker right now. This is out of a pool of over 4,800 Wall Street analysts. On a one-year basis, Ellis is tracking an 83% success rate and an extremely impressive average return of 39.6%. The ranking also factors in the statistical significance of Ellis' stock recommendations, i.e. the number of ratings each analyst makes.
Given the state of the market over the last year, you probably won't be surprised to hear that Ellis covers the tech sector. His particular expertise is chip stocks. Indeed we can see that his most profitable recommendation was Action Alerts PLUS holding Nvidia (NVDA) - Get Report back in 2016. Between February 2016 and February 2017, he made an astounding 260% gain on the stock.
But if we look forward, which hot stocks is Ellis betting on right now? We turned to his latest recommendations to find the stocks Ellis believes have big upside potential over the next 12 months.
Broadcom Inc.
Chip supplier Broadcom (AVGO) - Get Report has just released solid results for the fiscal second quarter. Revenue came in at $5.017 billion with earnings of $4.88 a share, easily beating the Street consensus of $5.002 billion and $4.78 a share, respectively. "AVGO execution was strong, and we are encouraged with numerous signs of continued strong end demand in the enterprise businesses," cheered Ellis. He reiterated his buy rating on June 8 with a $308 price target (18% upside potential).
As for the coming quarters, he writes: "We expect continued strong 2H18 data center spend, a potential enterprise lift, and seasonal wireless strength which should fund aggressive SBB [share buy-backs] through the year, a positive set of end demand and company-controllable catalysts." And the best part for investors is that the valuation is currently looking very attractive given "a proven excess cash value creation record via dividends, M&A, and now significant share repurchase." Back in April, Broadcom pleased investors with the news of a massive $12 billion, 18-month share buyback program.
And Ellis isn't alone in his bullish take on Broadcom. Overall, we can see that Broadcom is one of the Street's favorite stocks. In the last three months, a total of 24 analysts have published 'buy' ratings on Broadcom with only two analysts staying on the sidelines. Meanwhile, the average analyst price target of $310 indicates upside potential of 19%.
Semtech Corporation 
Look out for Semtech (SMTC) - Get Report , a leading supplier of analog and mixed-signal semiconductors. Ellis has just ramped up his price target on Semtech from $47 to $56 (14% upside potential). "Valuation seems attractive at 14.7x our FY20 EPS, and we believe shares are poised for strong 12-month gains," states this five-star analyst.
Most notably, Semtech has created and patented its own range of long range (LoRa) transceivers. With these transceivers, you can provide wireless coverage in difficult-to-reach indoor locations. And as recent earnings results reveal, LoRa bookings and sales have now hit all-time highs, with sales annualizing well within the $80-$100 million target. "LoRa's hub and end-point sales mojo should persist, with strong growth led by robust F1Q bookings and surging gateway deployments," writes Ellis.
He is now looking for Semtech to achieve its targeted $1 billion in sales by 2020, and adds that "with the patent-protected and license-bearing LoRa position" Semtech "create[s] an attractive small cap take-out candidate."
Our data shows that Semtech has big support from the Street as a whole. In the last three months, seven analysts have published 'buy' ratings on the stock. So no 'hold' or 'sell' ratings for this stock. These analysts have a $51 average price target on Semtech.
KLA-Tencor Corp.
California-based Kla-Tencor Corp. (KLAC) - Get Report provides technologies like process control and yield management solutions to the semiconductor industry. The stock is buzzing right now on the news that it will acquire Orbotech for a cool $3.4 billion. At the same time, KLA-Tencor also announced a huge $2 billion share buyback program and a $1 billion debt raise.
And in his most recent report on KLA-Tencor, Ellis certainly gives the deal his seal of approval. He writes: "We believe the deal has sound strategic logic, a reasonable cost synergies profile, potential synergies upside if unforecast but possible revenue plusses emerge, and prospects to enhance KLAC's long-term revenue growth and EPS potential." Ellis has a 'buy' rating and bullish $142 price target on KLA-Tencor, indicating 26% upside potential.
Strategically speaking, the deal makes sense concludes Ellis. Namely, Orobotech "diversifies KLAC into new areas with no overlap in top-10 customers and with TAM [total addressable market] growth now forecast from CY17's $6.0B to $8.2B in CY20." Plus, KLA-Tencor will now enjoy increased leverage to megatrends in AR/VR, 5G air interface technology, and auto electrification, as well as IoT and AI.
Orbotech is a highly successful automated optical inspection equipment company. "The chances that someone holds in their hand a smartphone or tablet that Orbotech did not have something to do with its production, design or inspection are pretty much zero," Orbotech CEO Asher Levy previously told Globes.
Overall, KLA-Tencor has a 'Strong Buy' analyst consensus rating from the Street. This breaks down into eight recent buy ratings vs. just one hold rating. These analysts have an average price target on KLA-Tencor of $135 (20% upside potential). 
Author: Harriet Lefton.
offers investors the latest insight into eight different sectors by tracking the activity of 4,500 analysts, 5,000 financial bloggers and even 37,000 corporate insiders. As of this writing, Harriet Lefton did not hold a position in any of the aforementioned securities.