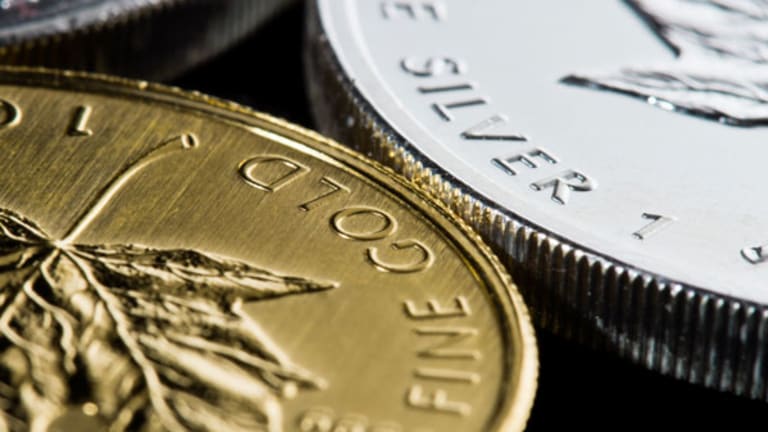 Three Alaskan Gold Miners With Golden Promise
International Tower Hill, NovaGold and Northern Dynasty all have promising gold projects in Alaska, but which one makes the best investment?
NEW YORK (
) --
NovaGold
(NG) - Get Novagold Resources Inc Report
is the sexy, high profile junior gold miner in Alaska, but investors shouldn't forget about its nearby competitor
International Tower Hill
(THM) - Get International Tower Hill Mines Ltd. Report
or kid with the bad reputation down the block
Northern Dynasty
(NAK) - Get Northern Dynasty Minerals Ltd. Report
All three junior gold companies have big deposits in Alaska and all have risk.
As the below chart shows, NovaGold, International Tower and Northern Dynasty mirrored each other last year until September, when NovaGold broke out on takeover rumors that helped push the company to a 125% return for 2010. International Tower Hill, on the other hand, returned only 38%, while Northern Dynasty jumped 67.5%.
NovaGold has one of the largest gold mines in the world, Donlin Creek in Northwest, Alaska, where it partners 50/50 with
Barrick Gold
(ABX)
. While NovaGold is seven years away from production at Donlin, the mine could produce 1.3 million ounces of gold annually with NovaGold bringing home half of that. The mine has a 25 year life span with 33.6 million ounce gold reserves, averaging 2.2 grams. The miner will be able to produce the gold for around $400 an ounce.
International Tower has 100% ownership of the Livengood gold project near Fairbanks, Alaska, which has 13 million ounces of gold resources, one of the biggest discoveries in the past 20 years. It's still not as big as NovaGold's project and grade is, on average, 0.83 grams. The company just found higher grade, however, the highest at 2.07 grams per ton, and more results are trickling out.
Rough cash costs are $490-$530 an ounce and the company is looking at 2016 for production when it can produce 833,000 ounces per year for 12.6 years. International Tower Hill is lucky in that its deposit is so big, which can offset low grade, but it needs gold to stay above $750-$800 an ounce for its deposit to make sense.
Vote: Where will gold prices finish in 2011?
Northern Dynasty owns half the Pebble Project in Southwestern Alaska, the remainder is owned by
Anglo American
. Pebble has a 25 year mine life, although it could extend up to 78 years, and has measured, indicated and inferred resources of 80.6 billion pounds of copper and 107.3 million ounces of gold.
Production is expected in 2019 and using gold as a byproduct, Northern Dynasty could produce a pound of copper for negative 10-15 cents, which could mean up to $3 billion in profits a year, pretax. Counting gold as the main metal, cash costs would be under $100 an ounce.
Northern Dynasty has $40 million in cash and won't need to shell out cash until Anglo funds $1.5 billion, but at some point the company will be responsible for $1.8 billion, and an additional $650 million for infrastructure build out. NovaGold has $151.7 million in cash and will need to spend $21 million this year on Donlin, but until production will have to shell out $2 billion for the project. International Tower Hill has $120 million in cash, which should last until late 2013, at which point the company will be on the hook for $1.3 billion.
All three mines are big, juicy and come with big price tags. For these miners, it's all about location, location, location.
In Alaska, it's the "where" that counts. For all intents and purposes, Alaska is still a frontier place where the cost of energy and labor is high, environmental issues can halt a project and infrastructure is pivotal to success.
The Livengood project is located on the eastern infrastructure corridor just 60 miles north of the active Fort Knox mine, owned by
Kinross Gold
(KGC) - Get Kinross Gold Corporation Report
. The project is near a highway that runs all the way up to Prudhoe Bay and its nearby oilfields and is 50 miles from a power grid.
According to Carl Brechtel, COO of International Tower, Alaska has a lot of natural gas on the north slope, and "the state's currently looking at projects and ways to bring natural gas from the north slope down into the Alaskan population center, so that would be an opportunity for us." According to the CEO, Jeff Pontius, Alaska is also looking at hydro projects.
The nearest community is 40 miles away, making the mine less vulnerable to environmental issues and, thus far, there are no major native issues. Alaska Mental Health Trust is the primary landowner, according to the company, and the State of Alaska land-use-plan said the main use for the Livengood area was mining.
NovaGold and Northern Dynasty might have to work a little harder.
Donlin is location on private land and NovaGold partners with the native corporation that owns it. "They truly support the project," says CEO Rick Van Nieuwenhuyse, "we've been working in the region for 15 years."
NovaGold has to spend millions of dollars a year on social outreach in the form of jobs and training, in order to connect with the surrounding communities. According to Nieuwenhuyse, there are no large commercial fisheries nearby, but the company will still spend about $5 million a year for water and air quality studies as well as monitoring the fish and wild life.
Northern Dynasty has the worst reputation when it comes to location as it is near the Bristol Bay salmon fishery and is 20 miles away from a fault line. CEO, Ron Thiessen, says "if we believe we would damage the fishery, we wouldn't build the mine." But various environmental and native groups disagree and are filing lawsuits to stop the project. Several laws have been proposed in the state legislature to prevent mining in the area, but have since been defeated.
Thiessen contends that if the company outsources its power, builds a spur line to take advantage of Alaska's natural gas pipelines, as well as build a deep sea port facility to import liquid natural gas, that these moves would benefit the whole community. They would bring cheaper energy and more jobs.
Northern Dynasty has done extensive community outreach in the Lake and Peninsula borough, where Thiessen claims the company doesn't have any issues. Now the company must do more outreach to the small 22 surrounding communities.
All three companies are also takeover targets. Northern Dynasty wants to be bought. Thiessen has said when it comes time to raise its $1.8 billion in capital that it would put itself up for sale. NovaGold has also intimated it would be open to a buyout or partnership. Barrick Gold made an offer for the company in 2006 at $16 a share and Paulson owns 9% of the company, which he was rumored to do to press the company to sell itself.
International Tower Hill claims it wants to develop the mine itself but John Paulson also owns 6% of the company and
AngloGold Ashanti
(AU) - Get AngloGold Ashanti Ltd. Report
owns 11.5%. The company was not interested in partnerships.
Analysts are mostly optimistic on these three junior miners. Northern Dynasty has 3 buy ratings; NovaGold has 2 buys and 3 holds; International Tower Hill has 5 buys and 2 holds.
Adam Graf, director of emerging miners for
Dahlman Rose & Co.
covers all three and has a buy rating on Northern Dynasty and International Tower Hill but a hold on NovaGold.
Graf sees "greater resource growth at Livengood," a long mine life at Pebble, and, while NovaGold's projects are huge, Graf is worried about the company's $4 billion financial responsibility for all of its mines.
--
Written by Alix Steel in
New York.
>To contact the writer of this article, click here:
Alix Steel
.
>To follow the writer on Twitter, go to
.
>To submit a news tip, send an email to:
.
RELATED STORIES:
>> Where will gold prices finish in 2011?
>> How High Will Silver Prices Go in 2011?
>> Gold Miners Face a Cost Crunch
>>How Middle East Unrest Hurts Gold Miners
Disclosure: TheStreet's editorial policy prohibits staff editors and reporters from holding positions in any individual stocks.