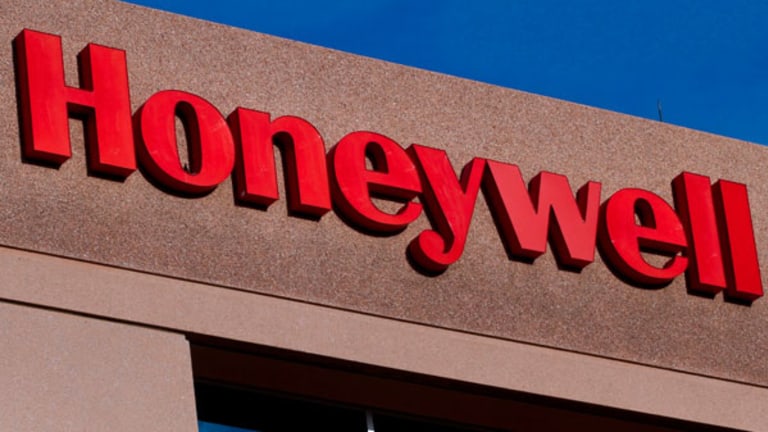 Those Who Sold Honeywell Down $10 Need to 'Be in Detention' for Life: More Squawk From Jim Cramer
Honeywell stock had a 'ridiculous' plunge this morning on 2017 guidance, TheStreet's Jim Cramer said. Investors should remember the reversal in outlook CEO Dave Cote gave back in October.
Shares of Honeywell (HON) - Get Report were slightly higher in mid-morning trading on Friday, after plunging nearly 9% in premarket trading after the company announced earlier today that it saw 2016 fourth quarter earnings at the low end of its expectations and forecast 2017 earnings below estimates.
Initially, shares of Honeywell dropped by nearly $10 to $106 in premarket trading. 
"Now the guy who sold it down $10, I want to see him after class and he's going to be in detention the rest of his life," TheStreet's Jim Cramer said on CNBC's "Squawk on the Street" on Friday morning. "Maybe even suspended. Because this is the kind of stupid thing that happens."
Investors have to think back to when the company released a disappointing outlook for 2017 at the beginning of October, Cramer said. Because shortly after that release, the company's CEO Dave Cote released an updated, more upbeat picture of its long term plans during an interview with Cramer on CNBC's "Mad Money." 
"I gave credit for people understanding what our long-term profile was. I was wrong," Cote told Cramer during the interview.
"I would urge people to read the last quarter and to go read through the notes from when Dave Cody was on 'Mad Money,'" Cramer said. "I think what you would say is, 'Geez, you know not as much here to take this kind of action.' Maybe do some homework and rethink."
People were upset at the 3% drop in organic growth in October, but now that Honeywell sees 2017 organic sales growth between 1% and 3%, "these clowns" sell it down $10, Cramer pointed out. 
It's worth noting that Honeywell stock should go down "a little bit" because it had run up so much because it's a "principal beneficiary" of a Donald Trump administration, Cramer said. "But down big? No. Because remember what Cody did last time. I mean if he appears on 'Mad Money' next week and he does a redo, you'll really feel like a sucker."
The people who sold it down $3 were fine to do so because of the recent rally, but those who sold it down $10 were not, Cramer said. "I want to be diplomatic and call them morons," he added.